Concordia engineering grad students evaluate the famous Canada Pavilion at Parc Jean-Drapeau
CityStudio brings city staff, faculty and students together for real-world experiential learning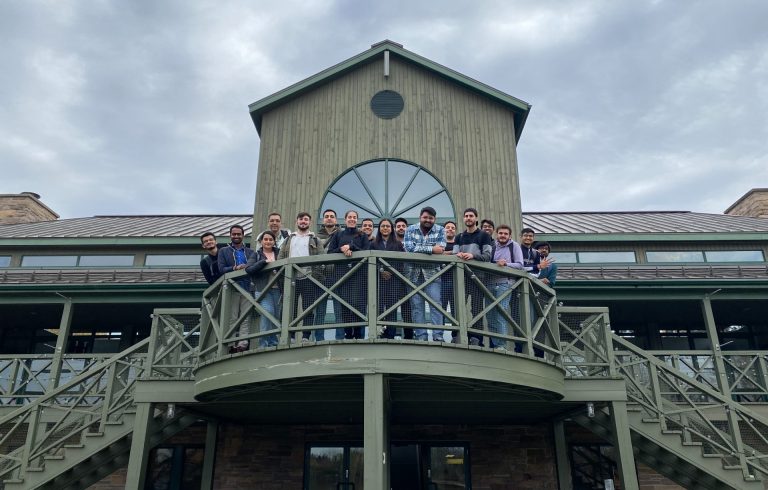 A class of Concordia graduate engineering students spent the day in early November at Montreal's Parc Jean-Drapeau, taking a very close look at Expo 67's Canada Pavilion. They also examined another local favourite in the park, the Jean-Doré Beach House.
CityStudio Greater Montreal, which is coordinated by Concordia's Experiential Learning team, made the assignment possible. As a result, the class of Rebecca Dziedzic, assistant professor of building, civil and environmental engineering, experienced a hands-on, real-world engineering project at one of the most iconic buildings in Montreal as part of their coursework.
Led by Vito Aloisio, BEng 09, MEng 12, the park's department head of asset management and park development, students in the course Asset Management for Sustainable Civil Infrastructure (CIVI 6711) were tasked with mapping the assets of both buildings and developing a 10-year maintenance plan for them. The students met city representatives from the Parc Jean-Drapeau in one of their classes, then analyzed available data.
When they visited the site, they were able to see everything up close and analyze the state of the two buildings' assets, from the doors and windows to the HVAC systems. Aloisio's team also asked the students to use their creativity to propose ideas for using the Jean-Doré Beach House year-round.
"Since I did both my undergraduate and graduate degrees in engineering at Concordia, I was happy to be able to give back to the students and give them access to a the Canada Pavillion, which is part of Montreal's heritage, and has enormous value for the park, the city and visitors," Aloisio says.
"The building was never designed to be a permanent building, so that adds to the complexity of maintaining it. We are looking forward to the recommendations that the students come up with, and hearing their ideas."
"Our job was to predict the deterioration of the pavilion, which is one of the park's oldest buildings, using models and data," explains graduate student Bharath Rajendir Rajendran, who is completing his master's in construction engineering and management. "We calculated the remaining useful life of the assets, showing the priorities of what needs to be replaced."
"It was great for the students to get out of the classroom and learn how to adapt to a real-world situation," Dziedzic notes. "The Parc Jean-Drapeau team will be able use the ideas proposed by the students."
Rajendran adds that he's grateful for this experiential learning project. "It allowed me to have a real-time, real-world experience, and definitely prepared me for my career," he says.
"Without our professor's guidance, the Parc Jean-Drapeau engineers and CityStudio, this experience would not have been possible."
CityStudio was pioneered in Vancouver in 2011. This proven model of experiential education and civic engagement has since been adapted across Canada.
To learn more about CityStudio Greater Montreal and how to integrate a city project into a Concordia course, contact Maude Lecourt, senior lead, Cities and Partnerships, at m.lecourt@concordia.ca.
---