Concordia PhD student is helping make zero-carbon buildings a reality
Mostafa Saad puts his Next-Generation Cities Institute research into practice with Montreal real estate developer Gestion Immobilière Quo Vadis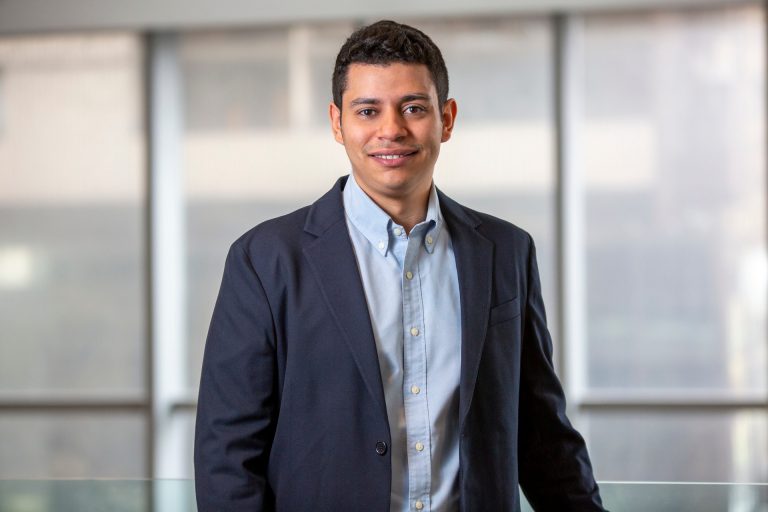 Concordia's Next-Generation Cities Institute (NGCI) recently brought on board seven partner businesses and organizations to collaborate on addressing sustainable urban-development issues. The move will help ensure the institute's research is delivering real-world solutions.
One of those partners, Gestion Immobilière Quo Vadis, recently employed NGCI doctoral student Mostafa Saad on a part-time basis. He will continue his PhD in building engineering studies while applying his research to help the Montreal real estate developer fulfill its commitment toward making its buildings reach zero-carbon emissions.
The Egyptian native applied to Concordia due to his familiarity with the work of Ursula Eicker, founding co-director of the NGCI and Canada Excellence Research Chair in Smart, Sustainable and Resilient Communities and Cities.
"I'm researching city-scale decarbonization strategies for buildings," Saad explains. "Buildings are among the biggest CO2 polluters, especially if they are not energy efficient and operate on emissive energy sources."

His research has gained more currency given the City of Montreal's recent commitment to have all new city buildings be zero carbon — that is, fully powered by renewable energy — by 2025, and all buildings at zero carbon by 2040. Incorporating fully renewable energy means using only electricity — which adds another challenge since Quebec's electrical grid can't accommodate all the buildings that would need to plug in.
"So a research question is, how can we make buildings more energy efficient and at the same time lower their carbon footprint by renovating or retrofitting them?" Saad says. "And how can we find a scalable methodology that can be applied to other buildings?"
Zero carbon certification
Natalie Voland, president and chief vision officer of Quo Vadis, met Saad at the NGCI, where she is also pursuing a PhD. "I'm trying to find ways to reduce the percentage of carbon emissions that are associated to the built environment," she explains.
Voland says she was excited to learn that her company could tap into what she calls the "applied research" being done at the NCGI.
Aided by funding from the Mitacs Globalink Research Internship program, she engaged Saad to study the carbon-neutrality potential of the Quo Vadis property Complexe Dompark. The 43,375 square-metre building is located on St. Patrick Street along Montreal's Lachine Canal.
To start, Saad developed a digital copy of Complexe Dompark to simulate the building's behaviour.
"We then asked, what happens if we change the fuel source of the building? What are the different scenarios? We created a profile that represents what's happening with the building's energy usage, to predict if this model is going to happen through the coming years," he says.
"With other partners, we created a transition plan for how the building will be moving from its current status to lowering its energy and eventually lowering its carbon. In the next couple of years, we will see how to follow the transition plan and transform this building to be totally zero carbon."
In April, Complexe Dompark earned a Zero Carbon Building Standards Certification from the Canada Green Building Council. "And it was largely due to the incredible work that Mostafa did in our company," Voland says.
"Based on his MITACS work, we were able to deploy the next step, which is the transition plan, and all the documents that were needed to get the certification. There are only a few buildings in Quebec that are certified, and Dompark is the largest."
Dompark and beyond
Now Saad will continue to apply his NGCI research findings to Dompark and other Quo Vadis properties.
"His role is to make sure that the carbon strategies and the sustainable development strategies that we have as a wish list could actually be blended with research," Voland reports. "So we're taking his research and actually making it happen in our buildings."
Saad is clearly enthusiastic about working with the developer.
"Quo Vadis is very motivated toward having a zero-carbon building stock. The company has financial objectives, which is part of the business, but at the same time it values environment, society and governance. This is not very common, and it's thanks to Natalie Voland and the team there," he says.
"So I'm working on bringing academia and the business world together."

Learn more about Concordia's Next-Generation Cities Institute.
---