John Molson student Pascal Dion wins Olympic gold
The finance undergrad was part of the victorious 5,000 metre short-track speed skating team at the Beijing 2022 games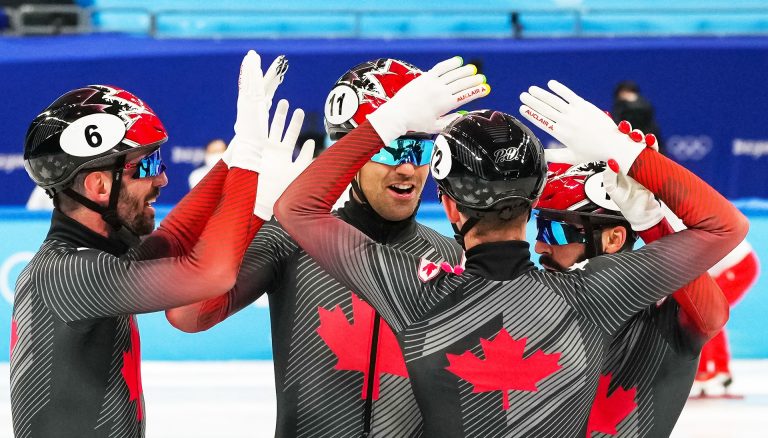 Concordian Pascal Dion has reason to celebrate. The John Molson School of Business finance student and his Canadian teammates Charles Hamelin, Steven Dubois, Jordan Pierre-Gilles and Maxime Laoun won an Olympic gold medal in the men's 5,000 metre short-track speed skating relay in Beijing, China, on February 16.
Dion joined Gina Cody School of Engineering and Computer Science student Marion Thénault to become the second Concordia medallist at the 2022 Olympic Winter Games. Thénault was part of the Canadian team that won the bronze medal in mixed team aerial skiing on February 10.
All about balance
Dion also won a bronze at the PyeongChang Olympics in 2018. But being a university student while training as an athlete — in the midst of a global pandemic — definitely made this experience different for him, he admits. Dion adds that striking a proper balance helped set the stage for his and his team's victory.
"Before COVID, I probably spent too much time at the arena. Now, I manage my time better, and although I'm there a little less, I make better use of that time," Dion says.
He is currently pursuing a BComm in finance part time, which allows him to devote enough hours to both school and skating.
Did the pivot to online course delivery as a result of the COVID-19 pandemic help or hinder Dion's academic efforts?
"Online courses have helped me to be more efficient with my time in some ways, but I miss the in-person interaction," he says. "Group work in particular is better when working face to face."
Balance on and off the ice goes far beyond school and sport, Dion adds. "Mental health was tough during COVID. Now, I try to make more time for things I enjoy and have added more self-care to my routine."
He explains that working closely with his psychologist has helped him gain a better understanding of his emotions and needs, and given him the tools to help support himself.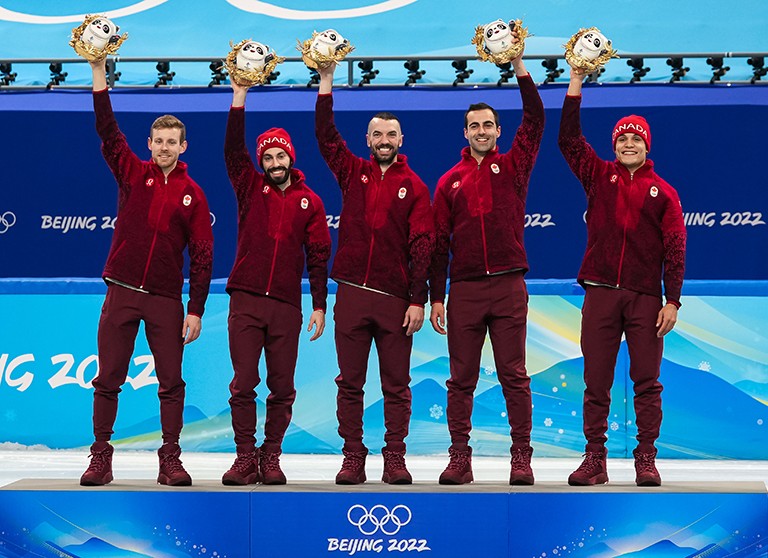 Pascal Dion (far left): "We worked hard on our chemistry as a team."
From the classroom to the ice rink
Dion says he's learned lessons as a student that have carried over to his skating, particularly regarding teamwork and setting goals. "My approach to my sport is that I set and focus on small achievable, realistic goals that keep me focused and motivated."
Once achieving those goals, Dion sets new ones and keeps moving forward. "I approach my coursework the same way; one topic at a time, one chapter at a time. Once I feel like I get it, I move onto the next one."
Focus on group work and projects at school also helped prepare him. "In the relay, everyone has strength and weaknesses. Communication is key to home in on everyone's strengths. It makes the work easier," Dion says.
"This is 100 per cent true for group work as well. We can each take on tasks that fall within our strengths, which helps the group as whole."
Although speed skating will continue to play a huge role in his immediate future, Dion reveals that he's also excited to finish his studies, which he hopes to complete in two years. After graduation, "Maybe I'll pursue the CFA," he says, referring to the Chartered Financial Analyst designation. "I'm open to where the road takes me."
Work hard, play hard
Reflecting on the lead-up to this year's Olympics, Dion says he's most proud of all the energy he and his teammates put into their training.
"We worked hard on our chemistry as a team," he says. "We knew we had a shot for Olympic gold, after all our efforts, but refining our chemistry was key."
Evidently, their hard work paid off. The Canadian team clocked in at 6:41.28, beating the Republic of Korea to take the gold.
Hard work, while being a driving element in Dion's success, is not the only element. "For everything I do in my life, I try to do something I love. When you're passionate about something, it's easier to do well," he says.
"I'm studying something I love, I'm competing in something I love. I don't compete to win, I compete to have fun. And when I have fun, I perform better."

Learn more about Concordia's Department of Finance and the MBA CFA program at the John Molson School of Business.
---