Concordia Olympian Marion Thénault is ready for take-off
The Gina Cody School student is competing for Team Canada in freestyle aerial skiing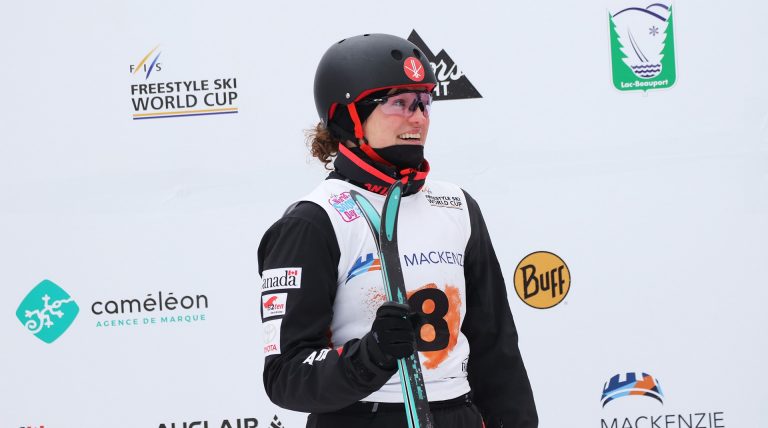 FEB. 10 UPDATE: Marion Thénault and her Canadian teammates won the bronze medal in the mixed team aerial skiing event today. She will compete in the individual event on February 13 and 14.
Concordia student and Team Canada member Marion Thénault will set aside her aerospace engineering textbooks, strap on her skis and perform her first jump on February 10 at the XXIV Olympic Winter Games in Beijing, China.
Thénault, 21, is competing as a member of Team Canada in the mixed team and women's aerials competition. It's her first appearance at the Olympics. The former gymnast only took up skiing at the age of 17 after taking part in an RBC training ground event in her hometown of Sherbrooke, Quebec.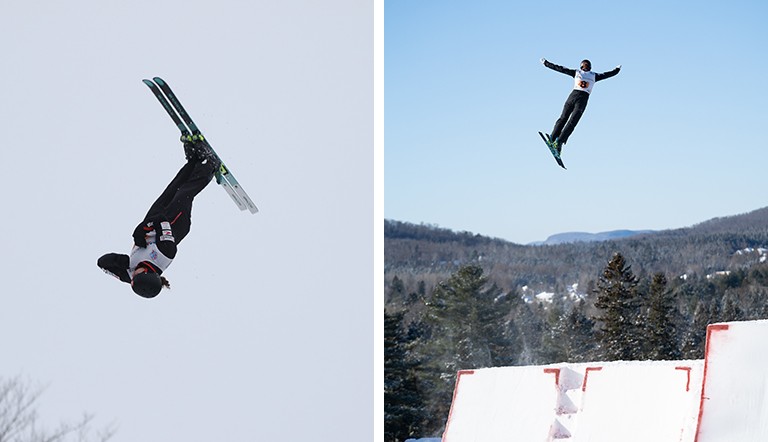 Last April, you won your first World Cup event, in Kazakhstan. How has your year been since?
Marion Thénault: It's been crazy. It's been great. I completed four classes in my program at the Gina Cody School of Engineering and Computer Science. Yay! And I earned my spot on the Olympic team at the same time, which is pretty cool. I now have three world competition podiums: a gold, silver and a bronze. And, I've been training a lot, competing a lot.
Yes, I saw on your Instagram that you were training in Finland.
MT: In November and December we were in Finland for training camp where we had the first World Cup of the tour. The second stop of the tour was in Quebec, which was very cool. That's where I won my silver medal. And then I didn't go to the US for the following World Cup because the COVID risk was high and I had already qualified for Beijing.
Wow, that's a lot of travel! I imagine remote learning made things a little more manageable.
MT: I was honestly very happy with the support I got from my teachers. That was something I was worried about when I first started because I am used to CEGEP and having access to my teachers all the time, and I'm also used to communicating in French.
There were a lot of things I didn't know about the university or what to expect. But it turned out super well. My teachers were so nice and they accommodated me when I was travelling. They made it possible for me to complete my courses with good grades.
It was also very helpful that learning was remote for a term because I was not in Quebec. The material was made available online all the time – time zones didn't matter. I went on campus for the first time in September, so I was super excited.
Do you feel like it still gave you the university experience you were hoping to get?
I don't feel like I got the full university experience so far because I just haven't been here, but it's something I'm definitely looking forward to. I want to be able to really live it. I also want to take more classes once the Olympic Games are over. I like my program, I like what I'm learning, and I think it's going to lead me somewhere cool.
What's it like preparing for your first Olympics?
MT: Stressful. Exciting. I mean, it's hard to come to terms with it because I feel like I had been dreaming about it for a long time and it was always just a dream. I never thought it was ever going to happen. Now that it's happening, it is hard to grasp the entire meaning of it and the fact that it's actually happening.
What is your personal goal for the competition?
My goal is to make the women's super final which is the world's top six women. In those finals, anything can happen. If I make my jump, I'm that much closer to a medal. And if I don't, I'm one of the top six women in the world. It would be a win for me either way.
At the end of the day, I want to be able to enjoy the Games as much as possible. I'll be competing on the world stage, so I feel a lot of pressure. I'm trying to work through all of the emotions and expectations, and make the most out of my experience. I'm learning a lot about myself through this process.
How important is mental preparedness?
MT: It is so important in our sport. Doing your job well is going to depend 80 per cent on your mindset. It's harder to master than the physical because it's dealing with emotions and feelings, but the work that you're doing is just so critical.
When you prepare mentally, you're building long-term tools that will help you during harder moments. That's the only time when you see if you're making progress, but it's what matters the most when it's time to compete.
When you were at the World Cup event in Finland in December, you tried a jump that you had never landed in competition before. How do you get into that I-can-totally-do-this mindset?
MT: That specific jump that you're talking about, I was so nervous. I knew I was going to be nervous, and for me it gets really bad. I feel it in my stomach. It's a very physical reaction for me when I'm very stressed. And I have got to let it happen because I cannot fight it.
When it's maybe five minutes before my jump, that's when I actually try to control my emotional state. I've trained a lot in mental preparation, so I have a routine that works for me. Everybody has their personal routine.
For me, I just do a lot of breathing to really calm myself down and feel myself being more present. And then I use a lot of keywords that I repeat over and over, and I visualize. I pay attention to my keywords and focus on my actions, which makes me forget about the results.
And then I try to stay in that focused mindset when I put on my skis. I mentally put distance between what I want to happen and what I need to do. I use this routine in training and I use it in competitions. Sometimes it works and sometimes it doesn't.
I hope it works at the Olympics! Please know that your fellow Concordians are behind you and cheering you on. We are so proud of you and everything you've accomplished and will continue to accomplish.

Learn more about Concordia's Gina Cody School of Engineering and Computer Science.
Explore the Department of Mechanical, Industrial and Aerospace Engineering (MIAE).
---