Concordia's FOFA Gallery reopens with a solo exhibition by Bronfman fellow Andréanne Abbondanza-Bergeron
LACUNA – LACUNE features artworks that explore encounters with postconsumer waste and the natural landscape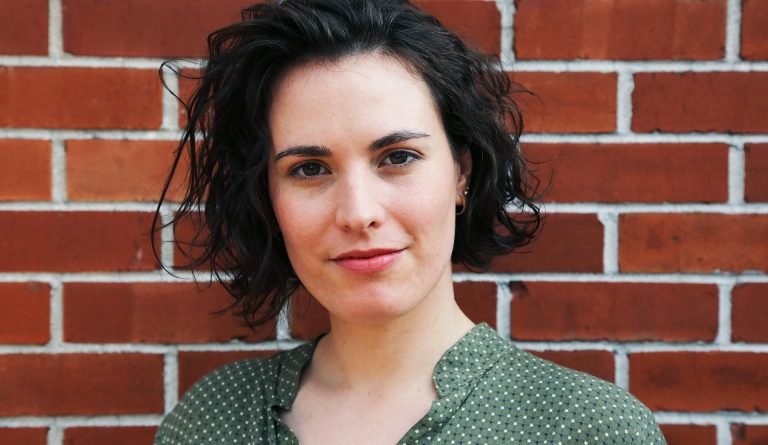 After a wait of a year and seven months, Concordia's FOFA Gallery is reopening to the public.
Its first in-person exhibition is LACUNA – LACUNE by Montreal-based installation artist Andréanne Abbondanza-Bergeron (BFA 07, MA 10, MFA 17). She is a visiting scholar at Concordia and the 2017 recipient of the Claudine and Stephen Bronfman Fellowship in Contemporary Art.
"We're all new to the space," Abbondanza-Bergeron says. This is her first exhibition at FOFA and the first show for the gallery's new director, Nicole Burisch (MA 11), who began her role this summer.
During the COVID-19 pandemic, the gallery launched a curatorial platform CU at FOFA, featuring online programming such as We Are Still Processing 2020, a series of conversations co-animated between Geneviève Wallen from FOFA Gallery and Maya Rae Oppenheimer and Joni Cheung from Conversations in Contemporary Art.
It also launched a newsletter series called Isolate In style, which featured Daisy Desrosiers and Charlene K. Lau, among others.
"As we move from online to in-person programming, working with Andréanne has been such a great way to get acquainted with the gallery's physical features," Burisch says. "Her highly considered approach to installation has had us looking at the space from new angles."
A shift in artistic practice because of the pandemic
A graduate of the MFA Sculpture program in Concordia's Department of Studio Arts, Abbondanza-Bergeron has exhibited in various solo and curated group shows in Canadian cities and abroad in Germany, the United Kingdom, Belgium, Mexico and the United States.
She also teaches in the communications, media and studio arts program at Vanier College in Montreal.
LACUNA – LACUNE presents a body of work that inhabits all of the FOFA Gallery, with a series of immersive photographs in the vitrines and a new site-specific work in the gallery's main space. The installation continues her explorations of industrial and institutional building materials, while also marking a recent shift in her artistic practice.
"There's something there that has taken such importance in my work during the pandemic — what I had access to and how I approach things," Abbondanza-Bergeron explains. "I'd say the subject matter is shifting."
Through conversations with Burisch, the artist began to find ways to articulate the significant change that has been triggered by the experiences and decelerations of the pandemic. This dialogue contributed to present the artist's recent photographic works in a way that would echo the installations in the main space and the Black Box and unify the overall exhibition.
"The focus of my work has moved from a more architectonic approach to something trying to explore our relationship with the world and the natural environment."
A meditation on humans and the spaces we inhabit
For Abbondanza-Bergeron, LACUNA – LACUNE is a meditation on the precarious relationship between humans and the spaces we inhabit. She records her encounters with postconsumer waste that, in its later stages of use and decay, becomes part of the natural landscape — tires floating on a lake or shattered glass embedded into moss, for example.
The artist says she is looking forward to "sharing this exhibition with others in person, those moments that in some ways we took for granted before."
Burisch, excited to be returning to in-person work, agrees with Abbondanza-Bergeron. She sees this as a period of intense transition, where everyone is questioning how to live, work and share cultural experiences differently, post-pandemic.
"Andréanne is reflecting on some important ideas with her exhibition that I think really resonate in this moment."

LACUNA – LACUNE by Andréanne Abbondanza-Bergeron is open from October 1 to November 5, 2021, at Concordia's FOFA Gallery.
This project is supported by the Claudine and Stephen Bronfman Family Foundation and the Canada Council for the Arts.

---