Concordia engineering students turn thwarted vacation plans into a profitable startup
Jérémy Maltais and Jordan Bernier use skills learned at the Gina Cody School to design a next-generation camper van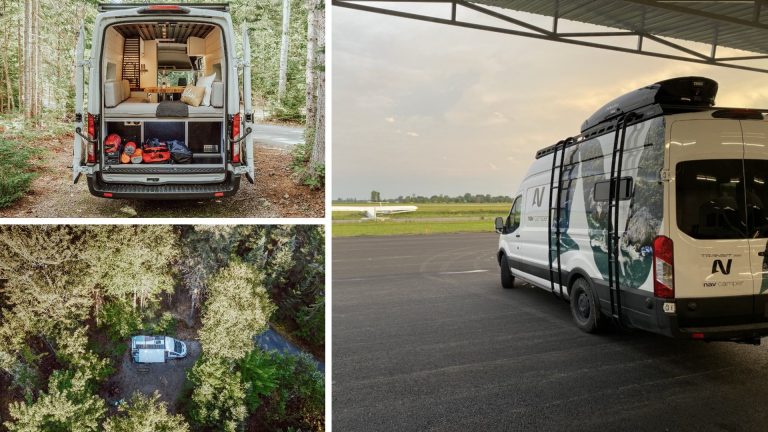 When a global pandemic eliminated any hope of the vacation they had so carefully crafted, Jérémy Maltais and Jordan Bernier turned the setback into a profitable business.
The two mechanical engineering students had planned a dream Californian adventure for the 2020 spring break, right as the COVID-19 public health crisis was taking hold in Canada and the United States. What they didn't realize is that the caravan they purchased a few months prior to their trip would be the inspiration that led to a thriving startup called Nav Camper.
Pivoting under lockdown
"Come March 2020, the border closed and a national lockdown started. There were no classes scheduled and our academic careers were put on hold," Maltais shares. "So, in April we bought a brand new Ford Transit and applied all of the knowledge we gained in school by developing a prototype luxury camper, with amenities that are powered by solar energy."
They reached out to Rolf Wuthrich, associate professor in Concordia's Department of Mechanical, Industrial and Aerospace Engineering, to share their project idea. He continues to mentor them through implementing Industry 4.0 systems into the work.
Beyond the prototype
Once the prototype was complete, Maltais and Bernier hired a few friends to create a promotional video of their creation. They uploaded it to YouTube and, before they knew it, their summer project picked up steam.
"We put a lot of work into the project that we wanted to showcase," Bernier explains. "The van was outfitted with custom plumbing, electricity, cabinetry and solar panels. And all of these innovative designs were programmed into the van to deliver a seamless user experience."
The prototype served as a baseline that kickstarted Nav Camper. New projects to convert camper vans came their way and allowed them to further develop functionality and design in line with Industry 4.0 goals, under the watchful eye of Wuthrich. Their innovative ideas have secured projects through to June 2022, as they look forward to completing their studies in the 2021-22 academic year.
Lessons and take-aways
The co-founders had a few words of advice for their fellow students with big ideas:
The best way to learn is to actually do it. In every class you have a big idea, but the key to success is to actually do something. Start small, but start somewhere, and then focus on improving it.
Be flexible. We reinvent ourselves every day. One morning you think things are great, when you're one phone call away from making a major change in the way you approach your work. It's a rollercoaster every day.
Engage others. Our biggest strength is having each other for support. It's important to have a friend who understands the full picture on bad days and is ready to listen and help you find solutions.
Take risks. Trust yourself and know that now is the best time to do something. We are young and we have the time and energy to do anything. Believe it.
As they grow the company, Maltais and Bernier look forward to hiring more of their peers, exploring innovations through future Capstone projects and advocating for the values of discipline and inspiration they acquired through their Concordia journey.
Find out more about Jérémy Maltais and Jordan Bernier's new startup, Nav Camper.
Learn more about Concordia's Gina Cody School of Engineering and Computer Science.
---