2 Concordians are awarded nearly $5M for social sciences and humanities research
Projects will study the colonial legacies in museums and aging in an era of digital data-gathering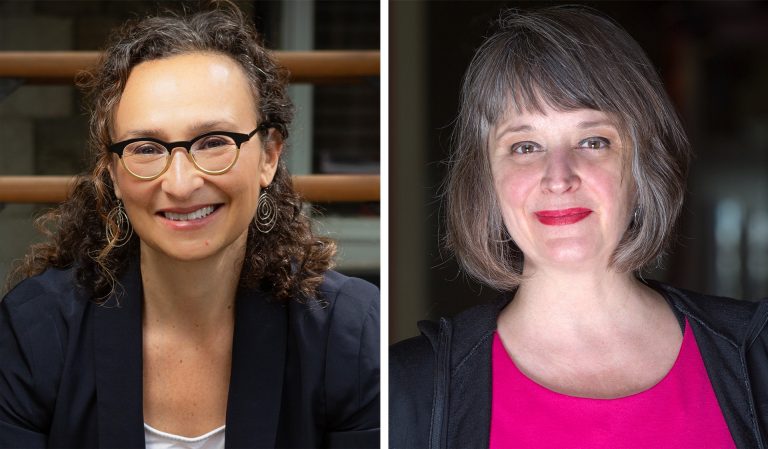 The Social Sciences and Humanities Research Council of Canada (SSHRC) has awarded two Concordia Faculty of Arts and Science professors nearly $5 million combined in research funding.
Erica Lehrer, professor of history, and Kim Sawchuk, professor of communication studies, are recipients of SSHRC Partnership Grants each worth approximately $2.5 million over seven years. The council's website explains that the grants "support formal partnerships between academic researchers, businesses and other partners that will advance knowledge and understanding on critical issues of intellectual, social, economic and cultural significance."
Paula Wood-Adams, interim vice-president of research and graduate studies, says she looks forward to seeing how their work progresses over the coming years.
"For Concordia to receive two of these prestigious awards is really a testament to the calibre of their research and the innovative vision that Kim and Erica have for their projects."
Thinking Through the Museum
Lehrer is a sociocultural anthropologist as well as curator and founding director of the Curating and Public Scholarship Lab. She is the principal investigator for the project Thinking Through the Museum: A Partnership Approach to Curating Difficult Knowledge in Public.
It brings together academics, museum practitioners and community representatives to investigate and creatively respond to the lack of diversity in museum staff and governance, the absence or misrepresentation of disempowered groups in exhibits and strained relations between museums and the publics they serve.
The project's goal is to integrate its network of 20 partner organizations in Canada, the Netherlands, Poland, South Africa and the United States and 34 diverse, world-class experts to transform museum theory and practice. The team will draw on critical theory and lived experience to better understand museums' implication in and potential for redressing contentious historical and cultural issues.
Lehrer says she hopes to see museums transform into truly representative institutions suited to serve 21st-century multicultural societies.
"The current social crises present an unparalleled opportunity for museums to not only rethink how they can continue to operate, but also what leadership role they can play in the global task of healing historic divisions and accelerating progressive social change," she says. Lehrer cites the importance of the Black Lives Matter, Idle No More and #MeToo movements as examples, along with new heritage activism in Poland and South Africa.
"The team will use the power and potential of museums and curating to critically assess and respond to legacies of mass violence and injustice across cultural contexts. We hope to catalyze positive, sustainable changes."
Aging in Data
For her part, Sawchuk is no stranger to SSHRC Partnership Grants, having received a nearly $3-million, seven-year grant in 2014 for her project Ageing + Communication + Technologies (ACT): Experiencing a Digital World in Later Life. Housed at Concordia, ACT is an international, interdisciplinary and multi-methodological research project that investigates the transformation of experiences of aging with the proliferation of new forms of mediated communications in networked societies.
Her new SSHRC Partnership Grant, Aging in Data, brings together an interdisciplinary network of scholars and community-based activists and organizations to research the intersections of age studies, communications/media studies and critical data studies.
Nineteen partner organizations and 34 co-applicants and collaborators from 10 countries in Europe, North America and Australia will investigate aging in an era of unprecedented digital data-gathering.
"Within the research team, age is not just a number or variable: it provides a lens to reflect upon an increasingly datafied world. Within this context, the COVID-19 pandemic is magnifying pre-existing age-related social and political data inequities and divisions that we seek to address and redress," says Sawchuk, who holds the Concordia University Research Chair in Mobile Media Studies.
"This moment presents the team not with an opportunity but an obligation to pursue these research questions."
Aging in Data was also awarded $176,973 through the Canada Foundation for Innovation's John R. Evans Leaders Fund. A matching contribution from the Government of Quebec as well as additional funds from Concordia brings the total to more than $440,000 for the project. This money will go toward the project's infrastructure needs, including buying audio and video recording devices, mobile post-production equipment as well as equipment for the public curation of projects and workshops part of the partnership grant project.
Pascale Sicotte, dean of the Faculty of Arts and Science, says she is inspired by the collaborative scope of the projects.
"Where some may see insurmountable obstacles, Erica and Kim see opportunities," Sicotte notes. "These two projects exemplify what is possible when academia reaches beyond borders, real and perceived, to work with communities to tackle today's most pressing issues."
In addition to the SSHRC Partnership Grants awarded to Lehrer and Sawchuk, Concordia is also the recipient of nearly $2 million in SSHRC Insight Grants, which are awarded to "support research excellence in the social sciences and humanities."

View the complete listings of Social Sciences and Humanities Research Council of Canada award recipients.
Find out more about SSHRC Partnership Grants and SSHRC Insight Grants.

---