Concordia's District 3 renames its summer residency after former university president Alan Shepard
The program's latest cohort of students and recent grads kicked off the 12-week program earlier this month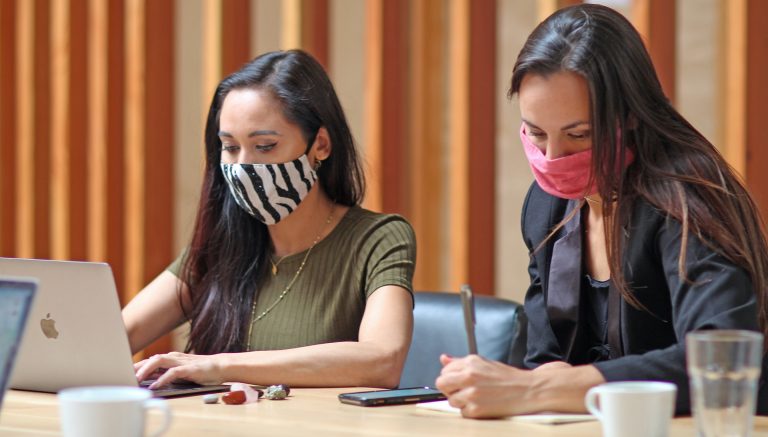 The District 3 Innovation Hub summer residency program is getting a new name, and a familiar one at that. Going forward, it will be called the Alan Shepard District 3 Innovation Residency.
Since Shepard completed his time as Concordia president and vice-chancellor in 2019, the university has sought to honour the lasting achievements of his seven-year tenure. This announcement comes on the heels of his being named president emeritus in March.
"We can't think of a more fitting tribute for Alan, who was a pioneering force in establishing Concordia as a next-generation institution," says Paul Chesser (BA 94, GrDip 97), vice-president of University Advancement.
"Throughout his time here, he never missed a chance to champion experiential learning opportunities for our students. This includes playing an instrumental role in the creation of District 3 back in 2013."
The newly renamed residency is a 12-week intensive geared at Concordia students and recent grads from all disciplines wanting to develop practical solutions for startups and organizations in emerging technologies.
The program helps participants define and launch their careers by gaining real-world experience working in multidisciplinary teams on several projects. They learn innovation best practices and expand their network with like-minded peers and industry leaders.
"I strongly support Concordia's District 3 Innovation Centre and all that it stands for," says Shepard, who is now president and vice-chancellor of Western University in London, Ontario.
"District 3 creates an environment that encourages people to follow their dreams and to build a new and better world. It encourages a bold new ecosystem for university education and research. I'm thrilled to see D3 and Concordia name their summer fellowship program in my honour."
'An edge that helps them succeed'
The 2021 residency cohort just started, with representation from all four Concordia faculties in departments as varied as Design and Computation Arts, Psychology, Marketing, Mechanical, Industrial and Aerospace Engineering and more.
It's a full-time paid position, with an immersive curriculum and workshops as well as coaching from experts.
"The residency program is such an important part of District 3," says Alexandra Allen, program specialist. "We love the interaction between students and startups and it's an experience that is positive for both sides. Since teams are multidisciplinary, the diverse backgrounds and expertise help startups be more innovative in their approach and offer an edge that helps them succeed."
The program is led by Allen, Houda Jawar, program designer, and Jane Somerville, District 3 program director. Together with the rest of the team, they offer participants an opportunity to work on real challenges facing startups in District 3's programs. This residency helps students gain valuable skills to integrate into Montreal's job force faster by helping to kickstart their careers. It also opens them up to opportunities in the innovation ecosystem in Canada.
'Using innovative approaches can reveal marvels'
Erfan Ershad is an engineering graduate student and past residency participant.
"The District 3 residency program not only gave me the opportunity to learn numerous new tools; it also changed my perception on how these tools can be helpful," says Ershad, who is graduating this spring with a Master of Engineering in Computer and Electrical Engineering.
"Learning about the art of interviewing and the application of systems mapping showed me that using innovative approaches can reveal marvels in the entrepreneurship journey."
For Rola Hamed (GrCert 20), enrolling in the residency last year was about finding a practical complement to her work in experimental medicine.
"Coming from a science background, I longed for a more interactive work environment where collaboration and communication are at the forefront," she says. That's what led her to pursue a graduate certificate in business administration and to get involved with District 3.
Since its establishment in 2013 the residency program has achieved significant success that just keeps growing. So far 120 students have participated, with at least 50 per cent seeing their careers subsequently launched in the innovation ecosystem.

Find out more about the newly renamed Alan Shepard District 3 Innovation Residency.
---