District 3 prepares Concordia and Montreal students for the future of work
The hub's residency program helps 16 aspiring innovators turn their ideas into practical solutions for startups and organizations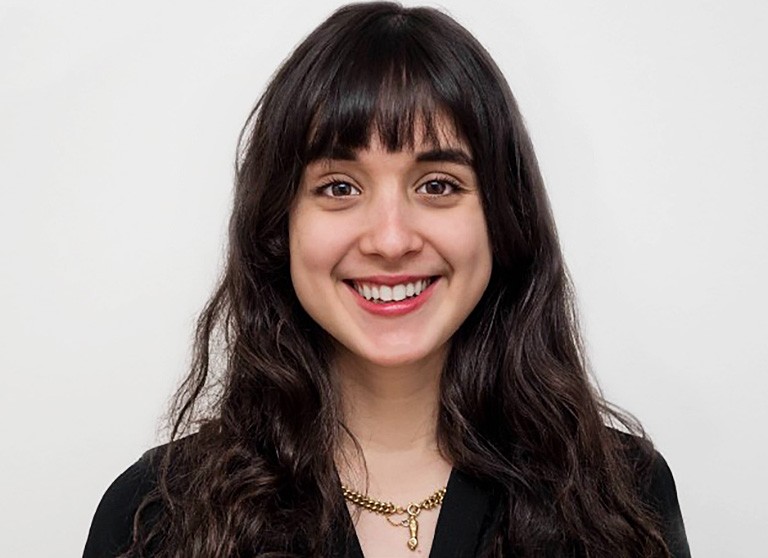 Wanda Stamford Steiner: "Being online for the residency did not pose a problem."
When Rola Hamed (GrCert 20) decided to pursue a graduate certificate in business administration, her goal was to find a practical complement to her work in experimental medicine.
"Coming from a science background, I longed for a more interactive work environment where collaboration and communication are at the forefront," says Hamed. Since May, she and 15 other interns have been participating in a residency hosted by Concordia's District 3 Innovation Hub.
The three-month intensive program is geared at students and recent grads from all disciplines wanting to develop practical solutions for startups and organizations in emerging technologies.
The residency helps participants define and launch their careers by gaining real-world experience working in multidisciplinary teams on several projects, learning innovation best practices and expanding their network with like-minded peers and industry leaders.
This year's cohort included master's and PhD students in life sciences, MBAs, designers and undergraduate students from various disciplines. The full-time paid internship, immersive curriculum and workshops, as well as coaching from experts, were made possible through funding from the Ville de Montréal's Accélérer les talents project. The city's support is geared at helping students integrate into the workforce faster.
For 12 weeks, participants worked full-time on five projects with startups focused on life sciences and sustainable futures, as well as innovation projects, such as the future of universities. They gained skills in agile management, presentation and storytelling, customer discovery, UX design, prototyping and design thinking, business modelling, digital marketing, website design, conflict management and multidisciplinary teamwork.
"District 3 is the collision space where startups, research and talent can collaborate and materialize bio-economy and emerging tech innovations to build a resilient economy," says Xavier Henri-Hervé (BEng 87, DSc 11), executive director of the innovation centre.
"In the future of work, talent must be versatile and able to adapt to succeed in their careers. Whether they choose to build a startup or join a company, they must have an entrepreneurial mindset."
'The atmosphere is great'
Wanda Stamford Steiner recently finished her BComm in business technology management at Concordia's John Molson School of Business (JMSB). She was excited to spend the summer as a District 3 intern, despite the unanticipated public health crisis.
"I did not expect the program to be so great as a remote residency. However, being online did not pose a problem," Stamford Steiner says. "The atmosphere is great and it has been possible to feel a sense of bonding and belonging with the teams regardless of the physical distance."
The residency program is led by Jane Somerville, Ahmed El Wassimy and Alexandra Allen. Together with the rest of the team, they offer participants an opportunity to work on real challenges facing startups in the District 3's programs. This helps them gain valuable skills to integrate into Montreal's job force faster by showcasing and kick-starting their career in industry and the innovation ecosystem.
"At District 3, we teach early on the value of investing in continually honing skills in a fast-paced and multidisciplinary environment," Henri-Hervé adds.
Shoulder to shoulder with startups in medtech, AI and more
"I did not expect to work so closely with startup founders," says Ethan Katz-Zeitlin (BA 20). "My teammate and I met with our founders almost every day. I don't think you can find an experience like this anywhere else, at least at this stage of our careers."
Residents had access to founders from a number of District 3 startups, including Modulari-T, a company looking to increase the efficacy and safety of CAR-T therapy, a potentially promising alternative to chemotherapy. Cofounders David Cotnoir-White and Étienne Gagnon invited residency participants to assist with research in finding potential partners and investors for product development and implementation.
By engaging directly with startups at the forefront of life sciences and other burgeoning disciplines, residents got the exceptional opportunity to learn what it takes to move from an idea through to validation and beyond.
"I have to admit that no university course has enriched me with so many incredible insights about the process that comes with building a startup from scratch like the residency has," says Natasha Liberman Santos, a JMSB management student.
Participants also worked on implementing community practices to create a vibrant digital ecosystem for entrepreneurs and innovators to congregate, reinforce their networks and share skills amongst each other.
Plus, they were tasked with collectively reimagining District 3's use of an open physical space given the COVID-19 pandemic, rethinking the future of higher education and more.
'An amazing place to challenge your views'
According to Stamford Steiner, what really stood out was the workshop component, such as a communications workshop led by Johanne Pelletier, director of strategic Initiatives for Concordia's University Communications Services.
"The workshops have all been very insightful. It spoke to me when Johanne Pelletier said, 'I'm not grading you. I'm probably learning from you,'" Stamford Steiner reports. "Because ever since starting the program, I'm learning something new every day!"
For Simon Rock, a Concordia history and computer science undergrad, the biggest takeaway was the necessity of meticulous focus and testing to ensure that whatever you're working on is worthwhile.
"This boils down to significantly deconstructing yourself and your biases in order to more clearly understand how things actually are," he says.
"I have already recommended the program to friends. It's an amazing place to challenge your views on things based on your background and to collaborate with people who have entirely different perspectives and modes of thinking than you do."
Several residency students have already secured positions in various industries thanks to their experience. That included working with District 3's startup Zetane Systems, which is developing a digital workspace to build, edit and explain datasets and the results from algorithms in artificial intelligence, as well as roles with Autodesk, UpstartED, a McGill Research Group on COVID-19 and MAPP_MTL.

Find out more about Concordia's District 3 Innovation Hub.
---