Concordia professor honoured for his groundbreaking research on wind engineering and aerodynamics
L'Ordre des ingénieurs du Québec recognizes Ted Stathopoulos for his contributions to the field over 4 decades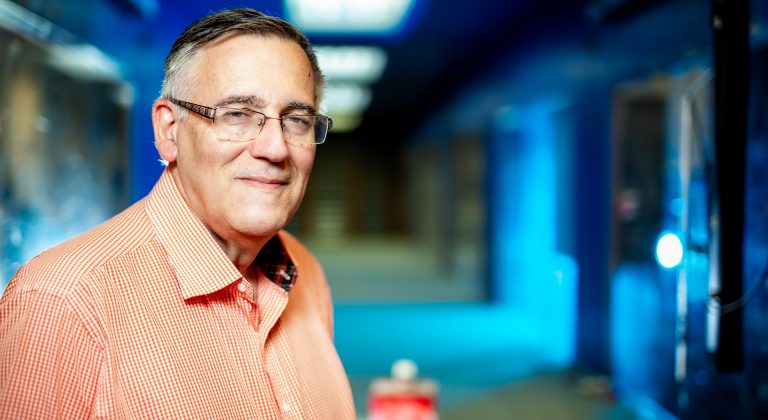 Theodore "Ted" Stathopoulos, professor of building, civil and environmental engineering at Concordia's Gina Cody School of Engineering and Computer Science, was awarded the Honoris Genius for Engineering Research or Education by the Ordre des Ingénieurs du Québec on November 25. The prize was created this year to celebrate the order's 100th anniversary.
"I was very excited and pleased when I learned I would be given this award. I've always firmly believed that, as an academic, teaching and research should go hand in hand," says Stathopoulos, who is also a Fellow of the Canadian Academy of Engineering, the American Society of Civil Engineers and the Institution of Civil Engineers.
"This award is special in that regard because it's an acknowledgment of the importance I have given to both research and teaching throughout my career."
The Honoris Genius for Engineering Research or Education awards acknowledge a professor's contributions to research and teaching within their institution and the national and international reach of their work.
Stathopoulos received the honour for being an "eminent figure in the world of wind engineering and an internationally renowned researcher in the field of building aerodynamics. His scientific work has made it possible to build safer buildings, and it contributed to the development of building codes and standards."
'Excited and pleased'
Stathopoulos co-founded the Building Aerodynamics Laboratory after arriving at Concordia in 1979. Over the years, the lab has become an internationally recognized institution. His research has led to over 500 publications in refereed journals and conference proceedings and has served as a basis for wind design of low-rise buildings in the national building codes in Canada and other countries.
He has received many international distinctions and awards, including honorary doctorates from the University of Aristotle of Thessaloniki, in Greece, and the Eindhoven University of Technology in the Netherlands. Stathopoulos says he's "honoured and humbled" by this latest recognition from his peers in Quebec.
Mourad Debbabi, interim dean of the Gina Cody School of Engineering and Computer Science, says Stathopoulos is an inspiration to all of his colleagues and proof of Concordia's value as a teaching and research institution.
"It's difficult to overstate the high quality of his research, which has left a mark on cities around the world," Debbabi says. "We're all very proud to have such a trusted and respected colleague."
Concordia is a special place
In 1978, a few months before finishing his doctorate at the University of Western Ontario, Stathopoulos received a letter that set him on the path of a four-decade academic.
"It was from the director of the Centre for Building Studies in Engineering at Concordia, inviting me to give a lecture and discuss employment possibilities," he recalls. "I had never heard of Concordia — the university had only been created four years earlier — but my thesis supervisor said it was up-and-coming and I should go and meet with them. I've never looked back and, here we are, 40 years later."
He says he still "loves research and teaching" and has no plans to retire. "Concordia is special. We pay attention to our students, they aren't just numbers."
Stathopoulos has mentored more than 50 graduate students during his career.
"As an institution, the university isn't exclusively focused on research. Teaching also remains a priority. I think that's why I've always felt compelled to stay here. It really is in line with what I think a university should be."

Learn more about Concordia's Building Aerodynamics/Wind Tunnel Lab and Centre for Zero Energy Building Studies.
---