Concordia's Indigenous Student Librarian Program taps into the city's strengths
Now in its fourth year, the three-university collaboration offers the chance to gain hands-on experience while completing a master's degree.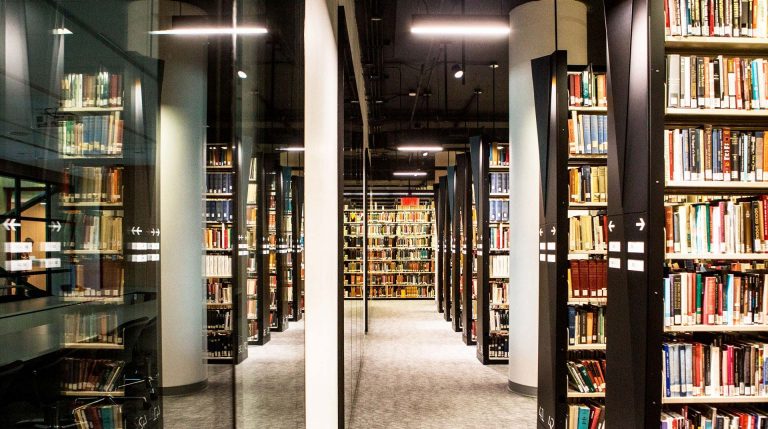 Concordia Library has once again teamed with McGill University and Université de Montréal to offer a program for Indigenous students in the library and information studies field.
The program, now in its fourth year, provides a First Nations, Métis or Inuit graduate student from McGill or Université de Montréal a two-year paid position at the Webster or Vanier library.
Indigenous students Chloe Belair-Morin and Sarah Monnier are currently in the program at Concordia Library and both completing their Master of Information Studies at McGill.
Belair-Morin, from the Kitigan Zibi Anishinabeg community, had previously been at the McGill Redpath Museum. Her work as a museum database assistant at the McGill Visual Arts Collection gave her a solid background for the program's range of activities, she says.
"The professional experience that I accumulate during this two-year position will help support my strong interest in the maintenance and preservation of artworks and documents."
Monnier is an Ojibwe woman and member of Lac Seul First Nation. She previously worked in several archives, special collections and small museums, including at Queen's University Archives. In April 2020, she completed the RBC Indigenous Internship Program at the Canadian Museum of History in Ottawa.
"While at Concordia, I would like to gain experience to foster Indigenous approaches to librarianship and archival studies," Monnier says. "I hope to work with Indigenous communities in preserving oral history traditions and curating Indigenous material through digital heritage management projects."
'An issue of great importance'
Guylaine Beaudry, Concordia's vice-provost of digital strategy and university librarian, says the program represents a step in the right direction.
"We are just beginning to decolonize our libraries, our spaces, our catalogues — there is so much yet to be done," she notes. "This is an issue of great importance to our profession. There is a lack of diversity within our libraries that needs to be addressed."
Beaudry adds that Montreal is the only city in Canada that has two schools that teach library and information studies. She also thinks there should be more projects like this in the city, which benefits from the concentration of universities.
"It's a great example of collaboration between three Montreal institutions, of coming together to move forward and take positive action."
A chance to gain hands-on experience
The program offers the Indigenous student a chance to work on a range of activities in an academic library setting, under the mentorship of professional librarians, while completing a master's degree.
From special collections and projects to reference and instruction, the student will get a chance to contribute to the library and the wider Concordia community while bolstering professional skills. They will also get funding to attend one conference related to Indigenous librarianship and receive support from the Aboriginal Student Resource Centre.
"By working as a student librarian, alongside those who have been in the profession for years, they will gain firsthand, on-the-job knowledge, which is vital," says Lorie Kloda, associate university librarian for planning and community relations.
"Our hope is that when their time with us ends and they graduate, they will have the necessary experience to begin a long and successful career in academic librarianship or archives."
'It's important to do this right'
Students may choose to stay within a university setting or go off to work in public schools or cultural centres in their own communities. Beaudry says the program is about more than diversifying the Concordia Library.
"It's about Indigenous people having an active role to play within the library profession in Quebec and Canada. It's just the first step in terms of the Indigenous directions the library wants to take. We want to do more and we need to learn in order to do so. It's important to do this right."
Eligibility
To apply, students must be accepted into the Master of Information Studies Program at McGill or the Maîtrise en sciences de l'information at Université de Montréal and begin their studies in the fall term. The application process for next year is open now until February 12, 2021, at 5 p.m.
The position guarantees 15 hours of work per week from September to April and 30 hours per week from May to August, for two years. Tuition and student fees will also be waived by the host university.
Applications may be submitted in either English or French as a single PDF file to Lorie Kloda at lorie.kloda@concordia.ca.

Find out more about Concordia's Indigenous Student Librarian Program.
---