New sculpture installed at Concordia's Applied Science Hub
Vantage points and varying light guided Quebec artist Marc-Antoine Côté's hand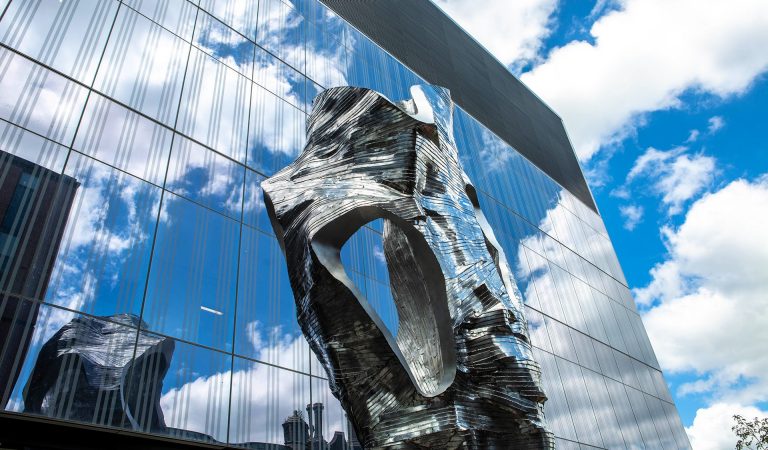 A new work of public art now graces the space between the straight lines of the Richard J. Renaud Science Complex (SP Building) and the Applied Science Hub on Concordia's Loyola Campus.
The undulating, glimmering "Montre-moi par où on commence. Dis-le-moi au creux de l'oreille," by Quebec artist Marc-Antoine Côté, stands two storeys tall.
On July 3, after months of pounding and soldering each band of metal into shape, Côté looked on at the installation of his work like a proud father.
"I feel good. It's just like my drawing and renderings," he says. "Actually, it's the first time I see it upright. My studio isn't tall enough to stand it up."
The fact that it's made from 2,700 kilograms of metal — mainly aluminum — also complicates manipulation, something the artist dismisses, describing the material as relatively light and adaptable.
"I use aluminum because of its malleability. I can work each strip to get the effect I want," Côté explains.
"I polish it to gain the reflective elements I'm seeking but try to leave traces of the manual work involved. Because I do everything by hand, I adjust each bump and reflection as I go, depending on how I see it coming together."
It's all about you
The sculpture's title roughly translates to "Tell me where we start. Whisper it right into my ear," which invites passersby to interact directly with the work, to the point of stepping right inside of it if they wish.
"By going inside the sculpture, people get a perspective that's completely different than what they see from above, from the surrounding buildings or from the ground," Côté says.
The differing vantage points are what guided the artist's creative process. He began by considering how the work would look from windows inside the SP and Applied Science Hub buildings and from the passerelle that joins them together. For those walking by, he adjusted individual strips of metal based on changing light of day and the reflective qualities of the surrounding glass.
"I work with points of view in mind, allowing those to determine where I place the openings in the work. Even though it's relatively monumental as an object, I'd like people to relate to it more intimately — as well as with the material and location. It should offer an alternative to the relationship with the large buildings around it."
Why art matters
Members of Concordia's Facilities Management on hand for the installation were delighted with the new work and its effect on the design of the new Hub. As with similar projects in Quebec, the university adheres to the goal of devoting approximately one per cent of the construction budget to supporting public art and local artists. This is done through the Program to Integrate Art into Architecture and the Environment.
"The program has allowed Concordia the opportunity to acquire and promote contemporary artworks by internationally renowned Quebec artists," says Sandra Margolian, Concordia's recently appointed public art lead.
"It also provides artists with an alternative to galleries and museums for the exhibition of their work, allowing them to interact with built and social environments over a period that will span decades. That allows them to reach a wider, diverse audience," she adds.
Margolian, the Hub architects and a few other Concordia representatives liaised with the government and its appointed art specialists in creating a short-list — Quebec artists preselected from a pool of those previously accepted into the government program — to invite to submit a proposal for the Hub.
"Côté's work impressed the committee for many reasons and it is great to see that his vision has been so successfully executed. We hope that it will enrich the experience of those on Loyola Campus — whether they be our own members, moving between buildings, or the larger community who use the grounds as part of their daily lives," Margolian says.
And as for what the sculpture represents?
"I look to create shapes that don't tend to exist in nature or the built environment. I'm not looking for parallels," Côté notes.
"Still, I do understand that some people might see a tree or others arteries around a heart. But that's not my preoccupation. For me, the shape was determined based on the points of view. That's what I wanted to play with. Interpretation is for you to consider on your own."

Explore Concordia's public art collection.
---