Damon Matthews: 'We will train a new generation of leaders to help solve global sustainability challenges'
The $1.65M NSERC-CREATE grant will advance research toward climate, biodiversity and other environmental goals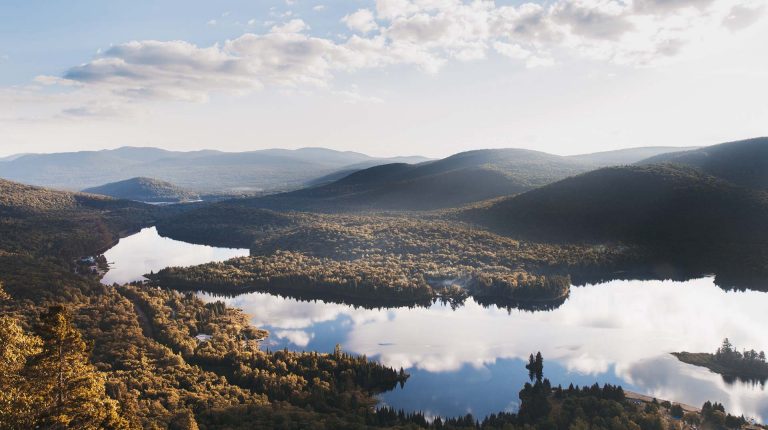 Concordia has partnered with global sustainability network Future Earth to launch a scientific training program for students at the intersection of environmental science and digital innovation.
The program was awarded $1.65 million in funding, to be distributed over six years, from the Natural Sciences and Engineering Research Council of Canada (NSERC)'s Collaborative Research and Training Experience (CREATE) program.
The Leadership in Environmental and Digital Innovation for Sustainability (LEADS) project is being spearheaded by Damon Matthews, Tier 1 Concordia University Research Chair in Climate Science and Sustainability and professor of Geography, Planning and Environment in the Faculty of Arts and Science.
This NSERC CREATE program will further scientific research on climate, biodiversity and other critical sustainability goals, and support the career development of students and postdoctoral fellows entering the global sustainability community.
"With a breadth of expertise and impressive track record in actionable sustainability research, Damon Matthews and his collaborators are well placed to mentor future scientists in addressing urgent environmental issues," says Paula Wood-Adams, Concordia's interim vice-president of research and graduate studies.
"With the added advantage of digital education and experiential learning, LEADS creates opportunities for students to gain the unique skills necessary to step up and inform major climate policies worldwide."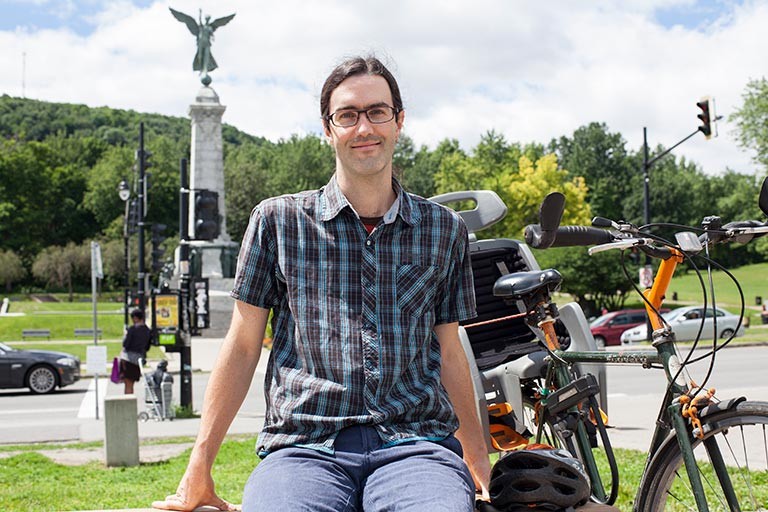 Damon Matthews, Tier 1 Concordia University Research Chair in Climate Science and Sustainability.
Learning from the COVID-19 experience
For environmental scientists at the face of the fourth industrial revolution, long-term solutions to sustainability issues begin with understanding the relationship between environmental systems and rapid technological shifts, as well as the ability to adopt new technologies to communicate scientific evidence to the broader public.
Climate events are dramatically reshaping the planet in ways that threaten the environmental systems we depend on. Meanwhile, artificial intelligence, biotechnology, the internet of things and cloud computing have allowed unprecedented access to information faster than ever before.
More recently, the COVID-19 health crisis added yet another factor to the equation. While lockdowns triggered temporary dips in carbon emissions, the pandemic still had a visibly disproportionate impact on societies that were already more vulnerable and less resilient.
Matthews observes that climate and other environmental changes similarly pose a larger threat to those with fewer resources with which to respond and protect themselves.
"It is more important than ever that we learn from our current COVID-19 experiences, and apply what we are learning about society's strengths and vulnerabilities to work towards solving the other sustainability challenges that are continuing unchecked," he says.
Matthews is recognized internationally for his work in policy-relevant climate science, as well as for initiatives such as the Climate Clock and Pledge to Lead that use digital visualization and web-based technologies to motivate and accelerate climate action.
For students entering the field, digital literacy and collaboration across disciplines will be critical for sustainability efforts post-COVID-19.
LEADS will educate participants in analytical techniques such as machine learning and AI to analyze large datasets, as well as digital communication tools — ranging from social media to multimedia platforms — to amplify the reach of scientific findings and mobilize societal responses to science-based sustainability solutions.
"Through this program, we will train a new generation of sustainability leaders to harness the power of digital tools and accelerate the transition towards global sustainability," says Matthews.
Future Earth collaboration
The first cohort of graduate and undergraduate students is set to begin online training in fall 2020. In addition to acquiring theoretical skills in data analytics and digital communication, trainees will work on active Canadian-led or international sustainability projects mobilized by Future Earth's global network.
These activities include preparations for international science-policy forums like the fifth United Nations Environment Assembly; the Science-Based Pathways for Sustainability Initiative, where students can inform policy dialogues, influence research agendas and connect with sustainability research communities operating at regional and global levels; and the Sustainability Research and Innovation Congress.
"Future Earth is thrilled to co-lead the LEADS program together with the incredible team of partners at Concordia University and other collaborators across Quebec," says Amy Luers, executive director of Future Earth.
Future Earth, a network of scientists, researchers and innovators, has offices in 20 countries around the world with its executive office based in Montreal.
A core program of the Future Earth Montreal hub is Sustainability in the Digital Age. The multi-stakeholder initiative focuses on leveraging digital innovation to enhance global sustainability and equity through platforms like Futures CoLab — a collaboration with the MIT Center for Collective Intelligence. LEADS trainees will gain experience in fostering online dialogues between diverse experts around the world.
"Humanity today is interconnected through, and dependent on, both the digital and natural worlds, creating massive opportunities and equally large challenges. The next generation of leaders must be bilingual in both digital and sustainability issues," says Luers, who is also an affiliate professor in Concordia's Department of Geography, Planning and Environment.
"The Sustainability in the Digital Age initiative is actively working to connect these agendas and this CREATE program will be a critical part of this effort."
LEADS has a strong network of collaborators from Concordia, McGill University, UQAM and Université de Montréal, as well as non-academic organizations. They will work together to provide additional supervisory expertise and enhance the student training experience by hosting research exchanges and internship placements, participating in meetings, workshops and summer training events, and contributing to the dissemination and application of research results.
Concordia gains over $11 million in total NSERC funding
With this grant, Concordia faculty members have won more than $11 million in NSERC funding this year. The total comprises 52 Discovery Grants, worth $8.8 million over 5 years, three Discovery Accelerator Supplement Awards, 10 Discovery Grant Launch supplements and two Research Tools and Instruments Grants.
The funding supports research expertise across disciplines in areas such as cybersecurity, genomics, data science, transportation and physics.
"We are very proud of all the NSERC winners," says Wood-Adams.
"This investment will support researchers as they continue to grow Concordia's leadership through ground-breaking innovations that positively, and responsibly, impact future generations."

For more information about the global sustainability training program, contact Divya Sharma at divya.sharma2@mcgill.ca.
---