Members of the Concordia community are sewing 2,500 masks for health-care workers
Led by the Milieux Institute, volunteers are also freeing up medical supplies to be donated by the university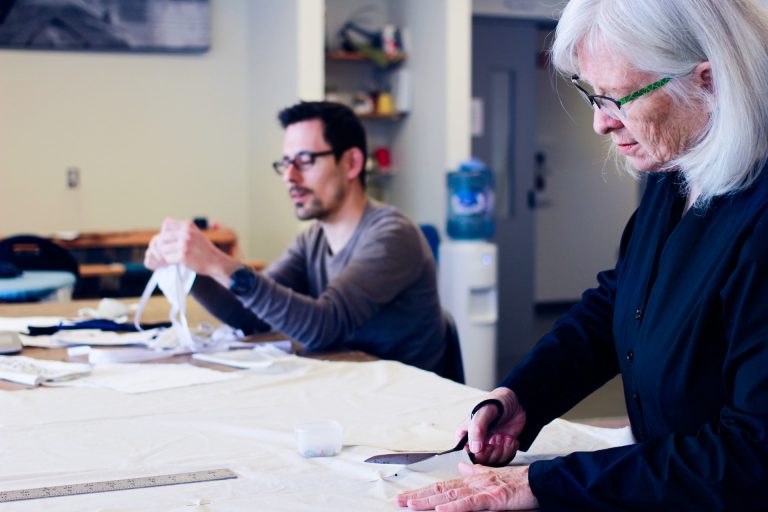 Film studies professor Haidee Wasson hadn't done any sewing in 35 years. That changed when she learned that Barbara Layne, co-director of the Textiles and Materiality Cluster at the Concordia's Milieux Institute, was looking for volunteers to sew hundreds of fabric masks for health-care workers.
"As Concordia's campuses closed and everyone started working remotely, the realities of the pandemic became immediate. I was overcome by the need to contribute," Wasson says. "Watching the images of frontline workers and reading about shortages of personal protective equipment (PPE) made it clear to me that this was one way to help."
For Layne, who is also a professor of fibres and material practices in the Faculty of Fine Arts, the impetus for the project came from a few sources.
"When Concordia President Graham Carr called on labs, researchers and other experts to contribute to public health efforts to fight COVID-19, I felt compelled to act," she says.
Layne also heard that the university might be able to donate hundreds of N95 masks if an alternative could be found for those needed on campus.
Finally, as someone who studies textiles and materials, she suspected that she could come up with a solution that would offer effective and comfortable protection.
"Masks that attach with elastic bands over the ears can be very irritating on the skin — a problem for those who need to wear them for hours every day."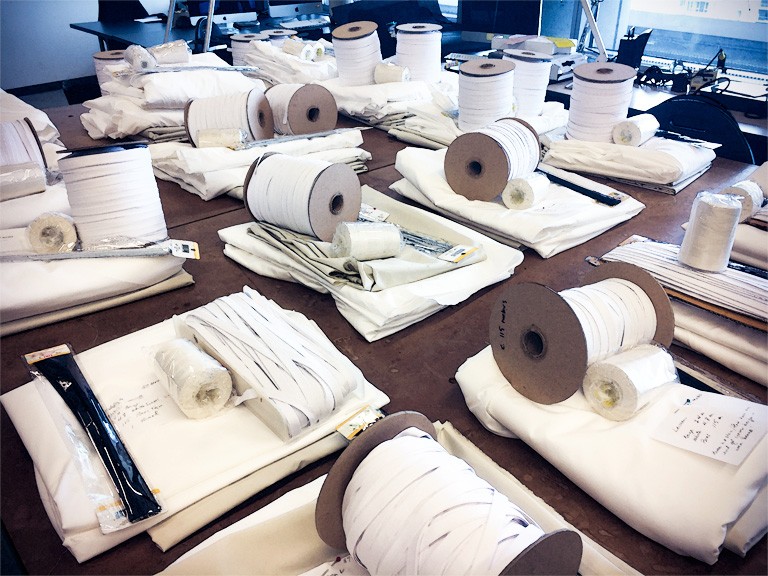 Health and safety meet design
To address that issue and come up with a design that would meet the requirements of the medical sector, a colleague introduced Layne to Frederic Guilhem Ducleon, acting director of Environmental Health and Safety (EHS) at Concordia.
"Evaluating products and their safety may be part of my job. But for me, this project was a labour of love, a personal project that I undertook outside of my regular duties," Guilhem Ducleon says.
He and Layne began by reviewing design ideas remotely, each doing hours of research. Then, a safe distance apart, they reviewed the physical design prototypes created by Layne. They got a second opinion from Catherine Lounsbury, a physician at Concordia Health Services.
"She and Fréderic examined each mask design carefully, looking for pinholes of light, ensuring that the fabric was tight and could fit snuggly," Layne explains.
Guilhem Ducleon adds that one of the great ideas Layne came up with was a tiny pocket over the nose area where they could slide in a pliable, metal wire. "That allows for a good fit, but the wire can still be removed for proper washing."
He considers the design so good and the fabric so well suited to the task that some of the masks could indeed be used instead of the N95 ones that Concordia keeps for emergencies. EHS will be able to add more than 1,000 of those to the hundreds of fabric ones to be donated to medical facilities by Layne and her volunteers.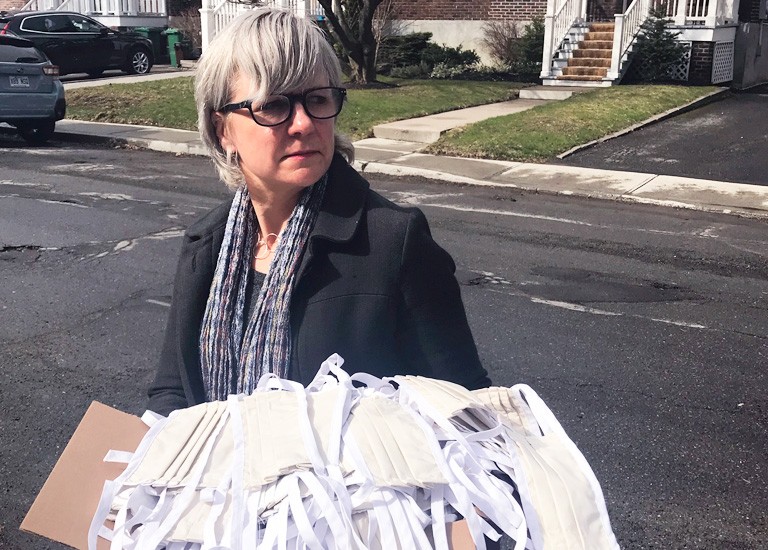 Film studies professor Haidee Wasson.
Finding and paying for the right materials
In addition to trading N95s for some of the handmade masks, EHS was able to fund the purchase of all the fabric, thread and bias tape needed to make the new masks, thereby allowing Layne to overcome the project's financial hurdle of material purchase.
"Still, it wasn't easy to find the fabric with so many companies closed due to the pandemic. We're grateful that Télio Fashion Fabrics and BSP Prestige sold us what we needed, at or below cost," Layne notes.
She acknowledges that there are numerous individuals making masks for health-care workers in response to the pandemic. Layne hopes that each one will help remind those on the frontline that people are thinking of them.
"Each mask takes about 30 minutes to make, and each one is thanks to an individual's care and dedication."
Mask-makers of all kinds
Twenty-six mask-making volunteers work from home, transforming the Milieux mask design into protection for frontline workers. Lauren Osmond is among them, turning to her sewing machine when she's done her regular workday.
"I'm happy to contribute my time to the collective. I am not often in Montreal to physically contribute to activities at Milieux, so it has actually been quite fulfilling for me to reconnect through such a meaningful project."
Marie-Christine Larivière is another volunteer. She is studying design and computation arts at Concordia. As a costume and millinery designer, her creations are usually used under the bright lights of the stage rather than by health institutions. Still, her interest in face masks isn't new.
"I had the chance to visit Asia twice last year, including through a Concordia field school in Japan. There, I was introduced to mask fashion and its widespread use."
Larivière misses her contact with the world of performing arts, dramatically affected by the cancellation of in-person cultural events.
"With the creation of mask hygiene, I believe that the cultural industry can start again," she adds.
Wasson also sees the value of popular mask use.
"Making masks is not only about frontline workers. Masks will surely become a standard aspect of Canadian life — like a toque or a winter scarf. As such, making and wearing one now signals a clear understanding that public health is about all of us playing a part," she says.
"Wearing masks is a powerful way to signal awareness of others and respect for what we do not know about the virus. It's hard to fight an invisible enemy. But masks are one way to make that fight visible and shared."
Concordia wishes to thank all the mask-making volunteers:
Ava Acland
Stella Acland
June Aldinucci
Anonymous
Alex Bachmayer
Théo Bignon
Amélie Brindamour
Amanda Clarke
Emeren Garcia
Molly-Claire Gillett
Sara Hanley
Gordie Ishizuka
Julie Lambert
Marie-Christine Larivière
Johanne Massicotte
Aaron Mcintosh
Cecilia McKinnon
Ashley Miller
Lauren Osmond
Etta Sandry
Miranda Smitheram
Megan Stein
Christy Thompson
Kathleen Vaughan
Haidee Wasson
Peter C. van Wyck

Find out more about Concordia's Milieux Institute for Arts, Culture and Technology.
---