Concordia PhD candidate uses AI techniques for improved ultrasound imaging
Bahareh Behboodi aims to make tumor detection and segmentation faster and more accurate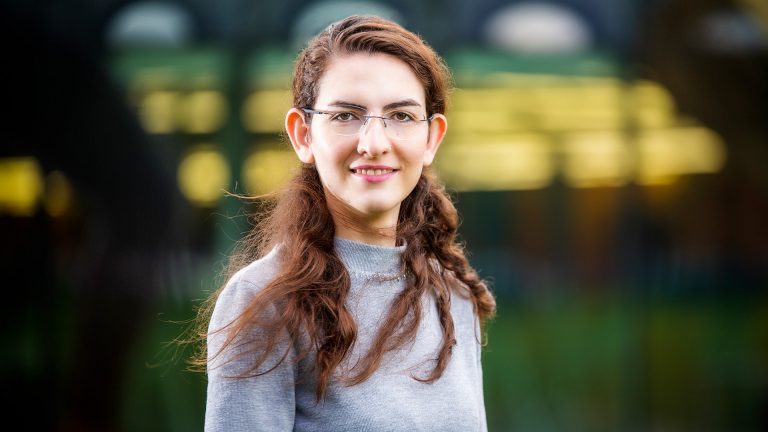 From cardiology to cancer screening, modern medicine relies heavily on image processing techniques such as ultrasound. As a manual procedure, though, there are inherent risks of human error, which can lead to problems at the stage of diagnosis and treatment.
Bahareh Behboodi is a PhD candidate in Concordia's Department of Electrical and Computer Engineering who works in the Image Processing and Characterization of Tissue (IMPACT) Lab. She is developing artificial intelligence-based approaches to ultrasound image processing. Her goal is to make tumor detection and segmentation faster and more accurate.
We aim to automatically detect or segment a specific organ in ultrasound images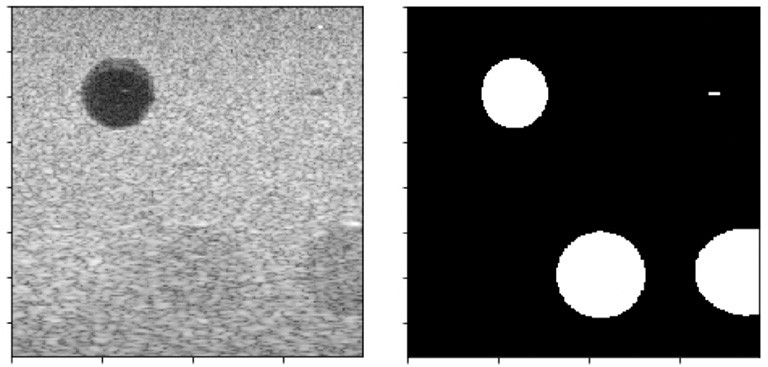 How does this specific image relate to your research at Concordia?
Bahareh Behboodi: The one on the left shows an ultrasound image with three different lesions, and the one on the right represents a corresponding mask for the lesions. As you can see in the left image, it is hard and time consuming to accurately segment the lesions manually, as ultrasound images are usually contaminated with noise.
What is the hoped-for result of your project?
BB: The objective of my research is to facilitate ultrasound image processing, specifically tumor detection and segmentation, by applying artificial intelligence (AI) techniques. We aim to automatically detect or segment a specific organ in ultrasound images, which is faster and more accurate compared to the current manual techniques.
What impact could you see it having on people's lives?
BB: Society will benefit from making aspects of health care like diagnosis and treatment more accurate.
I will offer an example of my research application. Kidney atrophy is a disease in which the size of the kidney is smaller than normal. In order to determine the size, a physician needs to use a non-invasive imaging modality (such as ultrasound) and measure it manually. This runs the risk of mistakes that can affect the treatment procedure.
However, if the measurement is done automatically, not only does it expedite the measurement process, it provides more accurate results and helps with better decisions on future treatments.
What are some of the major challenges you face in your research?
BB: One of the main challenges that exists in this field is that nowadays, because of the growing attention of scholars in utilizing AI, there are so many researchers who are adopting these techniques for improving health-care systems. Therefore, time is the key to success. You need to be fast in building up your idea from its A to Z.
What first inspired you to study this subject?
BB: Well, it might sound funny, but watching the TV show Grey's Anatomy inspired me to find a way that I could relate to health-care and medical systems. Plus, I was interested in math. So, I started my undergrad in biomedical engineering, and now I'm doing my PhD research on improving medical image processing for better and more accurate diagnosis.
What advice would you give interested STEM students to get involved in this line of research?
BB: Besides having a strong desire to solve problems related to health care, one should have knowledge and skills in programming as well as mathematics. Students with an engineering background, such as in computer, electrical or biomedical engineering are the most suitable for this field. However, if you are motivated to learn new skills, regardless of what your background is, this could be the right choice for your future research.
What do you like best about being at Concordia?
BB: Hassan Rivaz is one of the most successful scientists in ultrasound imaging, and being part of his lab provides me with the opportunity to get involved in projects related to health care and to collaborate with professional scholars in the field.
The other good thing about Concordia is the PERFORM Centre. It is well equipped with most of the imaging modalities such as MRI, CT, PET and ultrasound.
Bahareh Behboodi's research is supported by Concordia graduate research funds, a Concordia Merit Scholarship and grants held by Hassan Rivaz.

Find out more about Concordia's Gina Cody School of Engineering and Computer Science.
---