Concordia's District 3 continues to set the standard for scientific entrepreneurship
The startup incubator's life science manager Mahzad Sharifahmadian is a Canadian Science Policy Conference award finalist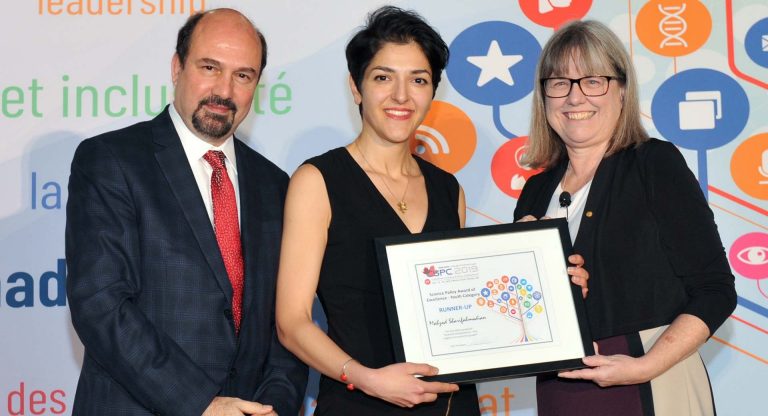 Mahzad Sharifahmadian always knew she wanted her research to have a direct impact on society. So after spending a decade working in biochemistry labs and earning her PhD, she decided to pursue entrepreneurship.
In 2017, she co-founded a biotech company offering point-of-care diagnosis of pathogens. "I wanted to see my work go beyond publications or patents," says Sharifahmadian.
To help others achieve similar goals, that year she joined Concordia's District 3 Center for Innovation as its life sciences manager. Since then, Sharifahmadian has advised more than 30 startups in the life sciences sector — work that got her thinking about just what these scientists need to be successful in business.
"I believe if a researcher has worked on a technology for five to six years, they should have the opportunity to commercialize it," Sharifahmadian says. She adds that there are more than 200,000 PhD students in Canada, representing a vastly underutilized source of innovation and economic growth.
Policy excellence
With that concept in mind, Sharifahmadian presented a proposal, "Scientist entrepreneurs — the engines of economic growth," at the 2019 Canadian Science Policy Centre Conference. The centre is a non-profit organization that brings together a pan-Canadian network of multisector expertise to discuss science, technology and innovation policy issues in a neutral, non-partisan forum.
Sharifahmadian's proposal was named runner-up in the awards for excellence in the youth category.
"Together, we will build stronger bridges between science policy and society and ensure the use of evidence in policy-making, turning great ideas into great policy," says Mehrdad Hariri, president and CEO of the centre.
The youth award recognizes individuals under the age of 35 who have developed an innovative and compelling evidence-based policy that will make a positive difference to Canadians.
In her proposal, Sharifahmadian outlines what she describes as a series of actions addressing the unmet needs for experiential learning, understanding the market fit of academic research and the opportunity to pursue an entrepreneurial path.
Noting that Canada has a significant gap between its academic research and the innovation economy, she suggests a national approach that could be applied across all graduate programs.
It includes for-credit university training on innovation practices and entrepreneurial skills, federal funds to reduce early-stage startup risks and a new academic track called a postdoc entrepreneur, among other suggestions.
"Through experiential training, collision of brain powers and alignment of entrepreneurial resources, we will design a nationwide dynamic living lab that supports Canadian industries and creates career opportunities for university graduates," Sharifahmadian says.
D3 leads by example
D3 is already actively moving in that direction. In May 2019, the innovation centre partnered with the Fonds de recherche du Québec (FRQ) to establish the Quebec Scientific Entrepreneurship (QcSE) program. The initiative was the brainchild of Sharifahmadian, who made the initial request for FRQ funds.
QcSE's objective is to bring university cities across Quebec in line with startup centres such as the Boston area, where 10 per cent of entrepreneurial ideas born in research labs are converted into new business opportunities. In comparison, the Canada-wide rate is less than one per cent.
"This program presents an exciting option for academics: to see their laboratory work have real-world impact through their mastery of entrepreneurial skills," says Rémi Quirion, chief scientist of Quebec.
Now in its third cohort, the online offering has 150 participants to date. D3 leads the new immersive program in collaboration with 13 Quebec universities and affiliated research centres.
Concordia will also be opening a new research and innovation–focussed Applied Science Hub on Loyola Campus this spring. It will include an integrated space devoted to D3 that will provide dry and wet laboratories to support entrepreneurs developing products based on scientific discoveries and ideas.
"Researchers are the job creators of tomorrow," says Xavier-Henri Hervé, executive director of D3. "Their scientific knowledge combined with the right support could see a number of innovations come to market that positively impact employment in the province."

Apply to the Quebec Scientific Entrepreneurship Program by January 31.
Find out more about Concordia's District 3 Innovation Center.

---