Concordia instructor wins a major teaching award from the Society of Neuroscience
Cristian Zaelzer-Perez earns the honour for his innovative course where science and fine arts students converge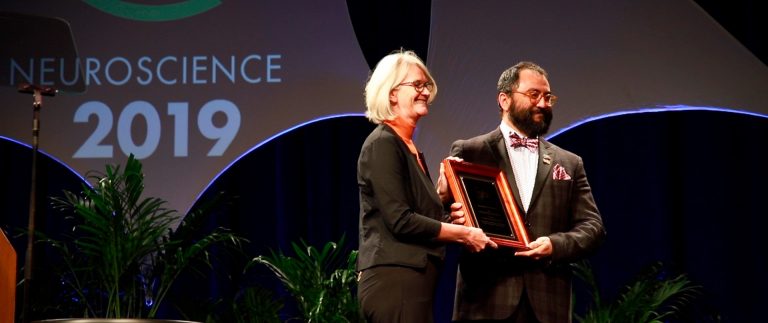 For the past three years, Cristian Zaelzer-Perez has been working to create a space for artistic and neuroscience communities to come together through the Convergence Initiative.
Now the Concordia instructor's hard work has won him a prestigious prize from the Society for Neuroscience.
Zaelzer-Perez received the society's 2019 Science Educator Award, which each year recognizes one or two neuroscientists who have made significant contributions to educating the public about the field.
He shared the distinction with Stefano Sandrone, a teaching fellow at Imperial College London. The award is supported by the Dana Foundation.
Zaelzer-Perez is the second Canadian to win the award since it was created in 2003. He will receive half the $5,000 USD prize and has the opportunity to write a feature commentary about science education for the society's peer-reviewed journal, eNeuro.
"It's really a big, big honour," he says. "This honour opens new doors for initiatives like Convergence. It creates exposure and more opportunities to establish bridges between science, arts and design, and the Canadian public. It makes me really happy."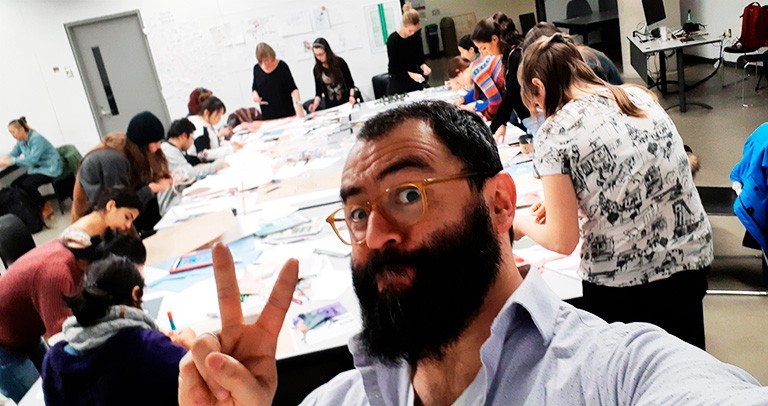 The Convergence course brings together students in fine arts and the Brain Repair and Integrative Neuroscience Program at the McGill University Health Centre. | Photo: Cristian Zaelzer-Perez
'It makes me feel like I've made a change'
Zaelzer-Perez is president and founder of the Convergence Initiative, which he launched in 2016. It brings together students from Concordia's Faculty of Fine Arts, the Brain Repair and Integrative Neuroscience Program (BRaIN) at the Research Institute of the McGill University Health Centre, and the McGill University Integrated Program in Neuroscience in Montreal to learn from each other and create art inspired by science.
The program's six-credit, two-term Convergence course, first offered in 2017, mixes lectures on neuroscience and art topics with workshops where students work on pieces based on what they learn.
A recent example, Zaelzer-Perez explains, was a lecture on how the brain creates and processes memories and their connection to emotions. It was followed by a workshop where students were given the chance to create an art book, based on a memory that reflected their emotions and connected to what they learned in the neuroscience lecture.
During the second term of the course, students pair up to work on final art pieces that are grounded in scientific concepts.
One benefit of the two-term structure, co-taught with PhD in art education candidate Bettina Forget (MA 17), is that it allows students to get to know each other during the first semester, learn a common language and share their knowledge in a more conversational way.
Zaelzer-Perez adds that during the second semester the students expand upon their built trust to work together in the construction of the art piece.
He considers the success of the course to be both inspirational and heartwarming.
"When I see our students crossing into each other's silos, exploring and enjoying what they learn, I feel we have created a special place to communicate," Zaelzer-Perez says. "All of this mean so much. It makes me feel like I've contributed to a change and helped to create community."
A Hub
Zaelzer-Perez has also become the STE(A)M (science, technology, engineering, arts and mathematics) advisor for the Faculty of Fine Arts. Among his responsibilities is to survey part- and full-time faculty about their interest and experience with art–science collaborations.
The survey looks to offer an opportunity to faculty to find each other and discover common areas of interest. Zaelzer-Perez also plans to expand the survey to fine arts students, the Faculty of Arts and Science and the Gina Cody School of Engineering and Computer Science.
The idea is to create a database that would allow people in all three faculties to connect and create active conversation and collaboration that would ultimately benefit faculty as well as students interested in interdisciplinary work.
"We are looking forward to creating a place to connect faculty and students across disciplines, a hub that will make it easy for everyone to extend a hand, reach each other and create a connection," Zaelzer-Perez says.

See some of the final projects from the 2018-19 Convergence course, taught by Concordia's Cristian Zaelzer-Perez, winner of the Science Educator Award from the Society for Neuroscience.
Find out more about Concordia's Faculty of Fine Arts.
---