The marketing behind 'ethnic food' can be as distinct as the food itself, Concordia research shows
Jordan LeBel looks at the different ways tacos, Sriracha and soy sauce made their ways onto Canadian plates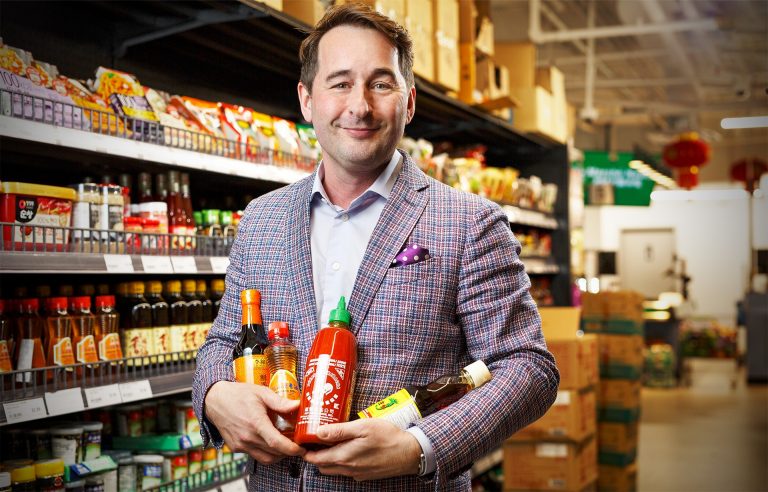 Even as so much of our current political discourse centres on hot-button issues like identity, immigration and belonging, Canadian palates are trending toward increasingly international flavours.
It is common for local supermarkets to provide ample shelf space for so-called "ethnic foods," an admittedly broad term that covers items as diverse as ackee fruit, curry paste and soba noodles.
According to Jordan LeBel, an associate professor in the Department of Marketing at the John Molson School of Business, the ethnic food market is growing by 14 per cent annually in Canada. Sixteen per cent of Canadian food shoppers buy some sort of ethnic food on a weekly basis. He does not see a slowdown in demand.
In a new study published in Cuizine, the journal of Canadian food culture, LeBel and his graduate student Marie Le Bouthillier examine this growth by looking at three case studies. Their focus is tacos, soy sauce and Sriracha — and the methods that were used to boost their popularity into the mainstream.
Beyond consumers' desire for more adventurous eating, the researchers identified some of the factors underlying the trajectories and popularity of these foods.
From Texas to Momofuku
All three got their start thanks to the hard work of food entrepreneurs. It is believed that tacos' commercial life originated in San Antonio, Texas as long ago as 1880, when it was sold by the now-mythic street vendors known as "chili queens." Soy sauce had not been widely known in North America outside of East Asian communities until Vincent Harrison brought his VH brand to the world in the 1950s. And David Tran, who arrived in the United States as a Vietnamese refugee in 1978, built his fortune on the back of his particular Sriracha sauce, which now sells some 20 million bottles a year.
"You see that spirit of entrepreneurship giving birth to these different kinds of food, and that is quite common among immigrants who start their own food brands," LeBel says. "Entrepreneurs have their lives and livelihoods tied to their product, so they will do everything they can to make it work."
Another important factor is maintaining the integrity of the product itself. "That is the one thing you cannot compromise," LeBel adds.
A product's adaptability to busy lifestyles and various recipes is another important growth factor. Tacos, for instance, are quick and easy to make and convey a convivial, familial dining atmosphere. Soy sauce and Sriracha, meanwhile, can be easily adapted to fare that is more familiar.
Finally, a business's overall communications strategy is key, even if the approaches can be radically different. General Mills's Old El Paso brand currently dominates the supermarket taco industry, but the snack itself became popular thanks in large part to the chili queens. The company has bold packaging and regularly rolls out new products to remain attractive.
Soy sauce brands like VH and Kikkoman, meanwhile, use targeted public relations and advertising to highlight their products' versatility. However, David Tran's Huy Fong company engages in barely any mass marketing at all. Instead, it relies on endorsements from celebrity chefs like David Chang of restaurant and food brand Momofuku fame and its own customers as brand ambassadors.
Keeping it real
Of course, the issue of authenticity remains a tricky one, especially among today's hyper-aware consumers. Soft-shell tacos have grown in popularity as more shoppers turn away from Old El Paso's mass-produced hard shells. The soy sauce bought from supermarket shelves differs significantly in taste from the kind found in East Asia. Only Sriracha sauce, LeBel says, maintains its original "authentic" cachet.
Still, he maintains that the market for ethnic food remains strong, and will likely continue to grow.
"There is an appetite for it," he says. "When you see these products on the shelves, it reminds you a bit of travelling without leaving your home. It's discovering a new culture and exposing yourself to different things. And without bringing politics into it, it is neat to see this phenomenon happening on our grocery store shelves across Canada."

Read the cited paper: "Tacos, Sriracha et sauce soya : le marketing qui nous fait aimer ces aliments venus d'ailleurs."
---