Concordia researcher uses radiomics to improve cancer prediction and prognosis models
Parnian Afshar hopes her data analysis will help physicians get more from their medical imaging
As the leading cause of death in Canada, cancer takes a heavy toll on an increasing number of patients and families every year.
One emerging field aimed at reducing the impact of the disease is radiomics — a process of extracting large amounts of data from medical images with the aim of identifying disease characteristics that aren't visible to the naked eye.
Parnian Afshar is a PhD candidate in information systems engineering. Her research aims to use deep learning-based cancer radiomics to improve detection, diagnosis and prognosis capacities.
I want to reduce the number of people affected by cancer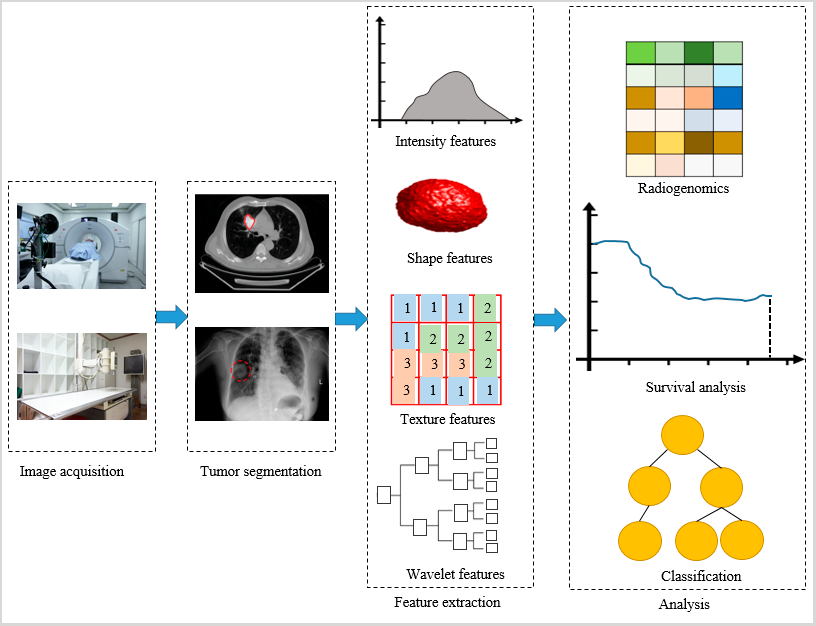 How does this specific image relate to your research at Concordia?
Parnian Afshar: The figure explains the workflow of processing medical images automatically, referred to as radiomics, to decipher the encoded information. In brief, radiomics is an emerging research field, which refers to extracting features from medical images with the goal of developing predictive and/or prognosis models.
This method is expected to become a critical component for integration of image-driven information for personalized cancer treatment in the near future. This is the main focus of my PhD research, entitled "Deep Learning-based Cancer Radiomics: From Diagnosis to Treatment."
What is the hoped-for result of your project?
PA: The intellectual merit lies in the development of advanced imaging-based techniques for personalized cancer diagnosis, survival prediction and treatment. Results coming from our research project and its successful implementation are expected to reduce the number of people that are emotionally, physically and financially affected by cancer.
What impact could you see it having on people's lives?
PA: Our research project is believed to be timely and of significant importance. Should the new knowledge and the developed technologies prove as valuable as we hope, it is expected that they will have a positive impact on the way we live in Canada.
What are some of the major challenges you face in your research?
PA: First of all, I'm a PhD student in information systems engineering. Therefore, it's sometimes difficult to understand the physicians' perspective and know what they really look for.
It's also challenging to get physicians' trust in models we develop, as they still believe automatic systems are not reliable.
What first inspired you to study this subject?
PA: Cancer is the leading cause of death in our country and the number of Canadians diagnosed with it increases every year. According to official cancer statistics, about one in two Canadians will develop cancer in their lifetime.
The drastic impact of cancer on not only the patients' lives but also their families, and the significant cancer-related costs for both people and government, have made cancer prediction, prevention and treatment ongoing challenges of prominent importance.
What advice would you give interested STEM (science, technology, engineering and mathematics) students to become involved in this line of research?
PA: Radiomics is a relatively new and fast-growing field with lots of potential. There are significant opportunities to develop new ideas in this area.
More importantly, what can be more pleasant and rewarding than getting one step closer to a healthy Canada?
What do you like best about being at Concordia?
PA: Concordia provides students with opportunities to pursue their academic interests and for their talents to flourish. This is an outstanding environment, especially for international students who are dealing with living and studying in a foreign country.
Besides, Concordia has professors who are not only well known for their academic skills but experienced in industry and what it is currently seeking.
Most importantly, Concordia is not just concerned with making scientists. It cares about students' quality of life and supports them by providing helpful facilities and societies.
Are there any partners, agencies or other funding/support attached to your research?
PA: I hold a 2019 Merit Scholarship for Foreign Students. This scholarship is provided by the Fonds de Recherche du Québec – Nature et technologies.

Find out more about the Concordia Institute for Information Systems Engineering.
---