Concordia professor investigates how microbubbles can improve drug delivery
Brandon Helfield's groundbreaking research is supported by a $500,000 (USD) grant from the Burroughs Wellcome Fund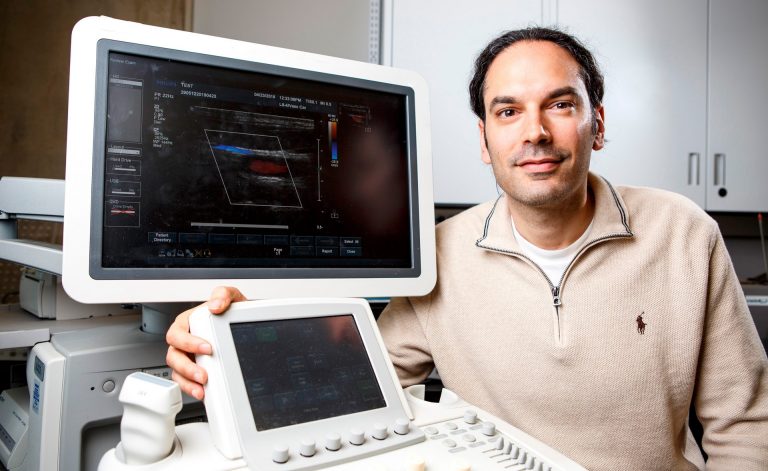 How can we combine physics and biology to improve medical treatments? For new faculty member Brandon Helfield, the answer is: tiny bubbles.
"My team is interested in using biomedical ultrasound technology as an exciting solution to providing localized and safe drug delivery," says Helfield, who joins Concordia with a joint appointment to the biology and physics departments in the Faculty of Arts and Science. Previously, he worked as a postdoctoral fellow at the University of Toronto.
Helfield's approach involves using tiny gas-filled "microbubbles" that are injected directly into a patient's blood vessels, where they can be sent directly to the afflicted area. The bubbles vibrate when exposed to ultrasound waves.
By tightly focusing this ultrasound energy from outside the body to a specific region of disease, such as cancer or cardiovascular disease, these microbubbles can be made to selectively "poke holes" in target cells and deliver their payloads.
The approach is known as sonoporation — "sono" equals sound, and "poration" is the generation of pores.
The goal is twofold: to improve the efficacy of treatments by delivering drugs directly to the site where they are needed, and to reduce drug exposure in non-affected areas of the body. The bubbles also possess sticky properties, which permit them to carry additional drug treatments along for the ride.
"Our lab is interested in studying how to fine-tune the ultrasound energy and the microbubble fabrication to generate the strongest and most prolonged drug delivery, and to understand the biology of how cells repair from this technique, including the long-lasting effects on their function," Helfield explains.
"We are thrilled to have a researcher of Dr. Helfield's calibre join our team," says André Roy, dean of the Faculty of Arts and Science. "His work embodies the groundbreaking health-related scholarship happening across the university and throughout our faculty."
Helfield's work embodies Concordia's commitment to mix it up and the faculty's Lab Life Project, which promotes its rich laboratory culture of hands-on experience and teamwork.
"This really requires an interdisciplinary approach," says Helfield. "You need an understanding of both disciplines, physics and biology. Even making the bubbles also requires some chemistry savoir faire."
Multiple-grant recipient
This interdisciplinary approach led Helfield to be awarded a 2018 Burroughs Wellcome Fund grant. The Career Award at the Scientific Interfaces, from the American-based private foundation, is designed to recognize researchers working on biomedical projects that cross disciplines like physics, chemistry and computational sciences.
Helfield earned the award, valued at $500,000 (USD), for Molecular Biophysics in Human Health. He is bringing the funding with him to Concordia, as well as a grant from the Heart and Stroke Foundation and a new five-year Discovery Grant from the Natural Sciences and Engineering Research Council of Canada.
"I would like to extend my congratulations to Dr. Helfield on this outstanding funding success," says Christophe Guy, vice-president of Research and Graduate Studies. "As a scientist working at the intersection of disciplines, he is a fine example of the deeply integrated health research capacity that exists at Concordia."
Helfield's recognition is notable, as this award from the Burroughs Wellcome Fund typically goes to United States-based researchers from universities such as Harvard University and MIT. The gruelling application process involves a five-minute in-person interview at the organization's North Carolina headquarters, with applicants permitted only four slides.
"The Burroughs Wellcome Fund career award is a recognition of the scientific excellence of Dr. Helfield," says Patrick Gulick, professor and chair of the Department of Biology. "It is an opportunity to further his outstanding research that combines expertise in physics and molecular biology, with an important potential for novel applications to medicine."
Alexandre Champagne, associate professor and chair of the Department of Physics, also congratulated Helfield on receiving the award.
"This is a major recognition for Brandon and gives a lot of credibility to Concordia in the biomedical research field," he says.
While advancing his research, Helfield is also focused on setting up his lab, which will be housed in the biology department. His office will be located in the physics department.
Opportunities await students interested in joining the Helfield Research Group. "I am seeking both undergraduate and graduate students at the moment," he says.
With a busy year on the horizon, Helfield is looking forward to the future. A native Montrealer, he is thrilled to return to his hometown.
"Montreal is the next major city in biomedical research," he says. "Truly interdisciplinary work is happening here."

Learn more about the Helfield Research Group.
Connect with Shazma Abdulla, lead of Health Initiatives and Special Projects, for support with developing proposals towards non-traditional agencies, as well as health-related research engagement opportunities.
Learn how Concordia's graduate programs can help you reach your academic and professional goals.
---