Fantasia is here! Check out these must-see screenings
Prepare for films that are a little weird, sometimes abrasive and always interesting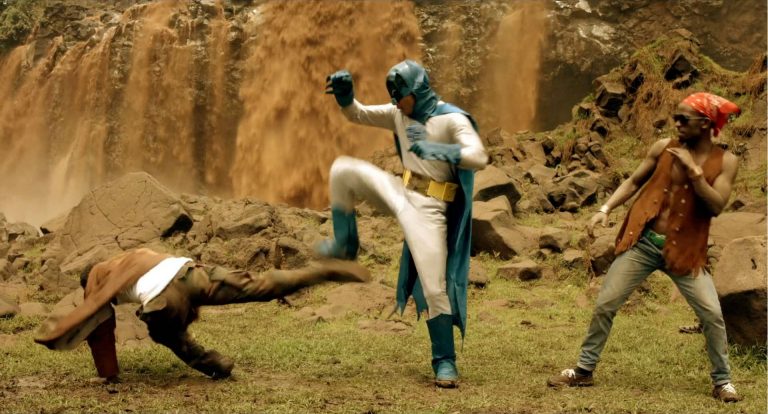 Genre film buffs unite! The 23rd edition of the Fantasia International Film Festival is making its way to a Concordia theatre near you.
This year's edition runs from July 11 to August 1. With more than 130 features and a plethora of short films on the docket — including 11 directed by Concordians — it's sure to please filmgoers who crave the eclectic.
"IITS Cinemas completed an upgrade to 4K laser projection equipment in the J.A. DeSève Cinema, just in time for Fantasia," says Katie Gilkes (BFA 04, MA 09), cinemas manager at Concordia.
"Our commitment to continually upgrading our AV equipment as well as our adherence to international digital exhibition standards have enabled Concordia to remain attractive to students and faculty in film, as well as the city's best film festivals."
To prepare you for this year's edition, Fantasia programmer and Concordia alum Ariel Esteban Cayer (BFA 16) has compiled a list of must-see screenings.
His involvement in the annual festival began in 2012, when he was an undergraduate student in Film Studies at the Mel Hoppenheim School of Cinema.
"Fantasia allows me to look for films that have vision. Genre cinema is the perfect vehicle for that," says Esteban Cayer, who programmed the Camera Lucida section of the festival.
"I've always had a really strong interest in Asian cinema and Fantasia remains the foremost platform for films from Hong Kong, Japan, Korea and China in Montreal."
Mystery of the Night
Directed by Adolfo Borinaga Alix Jr. | J.A. DeSève Cinema | July 14 at 6:45 p.m. and July 16 at 2:30 p.m.
Set in turn-of-the-20th-century Philippines, Mystery of the Night tells the story of a woman who experiences betrayal and transforms into the mythical Aswang — a shape-shifting evil spirit in Filipino folklore. Making its world premiere at Fantasia, Adolfo Borinaga Alix Jr.'s film is in the festival's main competition, Cheval Noir.
"Mystery of the Night becomes this really interesting film about the horrors of Spanish and clerical rule in the Philippines, filtered through this very hypnotic horror folktale," Esteban Cayer says.
Jesus Shows You the Way to the Highway
Directed by Miguel Llansó | J.A. DeSève Cinema | July 18 at 7:15 p.m. and July 20 at 2:45 p.m.
Screening in the Camera Lucida section of Fantasia, Jesus Shows You the Way to the Highway is a cultural mishmash that blends Afrofuturism with the retro futurist Cold War esthetic of the spy thriller. Director Miguel Llansó also mixes in a little Kung Fu for good measure.
"The film is a cross between a Philip K. Dick novel, The Matrix and Team America: World Police," Esteban Cayer says.
"It's really bonkers, unique in tone and the perfect showcase of what genre cinema can allow. Why make a conventional, straightforward horror, comedy or drama film when you can have all of these things?"
Nao Yoshigai x 4: Of Blooming Flowers and Dead Skin
Nao Yoshigai retrospective | J.A. DeSève Cinema | July 16 at 7 p.m.
Japanese dancer and choreographer Nao Yoshigai is making a name for herself as an up-and-coming filmmaker. Her most recent short, Grand Bouquet, premiered at this year's Director's Fortnight at the Cannes Film Festival.
This event highlights four of Yoshigai's mid-length and short films: Grand Bouquet, Stories Floating on the Wind, The Pear and the Fang and Hottamaru Days.
"She has a really unique style and vision for her cinema — all her films function around this notion of movement and body," Esteban Cayer says.
"Her films have played at all kinds of places but this is the first retrospective of her work, so that's very, very exciting."
Decoder
Directed by Muscha | J.A. DeSève Cinema | July 26 at 11:55 p.m.
The new 2K restoration of the 1984 film Decoder makes its world premiere in the Fantasia Retro section. Starring F.M. Einheit, Bill Rice and Christiane F., the West German film also features performances by William S. Burroughs and members of Einstürzende Neubauten.
"Decoder is a really great snapshot of counter-cultural West Berlin in the '80s. It's an incredible film that I had no idea existed," Esteban Cayer says.
First Blood
Directed by Ted Kotcheff | J.A. DeSève Cinema | July 27 at 7:20 p.m.
Director Ted Kotcheff is the recipient of Fantasia's inaugural Canadian Trailblazer Award. To celebrate his life's work, the festival is screening Kotcheff's 1982 action classic, First Blood, as well as his adaptation of Mordecai Richler's The Apprenticeship of Duddy Kravitz.
"All I'll say about Ted Kotcheff is that he's a great filmmaker," Esteban Cayer says.
"First Blood gets eaten up by this legacy of Sylvester Stallone and Rambo but it's an incredible film on its own merit."
Les Particules
Directed by Blaise Harrison | J.A. DeSève Cinema | July 27 at 9:55 p.m. and July 31 at 5:20 p.m.
Les Particules is not your typical coming-of-age film. Director Blaise Harrison tells the tale of a shy teenager who lives on the border of France and Switzerland, where residents live 100 metres above the Large Hadron Collider, the biggest particle accelerator in the world.
"Harrison spins this nice, thoughtful and beguiling coming-of-age story about a young teenager in that region who goes to school and goes through puberty like everybody else," Esteban Cayer explains.
"Strange things start happening and it remains ambiguous whether they're related to the accelerator or not."

Find out about 11 films made by Concordians screening at Fantasia this year.
To buy tickets, learn about the screenings and more, visit the Fantasia International Film Festival website.
---