Concordia's Maïr Verthuy is inducted into the Ordre national du Québec
The distinguished professor emerita receives the province's highest civilian honour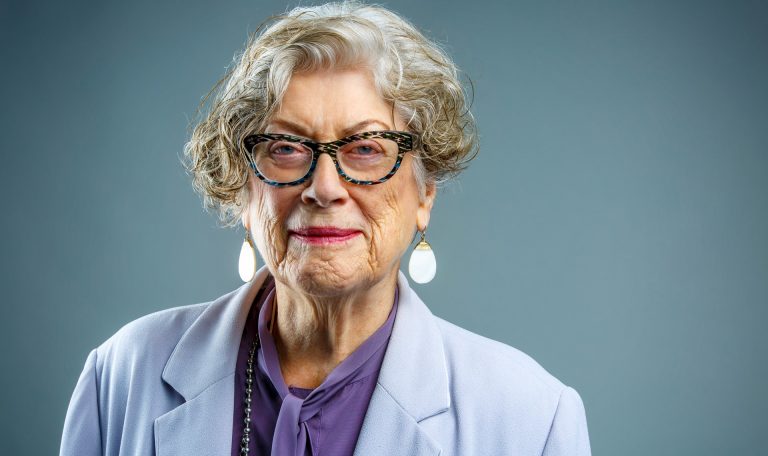 Maïr Verthuy, co-founder of Concordia's Simone de Beauvoir Institute and its first principal, has been named a Chevalière in the Ordre national du Québec.
Verthuy, a distinguished professor emerita of the Département d'études françaises, has devoted her career to improving the state of women, particularly women writers.
She began to teach the history of French literature at Sir George Williams University, one of Concordia's founding institutions, in 1966. Soon after, she succeeded in getting French women writers such as Marguerite Duras and Simone de Beauvoir added to the curriculum.
Her efforts would later expand to include Quebec authors such as Nicole Brossard and Madeleine Gagnon.
In the 1980s, Verthuy offered the first course at any university on Quebec women writers. She also published the first bibliography of Quebec feminist authors and, in collaboration with Lucie Lequin, introduced her students to the prose of legions of unheralded, unstudied immigrants.
"As a champion for the female literary voice in Quebec, Verthuy carved out a space for this province's female writers," says André Roy, dean of the Faculty of Arts and Science.
"This is a fitting honour for a committed and passionate leader in women's studies."
'She paved the way for women writers'
Verthuy was among the feminist scholars who drew up the plans for the Simone de Beauvoir Institute, which officially opened at Concordia in 1978. During her time as the institute's inaugural principal, Verthuy and Patricia Morley organized the first Canadian national conference on women's studies, Parlons-en/Talking Together.
A lifelong advocate for women's rights, Verthuy has been involved with the Montreal Council of Women and the Thérèse Casgrain Foundation. She also participated in UNESCO-related efforts in the Arab world as well as the 1995 UN World Conference on Women in Beijing, China, as an official delegate.
Her numerous articles and books include a monograph on Jeanne Hyvrard, which earned Verthuy and co-author Jennifer Waelti-Walters the Prix de l'Association des professeur(e)s de français des universités et collèges canadiens in 1989.
In 2015, Tunisian-Canadian filmmaker Hejer Charf created a documentary about Verthuy's support of Quebec's women writers, Autour de Maïr. The film screened at Concordia and UQAM as well as internationally in Paris.
"Maïr paved the way for women writers to be published, read, taught and translated," Charf says.
Her other awards include the John O'Brien Award for Excellence in Teaching, the YWCA's Women of Distinction Award, the Governor General's Award in Commemoration of the Person's Case and the Diamond Jubilee Medal.
She was also awarded the rank of Chevalier in France's Ordre des Palmes académiques in 2001, granted the title of distinguished professor emerita at Concordia in 2004 and was inducted into the Order of Canada in 2012.
Verthuy is an honorary lifetime fellow of the Simone de Beauvoir Institute and continues to be involved in various organizations, such as the monthly discussion group at the Centre communautaire intergénérationnel in Outremont, Que.
Recipients will be celebrated at an official ceremony in the Legislative Council Chamber at the Parliament Building in Quebec City at 2 p.m. on June 20.
Learn more about Concordia's Simone de Beauvoir Institute.
---