The world according to Maïr Verthuy
A Montreal filmmaker explores the cultural impact of the Simone de Beauvoir Institute's first principal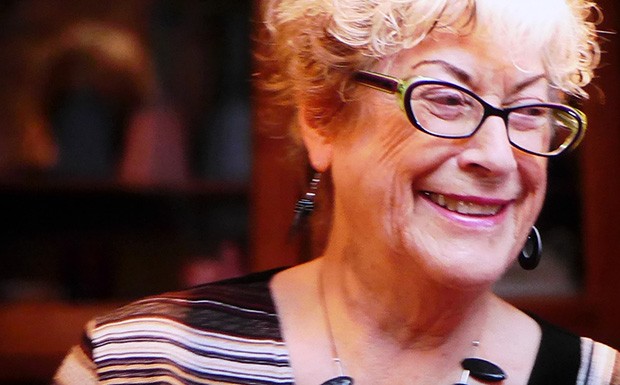 Hejer Charf's documentary Autour de Maïr is "really a film about women in writing."

In April 2013, over dinner at a Bâton Rouge restaurant, filmmaker Hejer Charf asked Maïr Verthuy, co-founder and first principal of Concordia's Simone de Beauvoir Institute, a question. Could she make a documentary about her?
Verthuy responded with another idea: why not focus on the French writer Hélène Parmelin instead?
The retired Concordia professor's attempt to divert attention towards a lesser known woman writer came as no surprise, Charf says. Verthuy has dedicated much of her life to carving out a place for the female voice in the literary world.
On Saturday, December 6, in Concordia's newly renovated Alumni Auditorium (H-110), Charf presented her new film, Autour de Maïr, at a special, private event hosted by the Office of the Vice-President, Development and External Relations, and Secretary General.
The film documents the Welsh-born academic's significant impact on the world of letters, via interviews with Verthuy's friends, family, colleagues and some of the authors she has studied and written about.
"It's really a film about women in writing, and the role played by Maïr," Charf says.
Verthuy's commitment to women's literary voices, and her charismatic personality, are ultimately what inspired Charf to make Autour de Maïr. "Verthuy is a passeuse de culture [cultural transmitter] … The film shows the extent of what she has passed on to others."
When Verthuy was hired to teach the history of French literature at Sir George Williams University, one of Concordia's two founding institutions, in 1966, she quickly realized that very few female authors were included in the syllabus.
"They didn't teach about women at all! At all! I was stunned by that," Verthuy said in an interview in 2012, when she was named a Member of the Order of Canada. "So I spent a lot of time introducing women into courses like the History of French Literature — making sure women had their place."
Verthuy offered the first course at any university on Quebec women writers. She wrote the first bibliography of Quebec feminist writers, and introduced her students to legions of unheralded, unstudied immigrant women writers.
In 1978, Verthuy became the first principal of Concordia's new Simone de Beauvoir Institute, which she helped to establish as a centre for the interdisciplinary teaching and study of women's studies. Five years later, she organized the first worldwide conference on "Teaching and Research Related to Women." It was work such as this that made her the ideal subject for Charf's film.
"It moved me, and I felt like I was doing the right thing, making the film about Maïr," Charf says.
A native of Tunisia, Charf arrived in Canada 20 years ago. She has since made a number of short films, features, and documentaries. Her 2003 feature-length docu-fiction, Les Passeurs, earned the Sceau de la Paix prize at the International Women's Film Festival in Florence.
More recently Charf produced Victoria, a feature-length film starring Danish-French actress Anna Karina, who also wrote and directed it. Karina is best known for her roles in the films of French New Wave director Jean-Luc Godard.
It's no coincidence that Charf took on Karina's project, given that her own work is heavily influenced by the New Wave. With Autour de Maïr, Charf says she was intent on taking chances, and making something more than a straightforward documentary.
"Film is a form of artistic expression," she says.

Find out more about Maïr Verthuy's life, and her career at Concordia.
---