Concordia fine arts student builds ecological sculptures out of bee paper
The biodegradable material helps sustain pollinators in spring — and it's embedded with wildflower seeds!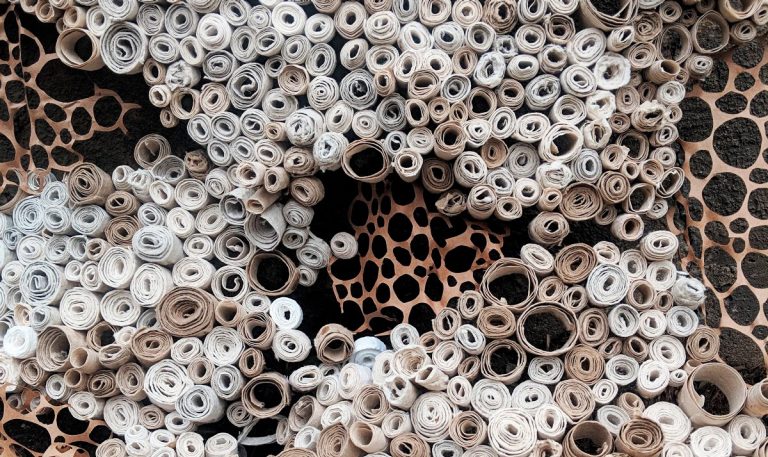 Bees have become a bellwether for environmental disaster amidst global protests over the current climate emergency and predictions of mass species extinctions.
Third-year ceramics student Brooke Marrisett aims to nurture the struggling urban bee population through an ecological art experiment using bee paper.
The material is infused with nutrients and sugars that can provide nourishment for the insects. Marrisett started to build sculptures with it this year in a fibres and material practices course. While it is commercially produced in small quantities, Marrisett went a step further: she developed her own bee paper by adding glucose to her pulp.
Her bee paper has a sickly-sweet smell when it dries — and it attracts bees.
"It's a secondary source of nutrients for pollinators, flies and butterflies too," Marrisett says.
"Because of all of the pesticides, especially in urban environments and from farming, it just gives them a fighting chance in the spring, so they can make it to the summertime."
How to make art more sustainable
Marrisett's sprawling sculpture was installed outside the Visual Arts (VA) Building this spring. It looks like a huge, naturally occurring honeycomb nestled into one of the nooks in the cement fencing bordering the VAV Gallery garden.
Bringing the work to a public space was just as important as situating it somewhere green, says Marrisett. She wanted to question the sustainability of contemporary art practices.
"With this project I asked myself how I could change my art career to be more sustainable. I also wanted to start a conversation about how other people could do the same," she explains.
As a person who is concerned about the environment, Marrisett grappled with her role as an artist during the creation of this project.
"In ceramics, there is a lot of recycling, but then at the end there is also a lot of waste," she says.
"This was my first step toward being an artist who can use things from the environment and also give back to the environment."
'I was given a lot of room for experimentation'
The whole project started when she saw similarities between ceramics, paper-making and the recycling and reuse that goes on within both mediums.
"The ceramics program here is just outstanding. Within my program I have so much opportunity to take electives."
By taking FBRS 372: Paper Works, Marrisett strayed from her ceramics practice and quickly caught part-time instructor Ashley Miller's passion for paper-making.
"I was given a lot of room for experimentation," recalls Marrisett. And in her second term, she was granted the time, resources and encouragement to bring the bee paper project to fruition.
First, Marrisett experimented in making her own bee paper. Then, using a technique called "quilling" — rolling paper into cylindrical spirals of varying widths and lengths — Marrisett glued the paper rolls together with homemade rice paper glue.
"It just started becoming this sprawling entity. It kind of looks like a bacterial organism."
'The final piece is when it's gone'
The campus installation was dismantled at the end of term, but Marrisett's experiments with bee paper have only just begun. She intends to reinstall the project in her garden this spring and test her bee paper's viability as a bee feeder, sustainable outdoor art material and even as a compostable planter.
"The project isn't about what I'm making right now, it's about the deterioration of it," she says. "That's the important part to me. The final piece is when it's gone."
Unlike the mass-produced version of bee paper, Marrisett embedded an added bonus into hers.
"I moulded a lot of different seeds into my pulp. So hopefully by the time it starts decomposing they'll root their way into the ground and grow some wildflowers," she says.
"This is totally experimental. The plan is to take photos every day to see how many bees are attracted to it, the decomposition process, and if this even works."

Find out more about Concordia's Department of Studio Arts.
Follow Brooke Marrisett's sustainable art practice on Instagram.
---