A small number of problem gamblers account for much of the money spent on gambling, new study reveals
Concordia professor Sylvia Kairouz says governments are profiting from a largely underprivileged group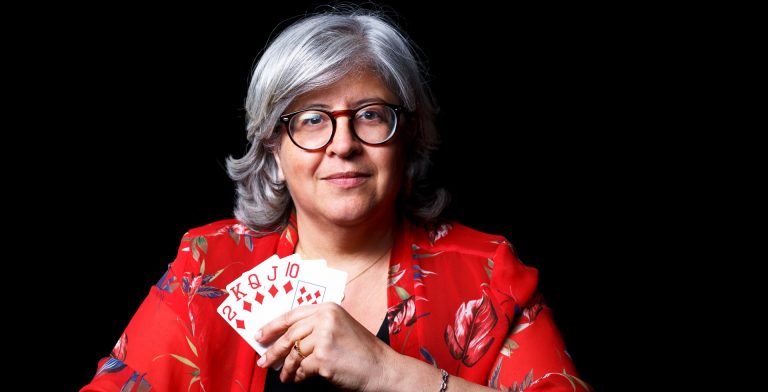 The vast majority of gamblers try their luck only on occasion and tend not to risk significant sums of money. But a recent international study shows that a small number of problem gamblers account for most of the money spent in casinos, video lottery terminals and sports tracks.
Sylvia Kairouz and her colleagues in Germany and France published a new paper on gambling habits in the Journal of Business Research. The researchers looked at the amounts people spend gambling and the frequency they gamble in three jurisdictions. They found that even though Quebec, France and Germany have different gambling cultures and different favoured modes of gambling, spending was always concentrated among small groups.
"The strength of this study lies in the ability to replicate our data in three separate cultures," says Kairouz, an associate professor of sociology and anthropology in the Faculty of Arts and Science.
"And there are not just cultural differences: the regulatory systems are different, the gambling games offered are different. These are solid results because they have been replicated in three different contexts."
The researchers used the GINI coefficient, traditionally used in economics to measure statistical dispersion. They analyzed data collected by a national health survey in France, a government research program in Germany and the ENHJEU-Quebec Survey, conducted by researchers at Concordia and Université de Montréal.
Playing the numbers
The study breaks gamblers down into three categories: non-problem gamblers, problem gamblers and pathological gamblers.
According to the study's figures, "Problematic and pathological gamblers jointly account for 40.2 per cent of all gambling expenses in France, 31.6 per cent in Quebec and 32 per cent in Germany."
But those in these same categories make up only 4.8 per cent of the gamblers in France, 2.7 per cent in Quebec and 4.6 per cent in Germany.
The researchers also found that problem gamblers tend to be drawn to specific types of games. Lotteries, for instance, had the lowest rate of problem gamblers among their customers. In France, table games, poker and sports betting generate more than half the revenues; in Quebec, slot machines, including video lottery terminals, are by far the biggest draw, followed by table games and poker. German data on this topic did not distinguish by game form.
Vulnerable population most at risk
These findings pose several concerns for Kairouz and her colleagues.
First, most problem gamblers tend to be less affluent and less educated than non-problem gamblers, making this a social issue rather than simply a behavioural one.
"It becomes a question of how a society's wealth is circulating," she says. "It comes from the pockets of one group and is distributed to the greater population. In our view, that is not equitable."
In Quebec, she notes that video lottery terminals are disproportionately found in less economically privileged areas.
"We know that these machines are concentrated in neighbourhoods that are more deprived," she says.
"We are making them more accessible to people with lower incomes and more adversity in their lives. These people turn to these machines to escape some difficult realities. We have given them easy and accessible solutions that could have very negative, harmful consequences."
Kairouz notes that she is not anti-gambling and that the vast majority of people who gamble do so without any issues.
"We hope that this study is an eye-opener for decision-makers and gambling regulators," she says. "It provides good information for people working in prevention, which has to be more targeted and appropriate for specific at-risk groups."

Read the cited paper: "Gambling spending and its concentration on problem gamblers."
---