Prize-winning PhD candidates examine the gig economy and Indigenous cartography in documentary films
Nura Jabagi and Lola Remy are the latest recipients of the Concordia Stand-Out Graduate Research Award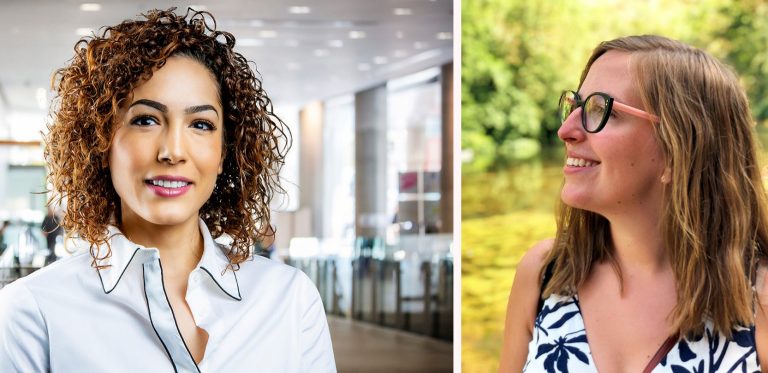 Twice a year, Concordia recognizes two students who have demonstrated exemplary research skills in the fields of "Technology, Industry and the Environment" and "Person and Society."
Nura Jabagi and Lola Remy — PhD candidates in business technology management and film studies, respectively — are the latest recipients of the university's Stand-Out Graduate Research Award.
The prize recognizes excellence in research projects that were released in the previous seven months and the ability of the researchers "to convey the importance of their investigation to the general public."
Winners of the award are given $1,000 each, with a possible $500 top-up if applicants are successful in the Relève Étoile competition.
The digital workplace and the gig economy
Jabagi's research project is titled "Gig-workers' motivation: Thinking beyond carrots and sticks." It looks at the rise of the gig economy and how workers are staying motivated in an era that has seen "the most radical reinvention of work since industrialization."
"My research focuses on the digital economy and on understanding how technological advances coupled with macroeconomic trends are disrupting industries, businesses and jobs," she explains.
The gig economy — in which people work various gigs for short stints without traditional job security — is expected to account for 45 per cent of the Canadian workforce by 2020.
"A large part of my work explores how organizations can design their digital platforms in ways that promote efficiency and performance but that also humanize the interaction between the worker to encourage self-motivation and workers' well-being," she adds.
Jabagi presented her research at the 34th European Group for Organizational Studies Colloquium in Tallinn, Estonia, and at McGill University's Distances in Organization Workshop in 2018.
She took first prize at Concordia's Annual Graduate Research Exposition in 2016 and 2017, making her the first student to do so twice.
Reappropriation of state maps in Indigenous films
Remy's research examines Indigenous mapping initiatives through the lens of documentary cinema.
"I ask the following question: How can Indigenous filmmakers provide alternative ways to map their territory and experience without being subsumed into a colonial framework of representation?" she says.
Her article, "Making the map speak: Indigenous animated cartographies as contrapuntal spatial representation," was published in last fall's edition of the NECSUS European Journal of Media Studies.
Remy's research on Indigenous counter-mapping brings visibility to a little-known corpus of films.
"Critical geographers and film studies scholars have seldom focused on cinematic cartography's relation to Indigenous land claims," she notes.
"Film deserves a specific analysis as a tool for decolonizing spatial representations of Indigenous territory. Hopefully my paper highlights current struggles against land and resource appropriation."

Learn more about Concordia's Stand-Out Research Awards.
---