Montreal students brave the cold to raise money for Dans La Rue and Chez Doris
Concordia business students launch their annual 5 Days for the Homeless campaign on March 10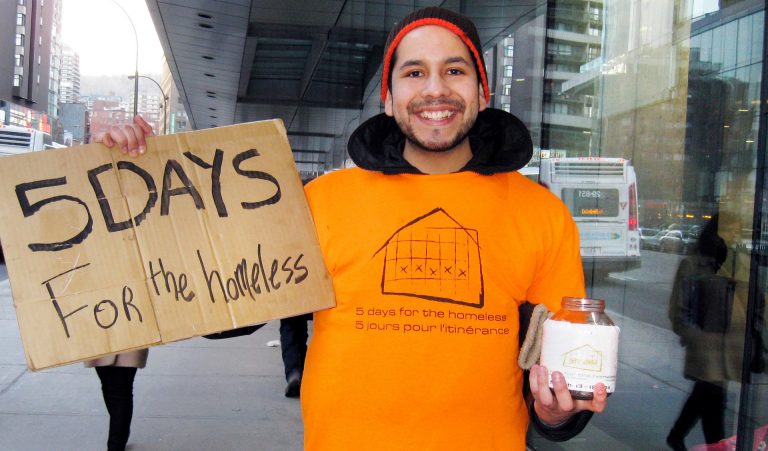 "I have never been homeless," explains Josh Redler (BComm 08). "But I have temporarily given up all my comforts to experience what it's like to live on the street, and raise money for those who do."
As a student at the John Molson School of Business (JMSB), Redler brought the national 5 Days for the Homeless campaign to Concordia. The 2019 campaign runs March 10-14.
5 Days for the Homeless was founded by students at the Alberta School of Business in 2005. Having identified homelessness as a growing problem, organizers decided to sleep in the streets to raise awareness for the issue and donations for a local charity. Three years later the campaign went national, with Concordia being one of the first universities to sign on.
"I know what it feels like to have no spending money, no access to shelter when it's cold and wet, no change of clothes and no knowledge of where my next meal is coming from," Redler says.
"Thanks in part to the amazing publicity we received, Montrealers from all walks of life made sure we were fed and cared for with kindness and donations."
JMSB students have led Concordia's campaign for the last 11 years. The Commerce and Administration Students' Association (CASA) is currently at the helm of the campus initiative.
Mackenzie Murray, lead student organizer, says that CASA will make sleeping bags available to anyone who wishes to participate and that the association has arranged for security as well.
Murray says the goal this year is to raise $6,000 to support two local community organizations. Dans La Rue, which helps at-risk teens, and Chez Doris, a day shelter for women.
Former CASA president Evan Pitchie has participated in the campaign for the last three years, calling it "eye-opening."
"We have the option of going home when things get tough," Pitchie says. "But not everyone has that same opportunity."

Find out how to support Concordia's 5 Days for the Homeless campaign. For more information, email Mackenzie Murray.
---