Concordia's Garnet Key Society gives back to the Montreal community with a new project each month
12 student ambassadors take volunteering to the next level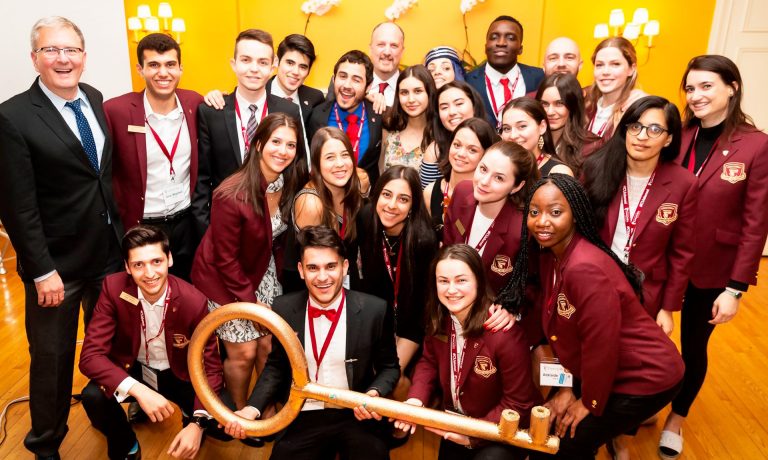 Each month has a motif — from mental health awareness to the environment — for the 12 members of the 61st Garnet Key Society. The group of exceptional undergraduates acts as university ambassadors and supports the Office of the President at various events.
Since the beginning of the 2018-19 academic year, the members have planned and participated in a variety of community projects, each corresponding to a respective theme.
For instance, in September — education month — the Garnet Keys took part in the 29th Concordia Shuffle and raised $1,175 for student scholarships and bursaries. In November and December — joint giving-back month — they held a bake sale and coffee house event to raise funds for the Native Women's Shelter of Montreal, and they personally delivered the donations in time for Christmas.
A platform for positive impact
"We have a unique opportunity to make a difference in the community while representing Concordia, and we want to capitalize on that. Being active in the city we share with others is an important aspect of being a Garnet Key," says Bruna Guarino Moraes, the society's president.
Guarino Moraes adds that she and her peers have set a goal of becoming the most involved iteration of the Garnet Keys to date.
"We realized something as simple as volunteering our time could serve as a contribution toward the greater good."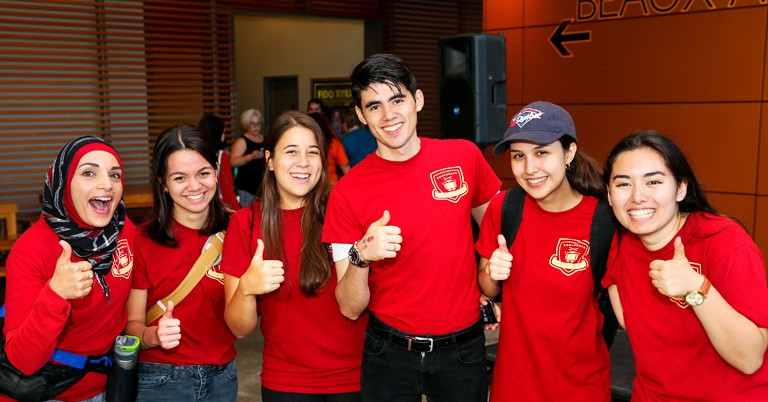 For Erica Chelini, the society's community project chairperson and a long-time active member in Montreal's volunteer scene, the idea of monthly initiatives was one she wholeheartedly embraced.
"We have so many ideas and projects we want to see come to life during our mandate, but the common thread throughout them is our desire to work with different groups across the island in order reach as many people as we can," Chelini says.
To date, the Garnet Keys have shuffled to raise funds for education, scheduled a leadership workshop for students at the Sacred Heart School of Montreal, hosted a fall fair at the Montreal Children's Hospital Just For Kids Foundation's Sibling Park, held two fundraisers for the Native Women's Shelter, volunteered in Concordia's Mental Health Fair and organized an upcoming fundraiser for the Montreal Special Needs Family Organization.
And they've got more plans on the way for March — animal welfare month — and April — environmental awareness month.
'A lasting impact'
"We've had an overwhelming amount of support from those in the community, which has been so lovely and heartwarming. It reinforces the notion that when we come together, we can make a lasting impact," Chelini adds.
For her, one of the most rewarding moments came at the end of the coffee house event, when a representative from the Native Women's Shelter brought everyone into a group hug.
"She said such kind and genuine words to us, expressing how actions such as our community projects were essential to creating positive change in today's society."

On March 14, the Garnet Keys, in collaboration with the Concordia University Building Engineering Society and the Concordia Society for Civil Engineering, invite members of the Concordia community to a wine and cheese event in the John Molson (MB) Building (1450 Guy St.). A speaker series on innovation in construction will take place at 5 p.m. in room MB-14.250 and a networking cocktail will follow in room MB-6.01. Find out how to register and buy tickets.
---