Concordia is Canada's first university to issue a sustainable bond
The $25 million investment will help finance the new LEED-certified Science Hub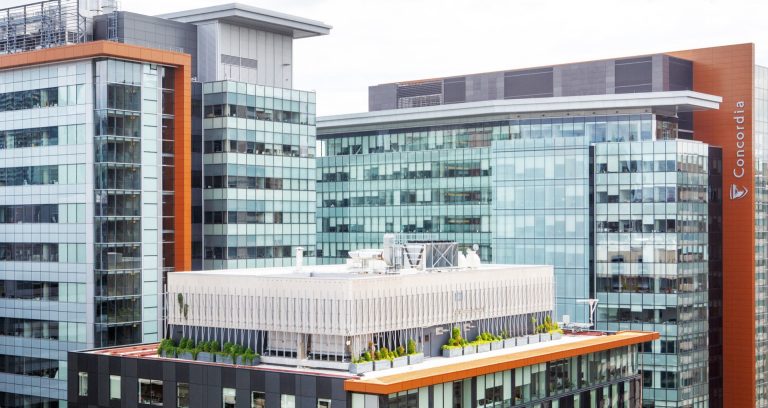 On February 11, Concordia became the first Canadian university to issue a sustainable bond, which will generate environmental and social benefits as defined by the United Nations Sustainable Development Goals.
The $25-million, 3.626 per cent, 20-year senior unsecured bond, due February 10, 2039, will provide Concordia with the capital for its share of financing for the new Science Hub on Loyola Campus.
The $62-million Science Hub is being funded by the Government of Canada ($20.6 million), the Government of Quebec ($16.1 million) and Concordia ($25.3 million). Construction on the building and surrounding grounds began in summer 2018 and is slated for completion in fall 2019.
Concordia President Alan Shepard explains the philosophy behind the historic financial move. "The transdisciplinary research in our new Science Hub will contribute solutions to many of society's greatest challenges, including sustainability. By aligning the Hub's financing with its purpose and values, we are sending a strong message: Responsible investment choices are critical to the future health and prosperity of our planet," he says.
"The Concordia community is committed to a sustainable future and has shown leadership on this issue for many years. Today we're once again setting an example that we hope others will follow."
Denis Cossette, Concordia's chief financial officer, gives further context to the move.
"As a signatory to the UN-supported Principles of Responsible Investment, Concordia is committed to integrating sustainability principles into its investment policy, and today's issuance is proof," he says. "The strong market interest we saw in our sustainable bond demonstrates a clear desire in the investment community to invest responsibly."
Transdisciplinary Science Hub
The Science Hub will contain labs for researchers of aquatic biology, microscopy, cellular imaging, nanoscience and bioprocessing. It will also be home to incoming faculty and graduate students for Concordia's new Chemical and Materials Engineering Program.
Beyond fostering this mixing of disciplines through its design, the Hub will encourage vertical economic integration: infrastructure for Concordia's current and future industrial partners and entrepreneurs will support the scaling up of projects that were created in the labs and are deemed to have commercial potential.
LEED certification
With a projected efficiency 35 per cent greater than an average non-certified research facility and landscaping that increases biomass and creates new spaces for the public to play and relax, Concordia's Science Hub is expected to receive LEED Gold certification after construction. It would become Concordia's fourth LEED-certified building.
The university will report annually via Concordia.ca on the environmental and social benefits the Hub creates — from energy consumption and savings to the number of research publications produced there and more.
Concordia invests in its infrastructure and development
Along with the $25-million sustainable bond issue, Concordia has issued a $50-million, 3.678 per cent, 40-year senior unsecured bond due February 10, 2059 to support its Capital Plan and enhance its facilities and infrastructure. The proceeds will be used to develop and finance projects aligned with its academic and research missions. Among other projects, acquisition of properties to expand capacity will enhance the university's long-term development.

Find out more about Concordia's new Science Hub.
---