SSHRC awards Concordia researchers $100K for Indigenous research capacity and reconciliation activities
From Inuit-specific arts training to the Dish with One Spoon, Heather Igloliorte and Nadia Myre pursue important and holistic interdisciplinary projects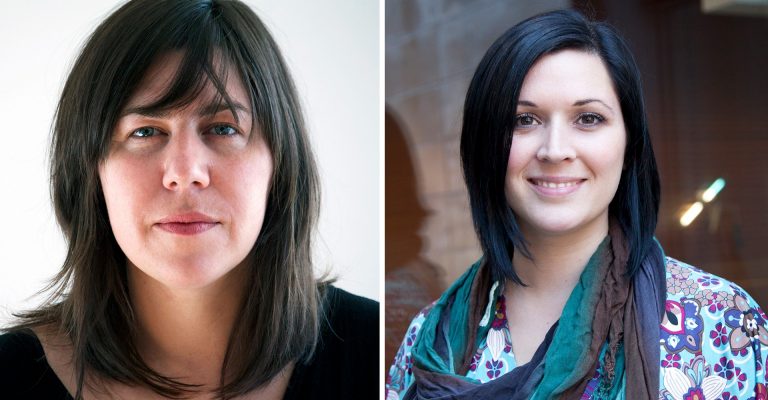 Two Concordia faculty members have been awarded $50,000 each — the maximum amount possible — through the Social Sciences and Humanities Research Council of Canada (SSHRC) special Indigenous Research Capacity and Reconciliation Connection Grants competition.
Heather Igloliorte, an art historian and the Concordia University Research Chair in Indigenous Art History and Community Engagement, and Nadia Myre, a contemporary artist and the Canada Research Chair in Indigenous Material Practice, were funded for outreach activities in support of important and holistic contributions to Indigenous knowledge systems. Both are professors in the Faculty of Fine Arts.
"Concordia researchers are developing new ways of engaging in research by and with First Nations, Métis and Inuit communities," says Christophe Guy, vice-president of Research and Graduate Studies. "Leaders like Myre and Igloliorte are guiding transformative interdisciplinary approaches and methods that contribute to reconciliation."
Igloliorte's project, Supporting Inuit Research, Academic and Professional Capacities in the Arts: Pathways for Best Practices, will help her continue her work to radically increase Inuit participation in arts research and arts-based professional practice.
With partner community organization, the not-for-profit Inuit Art Foundation, the goal of this particular initiative is to engage Inuit in a national conversation about their experiences in academia as well as in arts-related mentoring programs in order to propose future Inuit-specific training opportunities.
Myre's research-creation project, Dish with One Spoon: The Country where the Beavers, Deers, Elks and such Beasts Keep, looks at the One Dish, One Spoon wampum, and the 1701 Great Peace of Montreal, as starting points for a set of conversations between Indigenous and non-Indigenous scholars, artists and community workers.
The goal of these conversations is to facilitate, build and share on knowledge around territorial understandings between Haudenosaunee and Algonquian Peoples and how these understandings form the basis of Municipal land acknowledgements.
Myre aims to bring together ancestral and contemporary methods of working to facilitate meaningful, intersectional exchanges between Indigenous peoples and non-Indigenous society.

Find out more about Indigenous Directions initiatives at Concordia.
---