Vanier scholarship program highlights country's best doctoral research
5 Concordia PhD students share their cutting-edge research in social science and humanities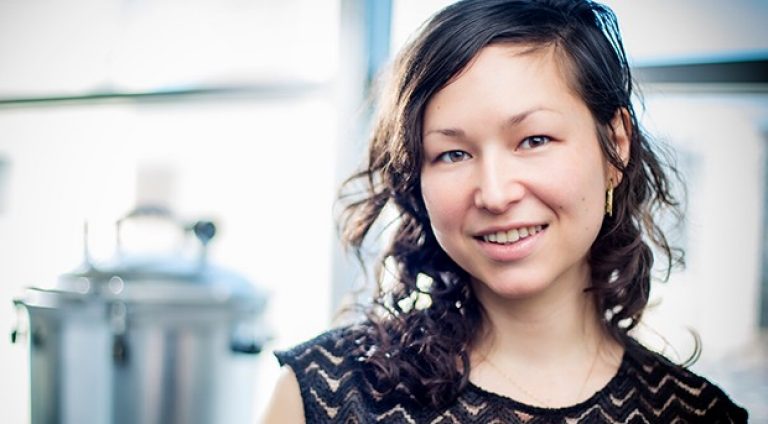 Concordia graduate students Jean-Philippe Gagné, Maya Hey, Caroline Trottier-Gascon, Sherif Goubran and Cássia Reis Donato are among the recipients of this year's prestigious Vanier Canada Graduate Scholarships.
Every year, a maximum of 167 scholarships are distributed nationally among students across the social sciences, humanities, natural sciences, engineering, and health. Each award is valued at $150,000, awarded over three years.
The scholarships strive to reward PhD students both for academic excellence and strong leadership skills. This year, all of Concordia's recipients are funded through the Social Sciences and Humanities Research Council (SSHRC).
Read on to learn about their innovative research.
A critical approach to sustainable buildings
Sustainability is a broad discipline. Sherif Goubran, PhD student in the Individualized (INDI) program, is tackling the subject from the perspective of cities and building.
Goubran is working under the supervision of Carmella Cucuzzella (Concordia University Research Chair in Integrated Design, Ecology, And Sustainability (IDEAS) for the Built Environment), and the co-supervision of Thomas Walker (Finance) and Bruno Lee (Building Engineering).
He aims to examine 13 award-winning Canadian architectural projects using the Sustainable Development Goals set by the United Nations.
"In the past decade in Canada, 26 per cent of the newly created awards of excellence in architecture have an environmental focus. New frameworks and approaches are urgently needed to shape our future cities and urban environment." explains Goubran.
For his interdisciplinary research projects, Goubran wants to tackle problems on both theoretical and practical levels.
"I am trying to answer such questions as: how can buildings contribute to tackling challenges like hunger, wellness, gender equality and poverty? I want to understand if sustainable building designs are a result of a critical approach that takes into account the history of these challenges as well as their possible futures."
The outcomes will provide important insights for governments, scholars, practitioners and institutions, and help them to align building practices with local realities and holistic sustainability goals. The research supports Canada's leadership in sustainable and clean-growth development in the built environment.
Preventing youth homicide in Brazil
Brazil is still one of the most violent countries in the world, with more than 60,000 recorded murders in 2017. The vast majority are young Afro-Brazilians from the poorest regions of the big cities.
Cássia Reis Donato, a PhD student in the Department of Political Science, proposes to analyze the challenges faced by those creating public security policies related to preventing lethal violence against youth.
Cássia is a member of the Lab for Latin American and Caribbean Studies, and is working under the supervision of Tina Hilgers, Associate Professor at the Department of Political Science and LLACS coordinator.
"I want to understand better the mechanisms through which the state deals with demands for equity and social justice for groups unequally affected by structural and state violence," she says.
Historically, the country has invested in repressive actions to combat crime — such as confronting and incarcerating the population. But these are inefficient and just end up contributing to the overarching problem, Reis Donato says.
However, there is no consensus on how public security policies could prevent state violence. Overcoming these challenges depends on investments in research to analyze the effectiveness and practicality of policies aimed at preventing criminality and violence.
"It's urgent to seek concrete solutions to a problem that is directly related to the slavery and authoritarian legacy that still influences how Brazilian public security institutions function," says Reis Donato.
"I want to contribute, even modestly, towards the search for those solutions."
Understanding the fear of losing control
Jean-Philippe Gagné, a second-year PhD student in Clinical Psychology, is set to study a particular type of fear, one that most have experienced first-hand: the fear of losing control.
While psychologists already know a lot about fears — and how they relate to beliefs— writings regarding the fear of losing control in particular have only recently emerged in research scientific literature.
"So far, researchers have mainly focused on concrete fears and phobias, including fear of spiders, planes and needles," explains Gagné.
"But people also have more abstract fears, often associated with unwanted consequences such as being embarrassed around others."
Specifically, people fear they can lose control over their thoughts, behaviour and emotions. Gagné's research aims to examine the negative beliefs people attach to the experience of losing control to better understand the factors at play.
Working in the Center for Clinical Research in Health, under the supervision of Adam Radomsky, professor in the Department of Psychology and Concordia Research Chair in Anxiety and Related Disorders, Gagné remains deeply connected to real-world problems through his research.
"By increasing our understanding of different maladaptive beliefs that influence human behaviour, I can then help individuals living with debilitating disorders cope with their anxiety and phobias by challenging these beliefs in the clinic."
This insight into the inner workings of fear will ultimately help reduce stigma around this fundamental emotion. Gagné is also developing novel methodological techniques to measure beliefs about losing control which will enable psychology researchers to explore this phenomenon in future studies.
The relationship between humans, microbes and food
Communication Studies PhD student and Concordia Public Scholar Maya Hey's work lies at the crossroads of science, feminist philosophy, art and humanities. She will be studying the complicated relationship between humans and microbes under the supervision of Yasmin Jiwani, Concordia University Research Chair in Intersectionality, Violence and Resistance.
With her background in biochemistry, nutrition, and gastronomy, Hey will use the theory and practice of fermentation as a way to understand how we engage with microbial life.
"Microbes live inside, on and around us, and how we relate to them is complicated because we cannot easily see them," says Hey. "We tend to assume microbes are one thing (such as probiotic or pathogenic), which casts microbes as 'others' to exploit or vilify."
Changing how we treat microbes impacts a wide variety of occupations including medical professionals, chefs, farmers and storeowners because of how microbial life is regulated in public health codes, hygiene standards, health-care practices and food safety protocols.
Using a combination of ethnography and research-creation, Hey will participate in a series of public workshops, performances, conferences, interviews and publications that will engage with a spectrum of fields including communication, culture, gender, food, and technology.
"We are always already engaging with microbes, and this project highlights the common stakes we share as everyday eaters," says Hey.
Mapping trans communities' history
Caroline Trottier-Gascon, PhD student in history, wants to uncover the experiences of trans people in Montreal between 1980 and 2000. Her resulting feminist social history will draw upon both archival research and extensive oral history interviews.
"I want to examine the social forces that contribute to the marginalization of trans communities and how they turn these forces into strategies of resistance and survival," she says.
Trottier-Gascon is building on the work of her supervisor Peter Gossage, Trottier-Gascon is deeply committed to working in partnership with local LGBT communities.
"The 1980s and 1990s was a very dense period for trans people," explains Trottier-Gascon.
"Their lives were transformed by the AIDS crisis and new exclusionary policies for identity recognition and access to health care, but also by new community organizations and the rise of the Internet as a space where trans people would share their experiences."
Part of Trottier-Gascon's research project will be to produce short videos on her findings. Creating this dynamic public history will help her better engage with the community and share her research in an impactful way.
Trottier-Gascon is highly involved in activist initiatives in relation to trans issues. For her successful advocacy work, she was awarded Le Prix Honoris du Conseil québécois LGBT in 2015.
"In an ideal world, my project will create more intergenerational understanding within trans communities. It will also create bridges between the university and trans communities, and between trans communities and the wider public."

Learn more about the Vanier Graduate scholarships.
---