North America's largest genre film festival marks its 16th year at Concordia
From July 12 to August 2, you'll find Nicolas Cage, loads of rage and so much more at this year's Fantasia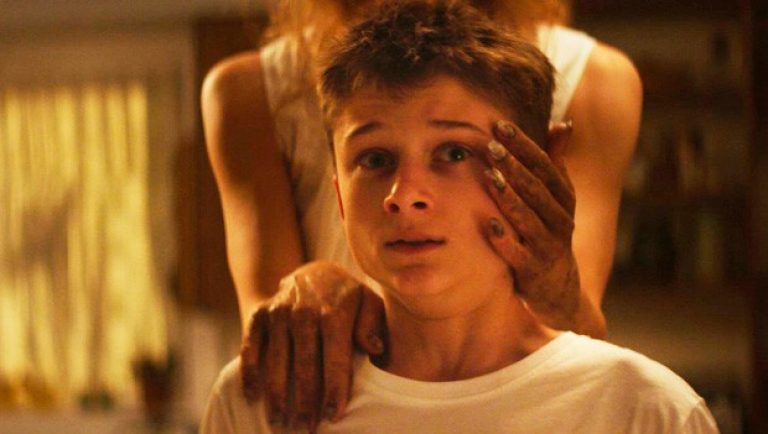 A boy gets up in the middle of the night to fetch a glass of milk, only to find his sleepless mother sitting alone in the kitchen. No big deal, right? Think again...
The ordinary meets the extraordinary in Milk, the latest short film by Concordia alum Santiago Menghini (BFA 12). The movie will be the first to hit the big screen at the 22nd edition of the Fantasia International Film Festival.
"To open such an amazing festival, it's pure joy," Menghini says. "Doing so in the city where the film was made is even sweeter because a lot of the people who worked on the project will be there."
Milk, which earned SXSW's Midnight Shorts Award earlier this year, will be presented before the festival's big opener, Dans la brume. In all, 220 short films and 125 features will screen at Concordia and elsewhere in Montreal during the festival, which runs from July 12 to August 2.
Fantasia is the biggest genre event of its kind in North America, bringing in more than 100,000 visitors last summer. This edition marks its 16th year at Concordia and the program includes a motley mix of genre titles from Asia, Europe and the Americas.
"For cinephiles, looking over Fantasia's huge, eclectic program is kind of like browsing through the Christmas catalogue as a kid," says festival programmer Rémi Fréchette. "It's so exciting. You don't know what you'll discover and you'll want to see everything."
The lowdown on opening night
Menghini warns audiences not to expect typical horror shocks from Milk, which works methodically to turn the mundane into the monstrous.
"I wanted a silent type of film; a creature film that exposes itself without jump scares, but rather through a slow, disturbing build," he says. "I was attracted to easing the audience into something horrifying. That, for me, was an exciting cinematic challenge and drove the style and execution of the film."
This year's opening feature, Dans la brume, is a disaster film directed by former Concordia student Daniel Roby (Funkytown, Louis Cyr). The film situates viewers in an apocalyptic Paris and follows a couple struggling to keep their sick daughter safe from a toxic fog that has engulfed the city. Critics have compared the Franco-Canadian production to Frank Darabont's The Mist, as well as the Cloverfield film series.
Horror-palooza and a lifetime achievement award
Dans la brume will immediately be followed by Nightmare Cinema, an anthology film that promises to appease the horror lover in everyone.
"Nightmare Cinema is a feature film made up of many short horror stories, each from a classical director such as Joe Dante [The Howling, The 'Burbs] and David Slade [Hard Candy, 30 Days of Night]," says Fréchette. "It will really be something."
Dante is this year's recipient of the Fantasia Lifetime Achievement Award. The festival will also screen the American director's feature films throughout its run.
"With this award Fantasia looks to recognize a big name who's changed the course of genre cinema, and Dante — a classical genre director who's been backed by Spielberg — has done that with his amazing, singular filmography," says Fréchette.
"It will be quite something to rediscover these films on the big screen, especially with the Fantasia crowd, who probably know all the quotes and can be expected to cheer at every notable moment."
Maxime Girard wins the Fantasia Award
Maxime Girard received this year's Fantasia Award, presented annually to a Mel Hoppenheim School of Cinema student in partnership with the festival. The award comes with a $1,000 bursary and a screening at Fantasia. Girard will show his short film, Culs-de-Sacs.
"Fantasia has always been my favourite film festival in Montreal, so I was exceptionally happy when I learned the news," says Girard.
"It feels like an accomplishment to have Culs-de-Sacs screened amongst other short films, some of them made by long-time professionals. One of the best compliments I've received about the film is that 'even though it's a student film, it doesn't look like it was made by a student.'"
Culs-de-Sacs tells the story of an awkward young man who tries to reconnect with his teenage crush during a road trip deep in the forest. Once he realizes he cannot rekindle their relationship, unexplainable occurrences start disrupting their journey and the night takes a turn towards the surreal and nightmarish.
Girard is heading into his final semester in film studies.
"Studying at Concordia allowed me to work with amazing and very talented people without whom Culs-de-Sacs could never have been as good," he says.
"The connections I made, and the way our teachers taught us to work with professional filmmaking tools are the biggest assets I personally gained from school."
Concordians make their mark
Seven shorts produced by current and former Concordians will be screened during Les Fantastique Week-ends du Cinéma Québécois.
Dulce Hogar, by Concordia grad Giovana Olmos (BFA 18) is set in a rundown building in Mexico City. A doorkeeper sets out to collect one tooth per unit: the monthly rent.
Olmos says her short explores social themes relevant to Mexico City, such as a lack of infrastructure, unjust housing regulations and the abundance of overpopulated low-income housing.
"The film was shot in one location, a crumbling apartment complex in the heart of the city," she says. "With the use of art direction, cinematography, and lighting, we created an atmosphere for the space that is fantastic, dark, and absurd. Each door becomes a window into the distinct world of each tenant."
Most of Dulce Hogar's post-production crew are current and former Concordians, all of whom are excited to see the film make its world premiere at the Cinémathèque Québécoise on July 22.
"Fantasia is a special and validating space to screen a genre film for the first time. The festival has been an important part of my education in film," says Olmos.

Logan Fulford's Sungrazer brings us into deep space, where a creature preys on the two remaining members of an ill-begotten voyage.
"Getting to screen at Fantasia feels like a vote of confidence and makes the months and months of work I put into this film worth it," says Fulford.
The film production student, who made his film as an independent study project during his program, says the experiences he gained working on other projects at Concordia prepared him for the feat.
"It's the first film I've done with a crew larger than five people. We were about 20 on set, so working on those other films throughout the year really set the precedent for me in terms of how things are done, what to do and what not to do."
Other Concordia shorts set to hit the silver screen during Les Fantastique Week-ends are Le Monstre Du Spa by Felipe Arriagada-Nunez, Lethargie by David Émond-Ferrat and La Singularité by Alexandra Levasseur.
Premieres to look out for
Fréchette says one big feature that is creating buzz this year is The Man who Killed Hitler and then The Bigfoot. Sam Elliott stars as an army veteran who, after assassinating Hitler years ago, must take on Bigfoot.
Elliott will attend the world premiere on July 20 in Concordia's Sir George Williams University Alumni Auditorium (H-110) on the main floor of the Henry F. Hall Building.
Another movie making a palpable stir is Mandy, a psychedelic trip filled with atmosphere, carnage and one very vengeful Nicolas Cage. Fantasia is hosting the Canadian premiere.
"I know people who saw it at Sundance, and it blew their minds," says Fréchette. "People are saying Cage gave the best performance of his career. I can't wait!"
Festival-goers can check out the Canadian premiere of Under the Silver Lake, David Robert Mitchell's follow-up to It Follows, and Myth of the American Sleepover, starring Andrew Garfield.
Director Dennison Ramalho will also premiere his first feature, The Nightshifter. Critics often describe the Brazilian filmmaker's previous short films as brutal and uncompromising.
Genre film's networking event
This year marks the 10th edition of the Frontières International Co-Production Market, the festival's premiere industry event, hosted by Concordia. The genre-cinema networking platform will connect at least 400 members of the international film industry in Montreal.
"Frontières is helping genre filmmakers from around the world realize their ambitions," says Fréchette. "It pushes co-production and helps them find potential financing, producers and distributors."
Donato Totaro, a part-time faculty member at the Mel Hoppenheim School of Cinema, says the event encourages young filmmakers to present their ideas for projects.
"Films that are pitched there do have a chance of getting made. Five from this year are films that started off at Frontieres, including Knucklehead, which will be featured in a special event."
On the cutting edge
Totaro, who was instrumental in connecting Concordia with Fantasia back in 2002. says the festival retains its cutting-edge status because it takes chances with risky films. He also notes that fans often meet filmmakers and actors, unlike other festivals where access is often limited.
"You may even get the chance to drink a beer alongside your favorite cult actor or director!" Totaro says. "Where else can you catch up with the head-spinning careers of Fantasia regulars Takashi Miike and Sion Sono!"

Find out more about the Fantasia International Film Festival and Concordia's Mel Hoppenheim School of Cinema.
---