Computer science student who co-founded Ubico Labs is shortlisted for $100,000 Thiel Fellowship
Montreal-based software and services company specializes in the design and development of the digital customer journey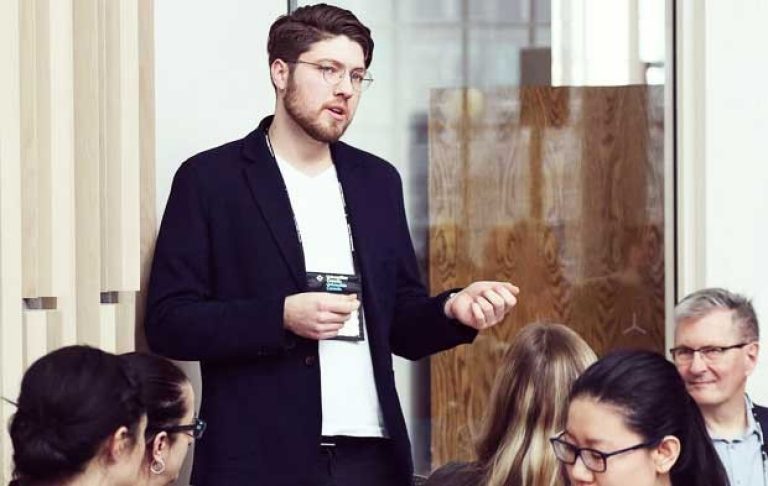 Philippe Kwiatkowski, a third-year student in computer science at Concordia and District 3 alumnus, recently found out he's a finalist for the $100,000 Thiel Fellowship.
Founded in 2011, the two-year program allows young entrepreneurs to pursue a project outside of school with support from a network of Thiel Foundation founders, investors and scientists.
Kwiatkowski was a teen when his love of gaming introduced him to programming.
After meeting fellow developers online, he co-founded a gaming community where he became captivated with writing software as a member of a team. Shortly after that experience, Kwiatkowski and another friend signed their first freelance contract to build a website from scratch.
Today, Kwiatkowski is the CEO and co-founder of Ubico Labs, a Montreal-based software and services company that specializes in the design and development of the digital customer journey.
University is the perfect playground to experiment
Philippe Kwiatkowski
What motivated you to pursue a degree in computer science at Concordia?
Philippe Kwiatkowski: I'm always interested in challenging myself.
I studied commerce at John Abbott College, but I felt that I needed more. I had also learned a great deal about programming from my side projects, so I thought I should pursue that more formally at Concordia.
Choosing Concordia was a no-brainer for me because I've always had to balance work and school, and the university offers that type of flexibility to its students. The fact that Concordia accepts social science students into its Computer Science program is another great example of the university's forward-thinking mentality.
Designing algorithms and using computation to solve problems is what intrigued me, which is what computer science is all about. Algorithms are everywhere — they make our lives better in many different ways.
How did District 3 help you on your journey towards entrepreneurship?
PK: District 3 has had the most impact on my entrepreneurial journey.
I visited District 3 on my first day at Concordia to see if I could contribute in any way. I joined the District 3 team as a startup coordinator and worked with its executive director, Xavier-Henri Hervé.
I was exposed to hundreds of different startups and solved all kinds of problems. I quickly learned about business models and how to use various methods to validate one. The trickiest part for a startup is deciding what business model to execute. It's a really difficult process filled with experimentation and failures.
But it's a really fun journey and I'm just getting started — learning as I go.
Can you tell us a bit about Ubico Labs?
PK: Ubico is a software and services company that I founded while studying at Concordia and with the support of District 3.
The way businesses purchase products and services from each other has changed due to the digitization of our economy. Many firms are still playing catch up and lack the expertise to capture opportunities that exist online — that's where Ubico Labs steps in.
Our solutions help business-to-business companies automate their lead-generation efforts in order to build a digital sales and marketing machine.
Do you have any words of inspiration for Concordia students and budding entrepreneurs?
PK: If you have even the slightest ambition to turn an idea into a business, take the first step. You'll be challenged to think for yourself, which is a great model for connecting the dots and really understanding things deeply.
University is the perfect playground to experiment and try new things. Concordia has a wide range of resources that can support you, such as District 3. You don't have to be alone in your basement or garage — those days are over. You can find like-minded students and build something together.
I met my co-founder, Tristan Robinette, at a student networking event on campus. Your idea doesn't have to necessarily turn into a startup either. The experience teaches you valuable skills and the kinds of competencies that differentiate you from every other classmate with the same degree.
What does being a finalist for the Thiel Fellowship mean for you and the future of Ubico?
PK: Up to this point, we've bootstrapped the whole way. We've used all of our personal savings and grown from customer to customer.
Receiving this kind of financial support from the Thiel Foundation would further validate that we're on the right track and help us accelerate our growth. We aspire to become an international company, so having access to this San Francisco network would bring us closer to achieving that.
The funds would be used to accelerate the development of our software platform and help us execute Ubico's go-to market strategy.

Read more about Concordia's District 3.
---