D3 startups are one step closer to the $3 million AI XPRIZE
Concordia's incubator coaches 7 teams into the next round of the global competition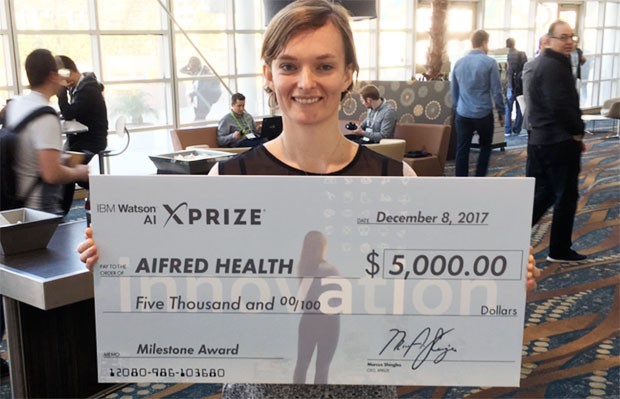 D3 startup aifred health is developing a system to use high-quality mental health data to improve treatment.

Seven teams coached by Concordia's District 3 Innovation Centre are in the running to win international recognition, as well as thousands — if not millions — of dollars to power their innovations.
"The common thread linking these seven teams is their desire to use artificial intelligence to solve grand societal challenges, particularly by tackling UN sustainable development goals," says Xavier-Henri Hervé, executive director of District 3.
The local teams are all competing in – and moving on to the next stage of – the global IBM Watson AI XPRIZE. The competition invites teams to develop powerful AI-based applications that can be used to tackle the world's biggest challenges. A $3-million grand prize is at stake, as well as hundreds of thousands of dollars in runner-up prizes.
District 3 is the official AI XPRIZE ambassador for Montreal and Quebec which, Hervé says, involves "animating and rallying the Montreal ecosystem and our partners to provide the crucial support required for our teams to succeed."
The Concordia-coached projects include using AI to:

"As part of Concordia University, we equip innovators and the Montreal community with the skills and mindset to succeed in an incredibly complex environment," Hervé says.
"District 3 has supported and continues to support the seven teams who've made it to the second round by connecting them with the local AI ecosystem and relevant partners, providing coaching, office space and funding for interns throughout their journey, giving them a platform through our marketing channels to provide them with visibility in the Montreal ecosystem and beyond, and providing them with the frameworks and entrepreneurial methodologies to test their assumptions and develop their prototypes."

'This is huge for us'
aifred health is one of the teams that found out they were moving on to the next stage of competition on December 8. Supported by District 3, aifred is developing a system that uses high-quality data about mental health to help physicians work with their patients to choose personalized treatments for depression.
In addition, aifred health earned second place in XPRIZE's top 10 of the 59 teams moving on, which provided them with $5,000 in funding. A total of $15,000 in prize money was awarded to the top two finishers on December 8 at the Neural Information Processing Systems conference in Long Beach, California.
"This is huge for us," says David Benrimoh, aifred's co-founder and chief executive officer.
"Not only is it recognition of all the creative work and energy we put in, but also recognition from the international community that what we're working towards is indeed important and can help a lot of people."
aifred is housed in D3, and Benrimoh says the support from the innovation centre has been fantastic.
"Not only have they provided us with a space and venue to hold meetings, but they have been essential as our business coaches. They've helped us secure funding for interns, make valuable contacts, and they've provided guidance and access to resources as we make our way through this highly competitive arena."
The AI XPRIZE is designed to identify teams with the most compelling and powerful ideas, then challenge them to go head-to-head so that the greatest breakthroughs surface. The four-year, $5 million global competition is one of the biggest of its kind.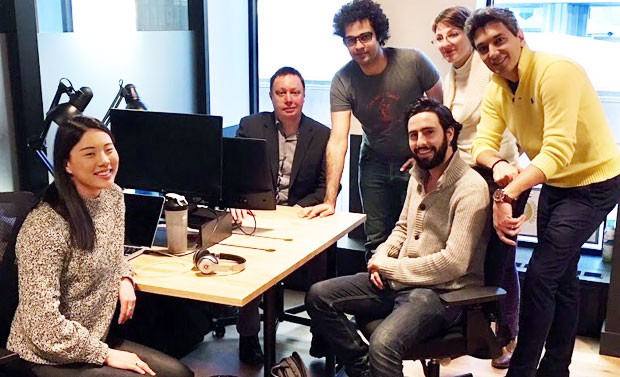 Team EruditeAI

Another of the seven competitive teams coached by D3, EruditeAI, is developing a free peer-to-peer math tutoring platform.
"While being nominated is great, the real benefit is that it will open more doors," says Patrick Poirier, founder and CEO of EruditeAI, and a Concordia Computer Science alumnus (GrDip 11).
"D3 has been helping me since 2013, first with office space for almost an entire year as well as coaching. They also reviewed the documentation we sent to the XPRIZE, so their feedback has been invaluable."
ErudieAI was also listed among the top 10 teams moving on.
Montreal has a unique and growing expertise in synthetic biology, artificial intelligence, nanotechnology, and genomics," Hervé says. "District 3 enables startups to collaborate and succeed on an international scale.
"The city is ripe with the opportunity to be globally recognized as a leading innovation ecosystem, including AI," he adds. "We need to set a strong foundation to build a prosperous future for our youth and our beloved city. As a community, we have an obligation to collaborate."

Find out more about District 3.
---