Textiles woven based on climate-change data sourced from NASA images are just one part of The Material Turn Exhibition
Exhibition invites visitors to touch the works from March 7-11, symposium on March 10 open to the public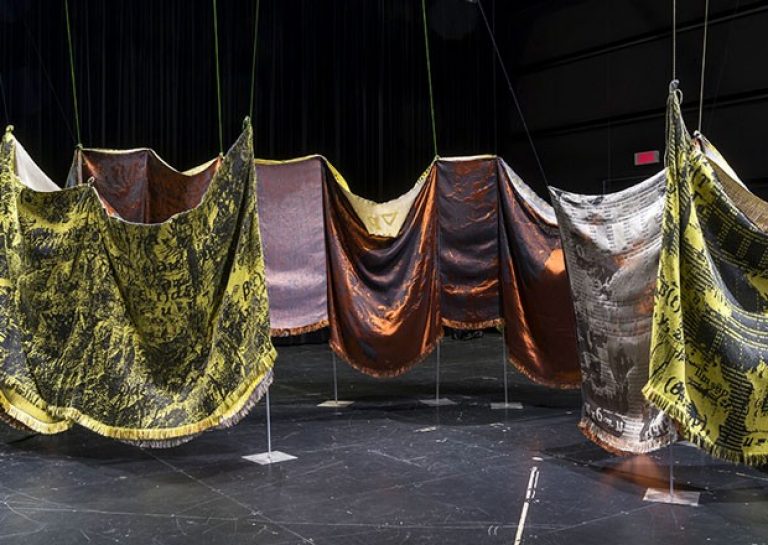 What emerges when artists make data tangible? This question animates The Material Turn, a textile exhibition and interdisciplinary symposium taking place at the FOFA Gallery, Black Box Theatre and the Milieux Institute this week.
Kelly Thompson, an associate professor in the Department of Studio Arts and a researcher in Milieux's Textiles and Materiality Research Cluster, organized the Material Turn exhibition and symposium with funding from her FRQSC-funded Material Codes, Ephemeral Traces project.
Touch the works at the FOFA Gallery
The FOFA exhibition features 13 artists from both inside and outside Concordia, all of whom engage with the materiality of digital technologies through weaving and other textile art. Thompson co-curated the exhibition with WhiteFeather Hunter, a bio-artist, and principal investigator and technician for the Speculative Life BioLab. Tiffany Le, a curatorial assistant at the FOFA Gallery, also played an instrumental role in handling the exhibition logistics.
Part of the exhibition is a small show-within-a-show called the "Archive of the (Un)loved." Here, gallery visitors are invited to touch and handle the work — a rare affordance, but one that makes sense given the exhibition's engagement with materiality in all its dimensions.
"The Archive of the (Un)loved is made up of pieces that were process-oriented. Test work, skill development — the type of pieces that artists hold on to, but that don't get shown. They're the things in people's studio cupboards. We wanted to bring in some of that evidence of the material research component of textile work," said Thompson.
What does big data look like?
Kelly Thompson
Downstairs in the EV-S3 Black Box, visitors can walk through (and touch) Thompson's large-scale textile installation Climate Data Labyrinth from March 7-11. The textile was woven over two weeks at the TextielLab in Tilburg, Netherlands, based on climate change data sourced from NASA images of changing landscapes from space and weather pattern algorithms. It's woven from fishing line, linen, mohair and polypropylene.
"What does big data look like?" asks Thompson.
"It's the inaccessibility of this information, and the challenge of making it visible somehow, that drew me to create this piece."
Thompson credits research funding and Milieux's support of speculative research for allowing her to produce such a monumental and unusual work.
"Climate Data Labyrinth could only happen in a university research culture, where you're supported in making work that is totally speculative – without any commercial end."
"As part of Milieux, I'm doing a lot more disciplinary overlapping than I had previously. I have a lot more students involved in this exhibition, and colleagues from outside the university," Thompson says.
Janet Jeffries delivers keynote address at symposium
The third dimension of the Material Turn is the symposium being held on Saturday, March 10 at Milieux. It is free, open to the public (registration is requested), and delves into questions of how different disciplines approach the notion of materiality.
It elaborates the same curatorial line that animates the FOFA exhibition and Black Box installation: how is data translated into art?
The day begins with a keynote address on women's voices in textiles and technology, and ethical practices within research-creation, by Janis Jefferies, an artist, curator and professor of visual arts and research at Goldsmiths University of London.
Next, a group of small panels will convene with short presentations by artists from across disciplines about the relationship between data and their own artistic practices. In the afternoon, participants can tour Milieux's labs and studios, including Studio subTela and the Speculative Life biolab.
Students in Thompson's 300-level special topics class "Digital Technologies and Material Practices" will also be in attendance.
"Their challenge in the class is to look at the relationship between the digital and analogue world in their own art making projects. They will also participate in the symposium, meeting all the artists and speakers involved in the event."
"It really is about having those conversations across knowledge bases."
Check out The Material Turn at the FOFA Gallery, located on the ground floor of the Engineering, Computer Science and Visual Arts Integrated Complex (EV) on the Sir George Williams Campus, until April 13.
---