Gina Cody School Day is back and bigger than ever!
MARCH 15: Third annual celebration features two events, a swag giveaway, LinkedIn photo sessions and more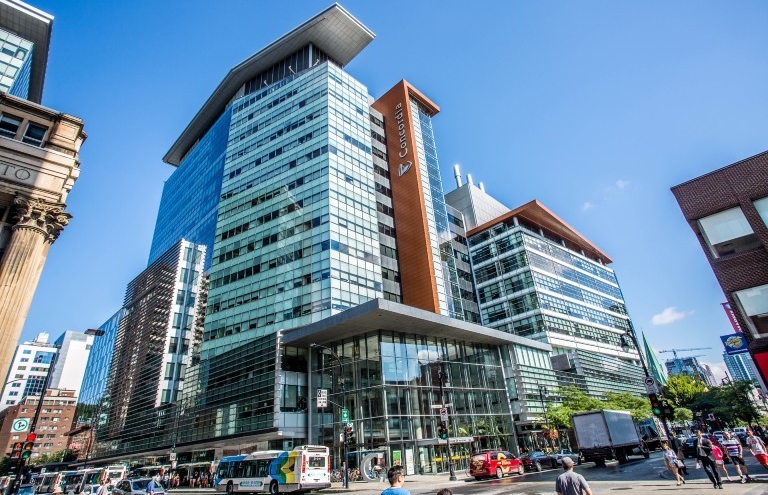 Following another banner year, Gina Cody School Day returns on March 15 with a packed program of exciting events and activities.
Launched in 2021 as a way to take pride in the outstanding students, alumni, faculty and staff of the Gina Cody School of Engineering and Computer Science, the annual celebration also serves as an opportunity for community members to reconnect and tell the world what the school means to them.
With more than 10,000 students and 38,000 alumni globally, the Gina Cody School is one of the largest engineering and computer science schools in Canada and consistently ranks among the country's best.
In the most recent edition of the Performance Ranking of Scientific Papers for World Universities, also known as the NTU Ranking, the Gina Cody School placed in the top six among Canadian institutions in three subjects — civil engineering, electrical engineering and mechanical engineering — and eighth in computer science.
For Mourad Debbabi, dean of the Gina Cody School, these rankings are just the tip of the iceberg.
"We are home to a large community of very hard-working, motivated and talented people," he says. "I am excited that we have Gina Cody School Day to focus our attention on celebrating and highlighting those who make such meaningful contributions to our school."
Gina Cody, MEng 81, PhD 89, shares Debbabi's enthusiasm. The benefactor of the Gina Cody School notes that lending her name to the school remains one of her greatest professional achievements.
"There are so many reasons to take pride in this school. I take most pride, however, in our incredible community of talented students, faculty, staff and alumni," says Cody, who also serves as co-chair of the Campaign for Concordia.
Share your pride, win prizes
On March 8, students can drop by the 8th floor of the Henry F. Hall (H) Building for an opportunity to get some free Gina Cody School swag. Concordia staff will hand out school gear as of 11:30 a.m. until supplies last.
Then, on March 15, campus ambassadors will be on the lookout for students who bring their Gina Cody School T-shirt, hoodie, hat or water bottle with them on campus. The ambassadors will be giving away a limited number of gift cards to people wearing school merchandise.
The Gina Cody School community will also be encouraged to show its pride on social media on March 15 using the hashtag #GinaCodySchool and including the @ginacodyschool handle. Students and alumni who post will be entered into a draw to win one of 10 gift cards valued at $100. Concordia employees are not eligible for this draw.
On the agenda
Starting at noon on March 15, the entire Gina Cody School community is invited to attend this year's feature event on ChatGPT, a chatbot developed by OpenAI. The hour-long discussion will provide an in-depth look into the chatbot's dominant technology — deep learning — as well as its ethical and moral implications.
Following the event, Gina Cody School students who register in advance can take advantage of a free LinkedIn photoshoot as part of the day's activities. Participants are encouraged to dress professionally and smile for the camera.
To cap the day off, community members can get an advance look at some of the school's exciting research projects at this year's student showcase. This interactive online event starts at 5:30 p.m. and features Gina Cody, Mourad Debbabi and Ruchika Sardana, department representative of the Concordia Institute for Information Systems Engineering for the Concordia University Engineering and Computer Science Graduate Students Association.

For more information, visit the Gina Cody School Day webpage. Remember to register for Gina Cody School Day events and activities in advance.
---