'Our John Molson community is a strong one'
Concordia's second John Molson School Day featured accomplished alumni and speakers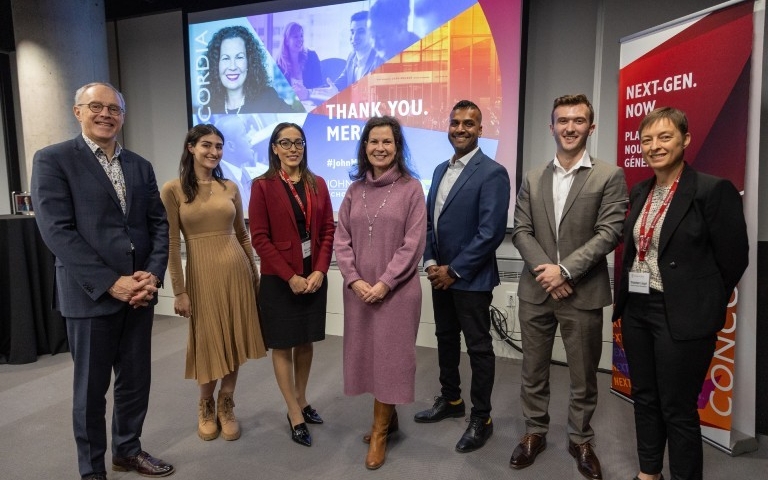 From left: Luc Bisaillon, MBA 93, Ghalia Shamayleh, GrDip 15, MSc 19, Nura Jabagi, MBA 14, PhD 21, Anne-Marie Croteau, Ian Selvarajah, BComm 07, Romain Germond and Shannon Lloyd
Students, alumni, faculty and staff celebrated the second-ever John Molson School Day on November 22.
With the theme "For the betterment of business and society," the day included a ceremony at the Concordia University Conference Centre to honour two MBA Alumni of the Year Award winners — Luc Bisaillon, MBA 93, and Karna Gupta, BComm 77, MBA 79 — and hear from four John Molson standouts.
"Our John Molson community is a strong one," said Dean Anne-Marie Croteau. "Together, we have collectively created an institution that has had an impact on both the local and international level. It is an honour to be a part of this movement for the betterment of business and society."
The dean's remarks capped a day in which prizes were handed out to students with the best John Molson swag and the hashtag #JohnMolsonSchool was used on multiple social media platforms.
Watch: Video recording of "For the betterment of business and society"
And the award goes to …
The MBA Alumni of the Year distinctions were awarded by the Concordia University Alumni Association and celebrated just months after the graduate program was ranked in the top 100 worldwide by The Economist.
After Croteau introduced Luc Bisaillon and presented him with his award, the managing director of RBC Corporate Client Group, Quebec, praised the flexibility Concordia gave him to complete his degree by attending evening courses, and fondly recalled the many friendships he developed along the way.
"It's very important for me to underline that the MBA program isn't only about the technical knowledge you receive or the courses on offer," noted Bisaillon. "It's about what happens in between as well."
Fellow winner Karna Gupta, whose success as a tech executive has advanced firms like Bell Canada, Certicom and LAB Canada, was unable to attend the celebration in person. He was honoured at a private luncheon on November 30, following a 4TH SPACE panel discussion on "The Role of Experiential Learning in a Thriving Economy."
---