Neighbourly kindness inspires $150,000 bequest from the late Laura Krasnodubsky's estate to the Campaign for Concordia
'It was a true friendship and I was glad to have known her,' says long-time Concordia staffer Stephen Cabilio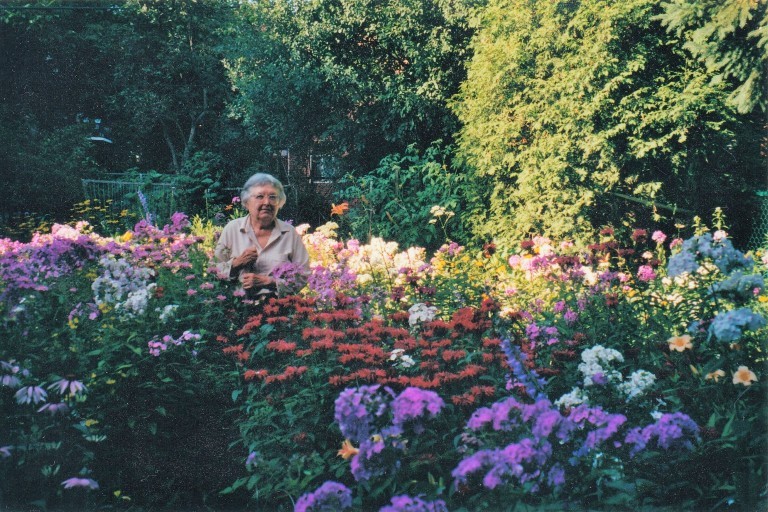 Campaign for Concordia donor Laura Krasnodubsky passed away last October at the age of 103.
A fence and a garden. Late 1980s, a quiet residential street, not far from Concordia's Loyola Campus.
These are the origins of a special friendship that recently culminated in a $150,000 planned gift to the university.
The extraordinary bequest from the estate of Laura Krasnodubsky, who recently passed away at the age of 103, might never have transpired had her neighbour, a Concordia staffer, not taken an interest in her backyard.
"Laura and I slowly got to know each other over the fence," says Stephen Cabilio, MCompSc 86, a systems analyst with the Department of Psychology. "We were both private people, but we shared a common interest. It all began with her garden."
The garden was Krasnodubsky's passion and sanctuary in retirement from Canadian National Railway, where she worked as a salary analyst, and especially after the death of her husband, Gerard Hebert, in 1993.
It was an unusual garden, even by contemporary standards, says Cabilio.
"Laura did not pursue advanced studies, but she was an avid reader and loved Rachel Carson's Silent Spring. She was very influenced by that book's emphasis on environmental conservation."
No pesticides. Diligent composting. Native plants. Low-impact and pollinator-friendly. That was Krasnodubsky's way, well before it became conventional practice.
For a curious, novice gardener, then, there was a lot to admire across the fence. In time, Cabilio began to see his neighbour less as an elderly, retired widow who was many decades his senior, and more as an autodidact, a radical and even a closet intellectual.
"She could surprise you," says Cabilio. "Her shelves were full of books of all kinds, showing a wide range of interests. Her parents had emigrated to Canada from Russia, and though born here she spoke the language."
Krasnodubsky was also proudly DIY. She made her own yogurt, baked bread from scratch and ran errands on foot well into her 90s.
"Many times I happened to drive by as she pulled her cart," says Cabilio. "I would ask if she wanted a lift to or from the store. She always said, 'Thanks, but no.' She insisted on walking."
'I didn't realize how much her donation was going to be'
When age did rob her of some independence, however, Krasnodubsky turned to Cabilio to help her draw up a will. With no children to assist with her affairs, her neighbour assumed the role of estate liquidator.
"Laura wanted to bequeath most of what she had to charity," says Cabilio. "When we started to discuss who to give to, she first thought of several foundations close to her heart. Then, aware of my long association with Concordia, she suggested the university as well. Of course I was very grateful for her thoughtfulness and generosity."
But when Cabilio learned just how generous Krasnodubsky's gift was, he was overwhelmed.
"I didn't realize at first how much her donation was going to be. I only had a vague sense of the size of her estate, but as it turns out it, she has left quite a legacy.
"I know Concordia, like many other institutions, has been challenged by the pandemic. So I'm glad Laura's gift is unconditional because I trust the university will use it to support a range of critical needs."
Six months after his friend's death, Cabilio sometimes peeks over the fence where he met Laura Krasnodubsky decades ago and wonders what will become of her beloved garden.
"It's gone truly wild now. It's not easy to find someone to care for it as she did. The house will be sold soon and I imagine that the new owner will have their own ideas about what a garden is.
"I will certainly stick up for Laura's way, if they're willing to listen. I miss her. It was a true friendship and I was glad to have known her."

To learn more about planned giving at Concordia, visit: concordia.ca/alumni-friends/giving-to-concordia/planned-giving.html
---