'We use synthetic biology to solve today's social, environmental, health and manufacturing problems'
iGEM Concordia students rally support through the university's FundOne crowdsourcing platform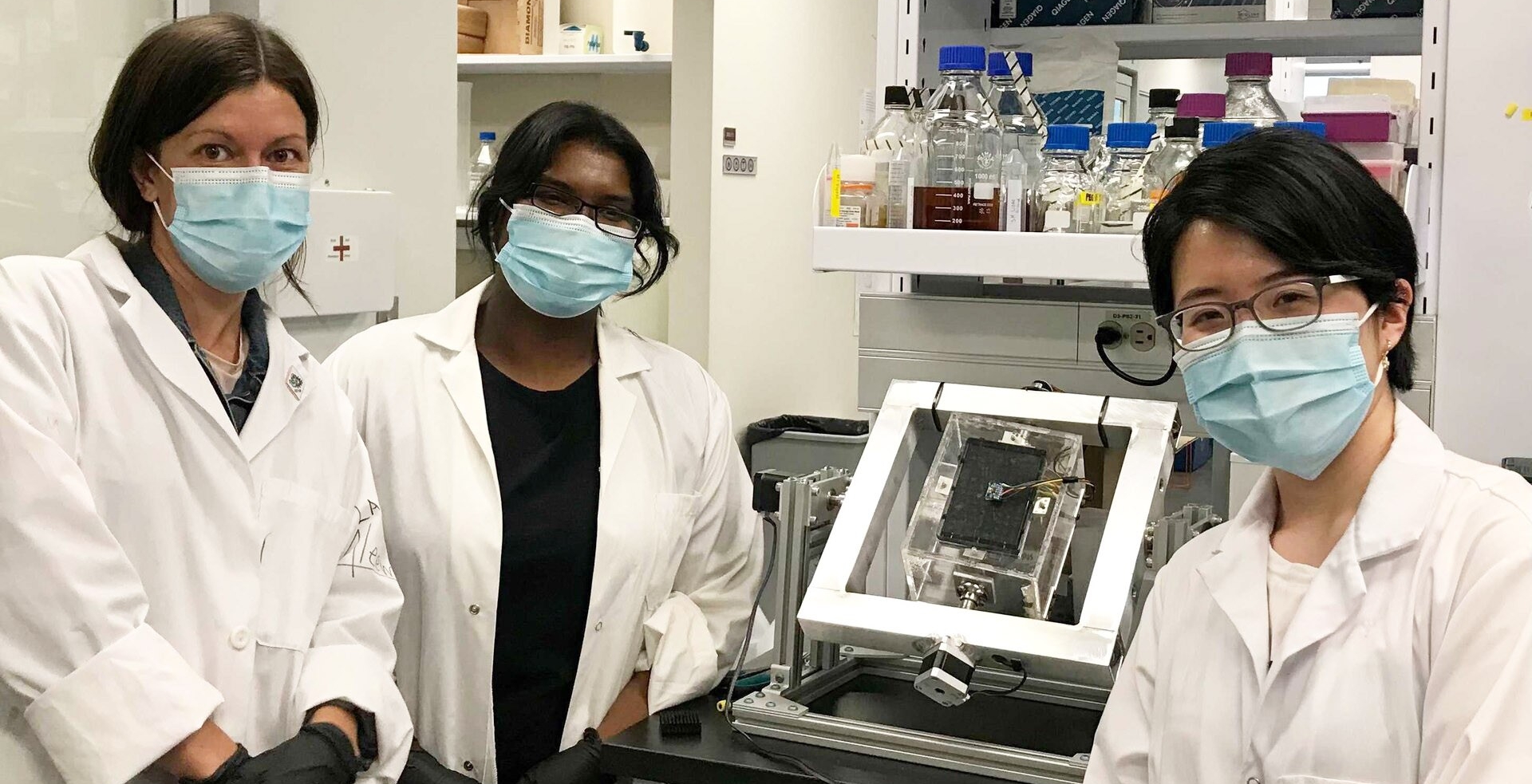 iGEM Concordia team members Lancia Lefebvre, Jenol Arulanantham and June Kim.
A group of multidisciplinary Concordia undergraduate students is on a mission to demystify genetic engineering through dialogue and mentorship.
iGEM Concordia collaborates on synthetic biology projects and competes yearly in the International Genetically Engineered Machine Competition (iGEM).
"We look at how we can use synthetic biology to solve today's social, environmental, health and manufacturing problems," says Gabriel Aguiar-Tawil, one of three co-leads of the iGEM team and co-lead of the genetics sub-team.
"We try to help promote synthetic biology among the next generation of scientists by providing hands-on experience in the field."
iGEM now looks to supplement its finances through FundOne — Concordia's crowdfunding platform for students, researchers and community members. The platform allows Concordians to present projects to potential donors and show how their donation will make a difference.
"FundOne gives our research better exposure to Concordia alumni compared to any other crowdfunding platform," says Amirhossein Rajabi Vajargah, fundraising team leader and member of the genetics sub-team.
"The beauty of iGEM is that it is very interdisciplinary — we combine synthetic biology with mechanical engineering, and we learn about science beyond our disciplines because we collaborate with so many different people," adds the fourth-year biology student.
Concordia's iGEM team has five sub-groups with different respective roles: human practices, software, hardware, genetics, and social media and design. The fund is used for research activities, design and manufacturing and to cover registration costs of iGEM conferences and competition.
"FundOne facilitates a lot of the financial aspects," says Man Zou, iGEM's social media co-lead and undergraduate student in Concordia's Design program. "It promotes iGEM within our community, which is beneficial for student groups like us who need a bigger reach."
Some members of Concordia's iGEM team, including Aguiar-Tawil, are also part of the SynBioApps program, which was recently awarded $30,000 and was named among the Canadian semi-finalists in the Deep Space Food Challenge.
'A very ambitious project'
iGEM Concordia's current research project is the AstroYeast MicroFarm, an innovative solution the team hopes will help astronauts produce nutritious food during long-term missions.
"We have a very strong team and a very big and ambitious project," says Aguiar-Tawil.
AstroYeast was inspired by the scarce food resources available to crews on a space station, where the environment is limited in terms of space and resources such as water and oxygen.
The team's goal is to help advance space exploration through synthetic biology by designing a space-compatible micro-organism that could help produce the resources and nutrients humans need in space.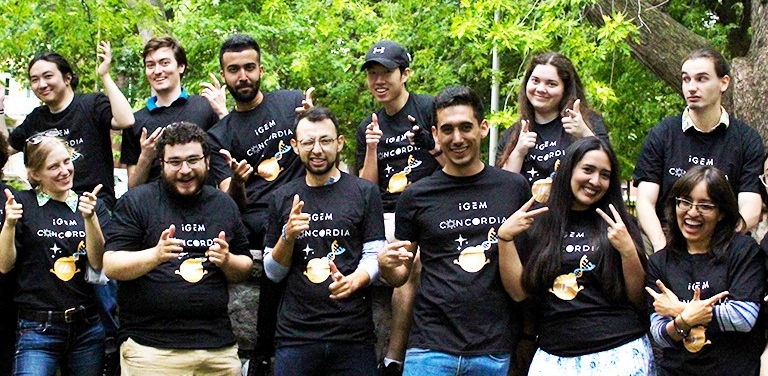 Some members of iGEM Concordia are part of the SynBioApps program, which recently received $30,000 and was named among the Canadian semi-finalists in the Deep Space Food Challenge, a competition held in parallel by NASA and the Canadian Space Agency. | Photo: Nallely J. Urbina
Going for gold
Each year, the team enters the iGEM Giant Jamboree, an international conference of students, academics and industry leaders, who explore how synthetic biology can solve worldwide challenges.
"The Jamboree is essentially the conference where all of the different teams come together and present their projects," says Aguiar-Tawil, who is pursuing a major in biochemistry.
Concordia's iGEM delegation has won gold and silver medals throughout the years, including a gold medal last year for its AstroBio project. The team additionally won the 2020 Best Software Track Award. At this year's online competition, which took place in November, the team received a gold medal for the third year in a row.
Enriching the student experience
iGEM provides undergraduate students with the unique opportunity to lead their own research and get hands-on experience outside of the classroom.
"I feel like I'm ahead of some of my peers when it comes to lab-focused courses," says Aguiar-Tawil. "We essentially have a year of extra experience that other students might not."
Man Zou agrees that the knowledge and tools gained in competition will help her towards her future career.
"Even though the competition is centered around synthetic biology, the projects we work on have multiple facets to them: software, programming, engineering, biology and design," she says.
"We have mentors, and we're learning new techniques and knowledge — allowing us to explore something we've never done before."
To support iGEM Concordia, and to learn more about its current projects, visit the team's FundOne page.
---