'Film is where all my differences, experiences and influences merge'
Katherine Jerkovic credits Concordia's Film Production program for helping her find her path
"Many art forms have been with us for centuries, but I think cinema is the most globalized one," says filmmaker Katherine Jerkovic. | Photo: Arcpixel
The career of award-winning Canadian filmmaker Katherine Jerkovic, BFA 02, MFA 07, exploded when her debut feature film, Roads in February (Les routes en février), was named the Best Canadian First Feature Film at the Toronto International Film Festival in 2018.
"It was an amazing experience," Jerkovic recalls. "I showed up there with a small film, thinking I was going to be anonymous, and I ended up doing so many interviews! The Toronto public and the rest of Canada embraced my film, and it was such a wonderful experience. I felt like I belonged."
Born in Canada to a Uruguayan mother and a Croatian-Argentinian father, Jerkovic grew up in Belgium and Uruguay before settling in Montreal at age 18 to pursue film production at Concordia. As a testament to her love of film, Jerkovic's bio on her official website states, "Cinema is her homeland."
"It's a way of answering the identity question I've been asked all my life," says Jerkovic. "People ask me, 'Where do you come from?' I've lived in different countries, I grew up speaking French and Spanish, then I moved to Montreal, and so on.
"For a long time, this was heavy on my shoulders, not having an easy answer. But my love for cinema and being an artist, more than anything else, kept me together," she adds.
"Film is where all my differences, experiences and influences merge."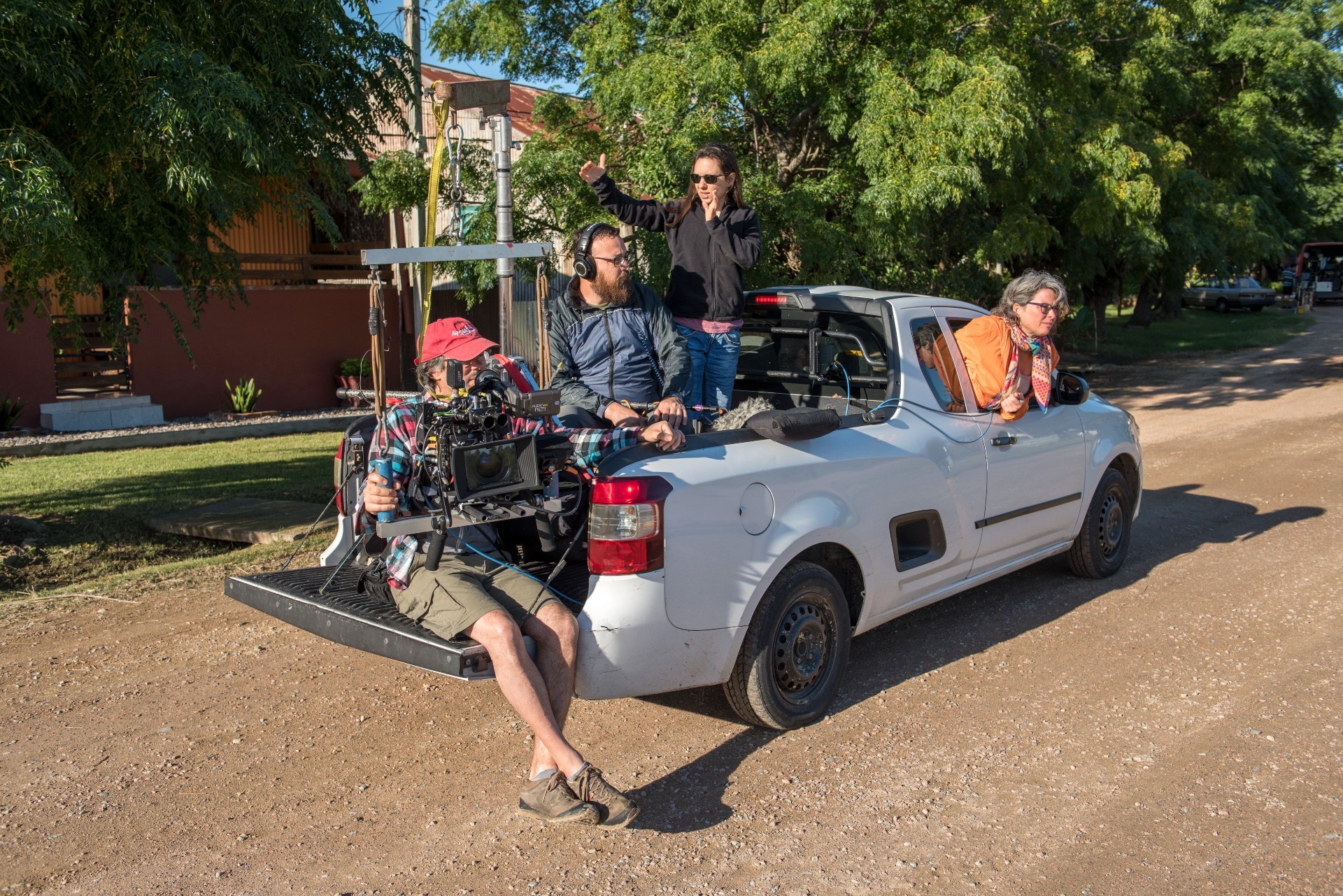 Katherine Jerkovic (third from left) with her crew on the set of
Roads in February (Les routes en février).
'Concordia was crucial'
It's no secret the film business can be tougher for women filmmakers. "It has always been harder for women," Jerkovic says, "but I would be lying if I told you I wasn't given a chance because I am a woman. I also think I was lucky. People supported me and I was lucky with getting financed."
Jerkovic says studying film at Concordia helped set her on her way.
"Concordia was crucial. I applied to Concordia thinking that I knew what cinema was," she says. "Then I realized that I had no idea about filmmaking and discovered all kinds of cinema at Concordia — international cinema, radical cinema, avant-garde. It was super important. Also, it was the 1990s, and Concordia had much more cultural diversity than other Montreal universities."
Jerkovic is currently filming her second narrative feature, Coyote. While COVID-19 has changed the way films are made — with new health and safety protocols on the set — Jerkovic says her actors and film crew have adapted well.
"COVID has changed filmmaking like it has changed everyone. But I am lucky I was not shooting during the first or second waves" she says. "Most of my crew have already shot films under the new rules. They don't see this as a huge obstacle, but it is slower and more laborious."
Despite the pandemic, Jerkovic still enjoys making films and watching them up on the big screen.
"Many art forms have been with us for centuries, but I think cinema is the most globalized one," Jerkovic says. "It is in the best position to build bridges between people with different views and experiences around the planet. So I think film is very important."
Know a Concordia grad with an interesting story? We'd love to hear it. Email us at magazine@concordia.ca.
---