Twin sisters share their twist on Korean cuisine
Hyunsun and Hyunmi Jo's Comptoir KOYAJO is a stone's throw from Concordia's Loyola Campus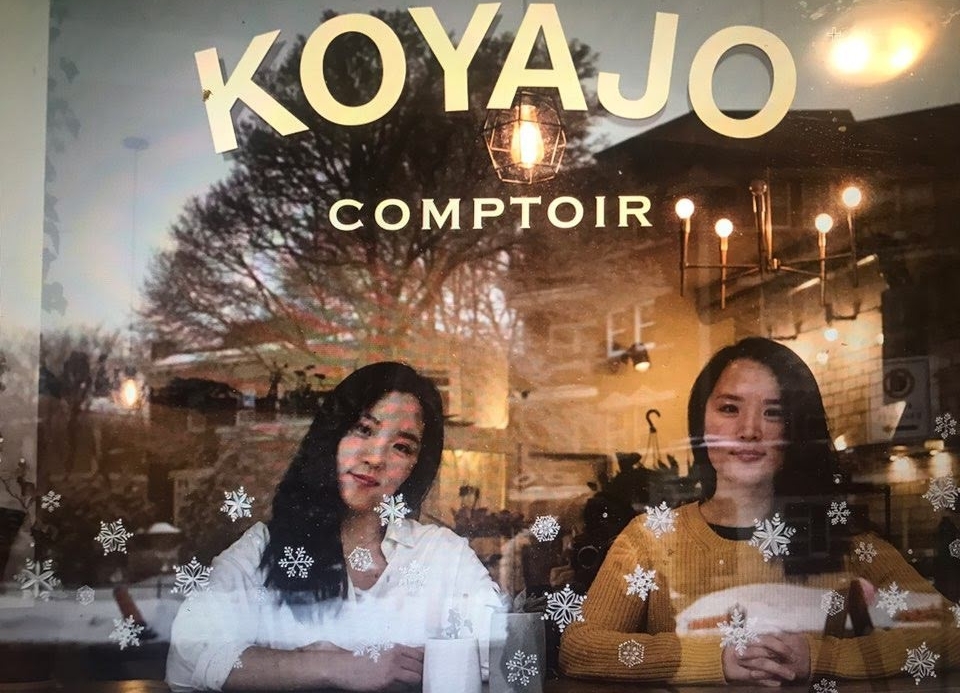 "One of my dreams was always to own my own cooking business," says Hyunsun Jo, pictured with her sister Hyunmi, at the window of their restaurant on Sherbrooke Street. | Photo: Sarah Boumedda
Fraternal twin sisters Hyunsun Jo, BA (sociology) 15 and Hyunmi Jo, BA (applied human sciences) 15, curiously refer to themselves as "the older sister" and "the younger sister." One initially suspects having misunderstood their kinship, but they are quick to clear it up: Hyunsun is three minutes older than Hyunmi.
The alumnae have shared many milestones in their lives. They both left Seoul, South Korea, in 2007 to live in Australia. Two years later, they moved to Alberta. They say that's where they fell in love with Canada — its friendly citizens, beautiful landscapes and multicultural society — and decided to stay. After moving to Montreal, they enrolled at Concordia University in 2011.
The Jo sisters confirm that Concordia helped actualize their restaurant dreams — from their imaginations to real life.
"In my degree, I did a lot of presentations, group work and group discussions," says Hyunmi. "Group members would be stressed. But at the end we would manage to solve the problems. I benefitted a lot from that. And those conflict-resolution skills help me run my business."
Hyunsun adds that the People's Potato, a donation-based soup kitchen operating at Concordia, inspired her. "The university, the people and the volunteers there are so dedicated, serving free food to students. I was so touched by this. I wanted to help people in this way, too."
As a result, Comptoir KOYAJO — the Korean-inspired restaurant the Jo sisters opened in Montreal's Notre-Dame-de-Grâce (NDG) neighbourhood — offers a discount to Concordia students.
The university also played a role in determining the location of the restaurant. "We had all of our classes on Loyola Campus," says Hyunsun, "And we realized there weren't that many places to go to eat. I wished there were some healthy options and more variety near campus."
That changed one day when the siblings were walking near campus in NDG. "We saw a place available, 'a louer' [for rent]," adds Hyunsun.
By 2018, three years after graduation, the Jos had turned that "a louer" property into a long-time dream. Comptoir KOYAJO is a mere 100 metres away from where they studied at Concordia.
"One of my dreams was always to own my own cooking business," says Hyunsun. "I wanted to have my own shop and make contact with customers."
A twist on traditional
At the restaurant, customers can enjoy Korean mainstays like spicy ramen or bibimbap, the nest of white rice topped with garnishes and an iconic sunny-side-up egg. But they can also opt for the vegetarian bahn-mi, a Vietnamese sandwich on baguette. Comptoir KOYAJO brings together traditional Korean flavours with pops of novelty, say the sisters.
Hyunmi maintains that her favourite dish at the restaurant, as well as one of its most popular, is the spicy chicken bowl. Served on two dumplings and drizzled with her mom's secret sauce, she says customers cannot resist ordering the dish again and again.
Hyunsun is particularly proud of her ramen recipe. To maximize its flavour, she serves it in bone broth made from scratch. She also mixes in a rare chili which leaves the eater's mouth tingling long after the last sip.
Dealing with the pandemic
Once the COVID-19 pandemic hit in March 2021, the Jo sisters say that sales started to drop. And then, when the Government of Quebec called for all restaurants in Montreal to stop indoor dining, the co-owners — like many restauranteurs around the city — pivoted to takeout.
"We've had to use a lot of plastic in order to do takeout," a violation of the restaurant's environmentally friendly philosophy, says Hyunsun. "I felt a bit guilty about it and [have looked] for a better solution to solve this issue."
The twins have since begun allowing customers to bring their own containers from home. They wash and sterilize them before handling. It benefits both their health and the environment, they say.
What the Jos appreciated most — especially amid the pandemic — is the repeat customers.
"We are just so thankful for our regulars," says Hyunmi, to which Hyunsun agrees. "They really stayed with us during a difficult time."
Know a Concordia grad with an interesting story? We'd love to hear it. Email us at magazine@concordia.ca.
---