Leveraging faculty expertise to make lasting community change
Spotlight on: The Faculty of Arts and Science
— with files from Kelsey Rolfe and Patrick Lejtenyi, GrDip 99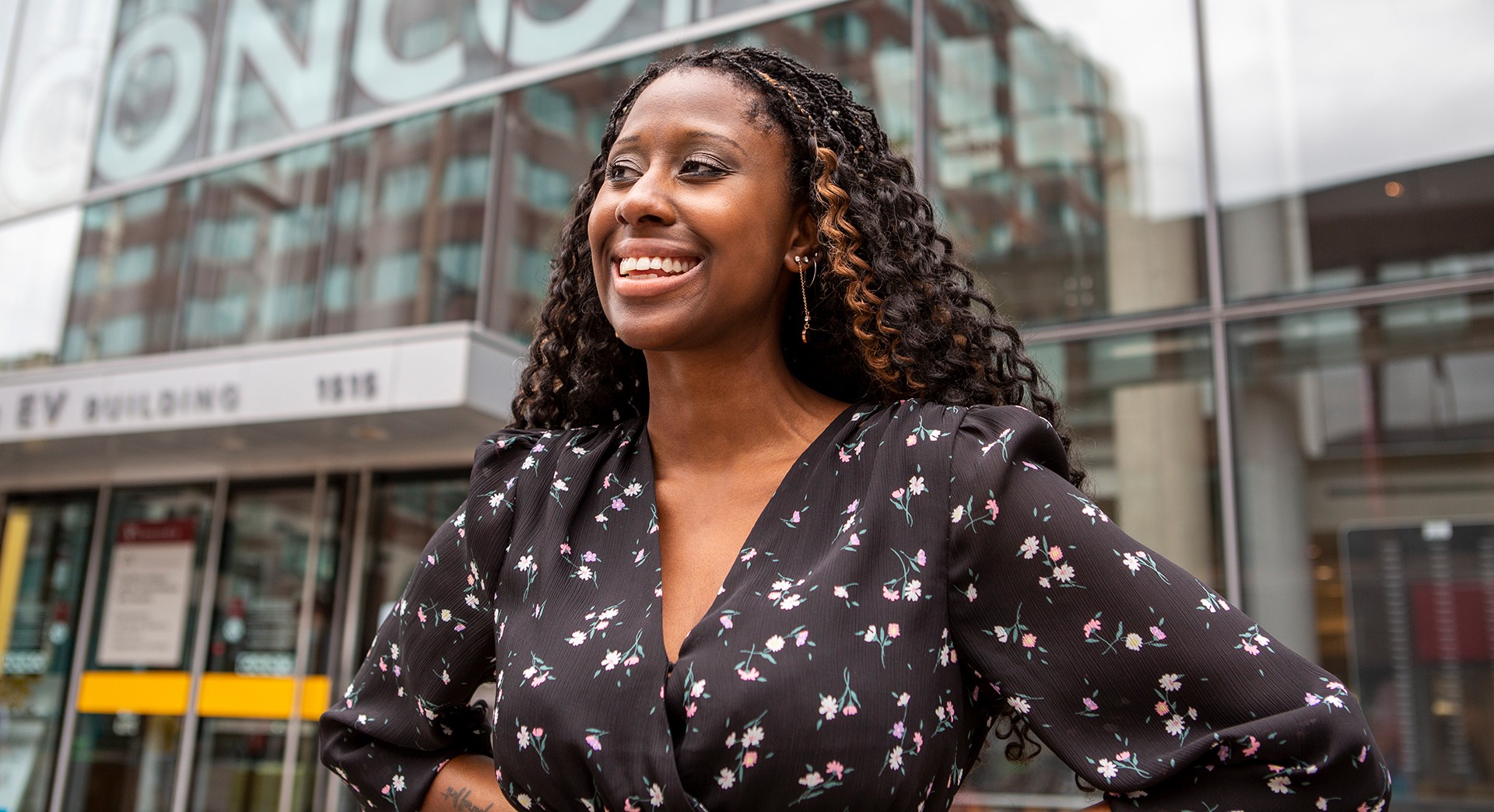 Concordia PhD student Jamilah Dei-Sharpe, MA 19.
The Faculty of Arts and Science has an edge when it comes to the area of health and well-being, says dean Pascale Sicotte.
"We have a unique advantage in that the scope of our expertise in health and well-being is so broad. And because of our flexible structure, researchers and students can move easily between disciplines and be exposed to different ways of doing, learning and thinking." This flexibility makes many faculty projects possible, Sicotte adds.
Addressing social injustice
The Anti-Racist Pedagogy Project, launched in April by Concordia PhD student Jamilah Dei-Sharpe, MA 19, features pre-recorded talks from Concordia students and faculty members, as well as grassroots social-justice organizers and activists in Montreal.
The goal, says Dei-Sharpe, is to have a sustainable space on the Concordia website with a consistent flow of new videos on the topics of decolonial pedagogy, addressing systemic racism and discrimination. It will also include a related resource list with each video to give students and faculty actionable ways to change their habits and modes of thinking.
Reviving roots
Elizabeth Fast, associate professor of applied human sciences, wanted to help Indigenous youth reconnect with their cultures in safe and accessible ways.
Along with an advisory group composed of Indigenous youth — some of whom are also students — Fast has organized a series of land-based learning retreats revolving around Indigenous traditions and ceremonies.
The Restoring Our Roots project has since evolved into a five-year Land As Our Teacher participatory action research project exploring the ways land-based pedagogies benefit Indigenous youth.
"I think the sense of belonging is very important for Indigenous youth, especially for those who have felt disconnected for many reasons," says Fast. "It increases their courage to reconnect and can lead to some healing of intergenerational trauma. It also can be a foundation for deeper and better relationships with the land."
Learning with our communities
Concordia's engAGE: Centre for Research on Aging presented COVID-19, Aging and Well-being: One Year Later. The April 12 event brought together researchers working in a variety of areas touching on health, including the effects of stress, behaviour and lifestyle, digital technology, food insecurity and artsbased interventions. Shannon Hebblethwaite, engAGE director and associate professor of applied human sciences, says the event was an opportunity to share research to inform social policies and "create a new vision for how we care both for and with older people in our communities." Hebblethwaite adds that, unfortunately, most of us will experience ageism at some point, according to research. She says interdisciplinary collaboration is key to understanding and supporting the aging process.
Collective responsibility
Sylvia Kairouz is Concordia's Research Chair on Gambling and a professor of sociology and anthropology. Her latest project explores the effects of the pandemic on online gambling.
Funded by the Fonds de recherche du Québec – Société et culture (FRQSC) in partnership with the Ministère de la Santé et des Services sociaux (MSSS) with the collaboration of Loto-Québec, the longitudinal study will take place over the next three years. "Our goal is to expand the responsibility to institutions, not just individuals, to encourage healthy gambling behaviours," she says. "This collective vision of responsibility is in line with our mandate to support decision-making and interventions."
Eliminating barriers to mental-health support
The Department of Psychology's Applied Psychology Centre (APC) offers students in-house training and provides therapy, counselling and assessment services to the community.
Department chair Aaron Johnson says that when the pandemic hit, clinical faculty members and students didn't just survive the move to online, but used it as an opportunity to restructure how they worked in order to better serve the community. Many of the adaptations they made — remote assessments, online sessions — will be permanent.
"Even before the pandemic, mental-health access was a problem," says Johnson. "The pandemic has fundamentally changed how we have to view mental health in Canada and Quebec, and will require a rethink of how we deal with access to mental health and the barriers to that access."
---