Exploring queer identity through art
Painter Andrew Moncrief found his path in Montreal and at Concordia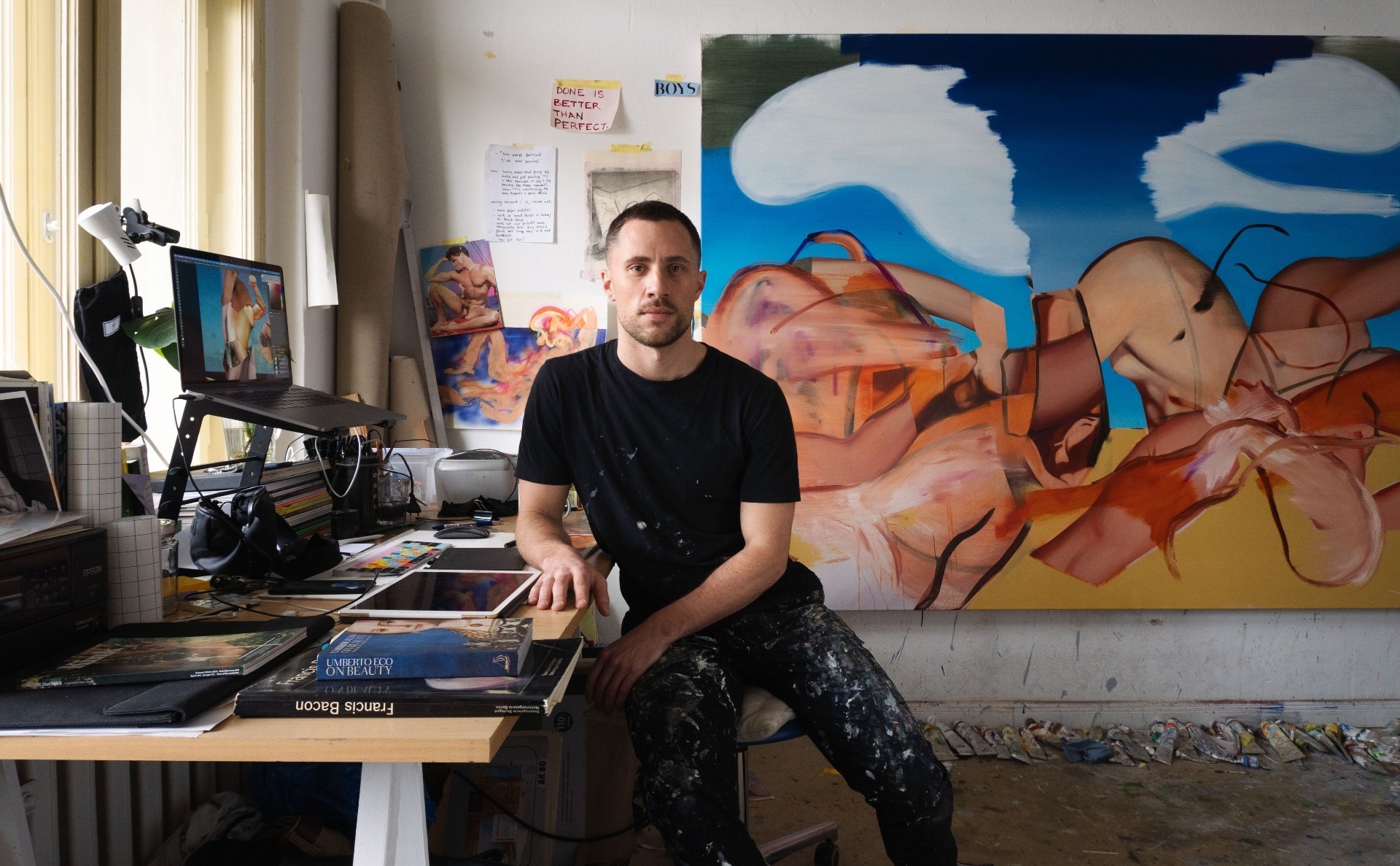 Canadian painter Andrew Moncrief in his Berlin studio.
Canadian painter Andrew Moncrief, BFA 13, is part of Nick Cave's private art collection — not the Australian rock star, but the Chicago-based performance artist famed for his "Soundsuits" that blend fashion and sculpture.
"Nick collects a lot of queer art and one of my portrait pieces from my very first exhibition I did at La Petite Mort Gallery in Ottawa in 2015 is now in his private collection," Moncrief says proudly.
This is a big deal, especially for a formerly closeted gay kid from a small town on Vancouver Island. Moncrief later came out and embraced gay life and culture when he moved to Montreal to attend Concordia's Painting and Drawing program in 2009.
"I felt kind of trapped and isolated on Vancouver Island, but Montreal is a perfect city to grow up in," says Moncrief. "It's an open and artsy queer city where other people were more comfortable with my sexuality than I was! In Montreal anything goes. The city has a wonderful energy."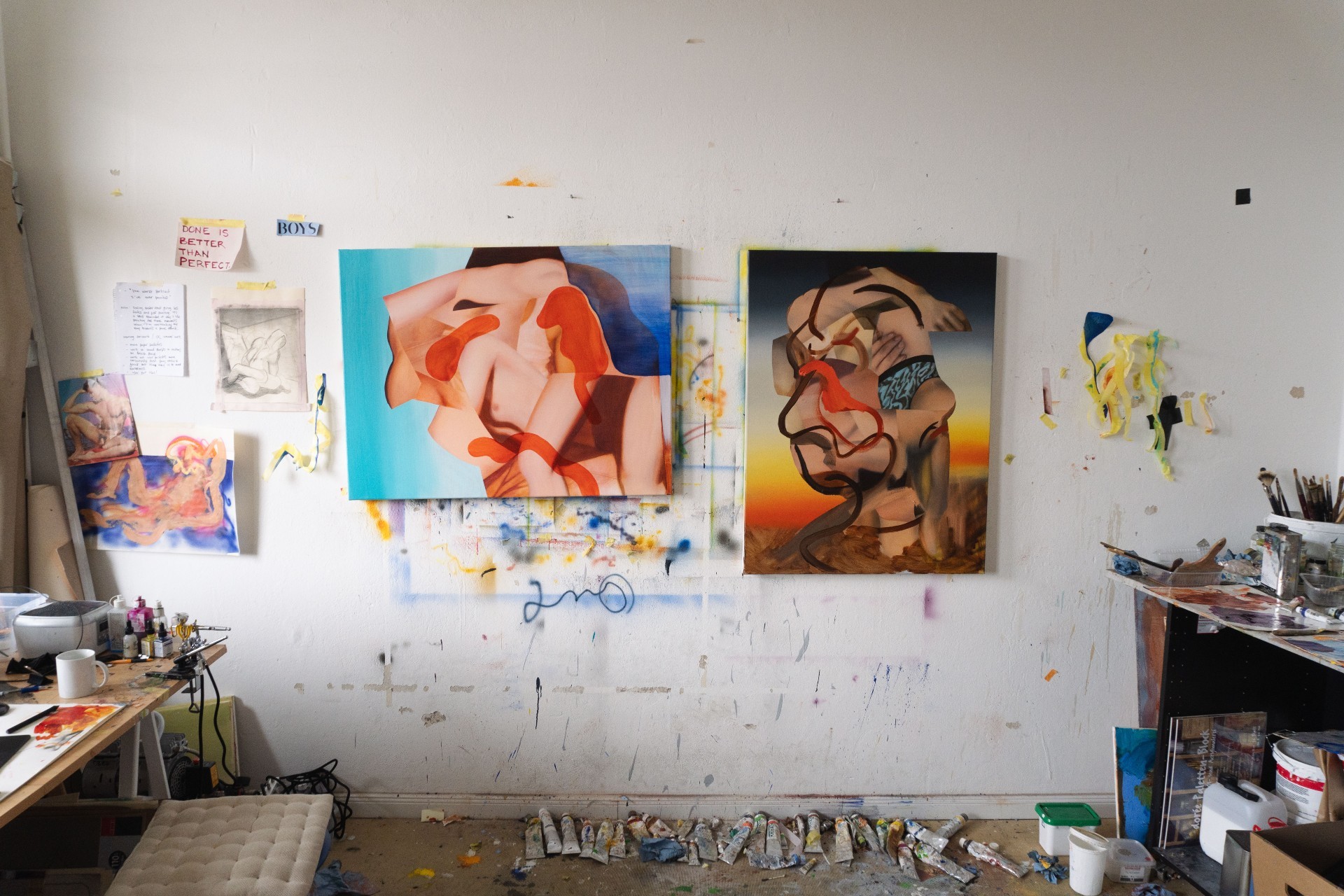 "I felt kind of trapped and isolated on Vancouver Island, but Montreal is a perfect city to grow up in," says Moncrief.
Before relocating to Montreal, Moncrief studied art at North Island College in Comox Valley, B.C., then at the Nova Scotia College of Art and Design in Halifax. He found his stride at Concordia.
"I was a bit of a maverick," he recalls. "I didn't have a lot of friends because I have a tendency to take myself too seriously, but my teachers were very supportive. I was hauling giant paintings to school every week, really pushing myself hard. Instead of handing in one painting for a critique, I would hand in six!"
A 'giant leap of faith'
When renowned Ottawa gallerist Guy Bérubé booked Moncrief's first solo show at his La Petite Mort Gallery in 2015, Moncrief began getting noticed in the media. Xtra Magazine noted Moncrief had "developed a fixation with classical religious painting" while Ottawa Life wrote of his "obsession with baroque art."
Today, Moncrief says he is "attracted to classical works and depictions of the human body, but [is] still growing as an artist."
It's part of the reason he moved to Vancouver in 2019 to study classical painting and drawing techniques full time with his mentor Justin Ogilvie before moving yet again, this time to Berlin.
"I arrived in Berlin six months before the COVID-19 pandemic began and found a new circle of friends. They're all artists, which is the first time I've ever experienced that," says Moncrief. "My first studio here I subleased for three months, in an old [former East German] film studio where Marlene Dietrich supposedly shot movies! When I am not painting, I spend my time visiting the incredible museums in this city.
"Moving to Berlin was a giant leap of faith, and it was the right decision."
Moncrief says his art is informed by his queerness, an LGBTQ consciousness supported by a like-minded community of artists and friends in his adopted city.
"My early work reflected my struggle to come to terms with who I am. When I was young, art was also an escape for me. But as I grew up and realized I wanted to make a living as an artist, it became a different beast," he says. "I have not sacrificed my authenticity. Berlin has afforded me the freedom to be myself."
---