Expressions of collective resourcefulness
Spotlight: Faculty of Fine Arts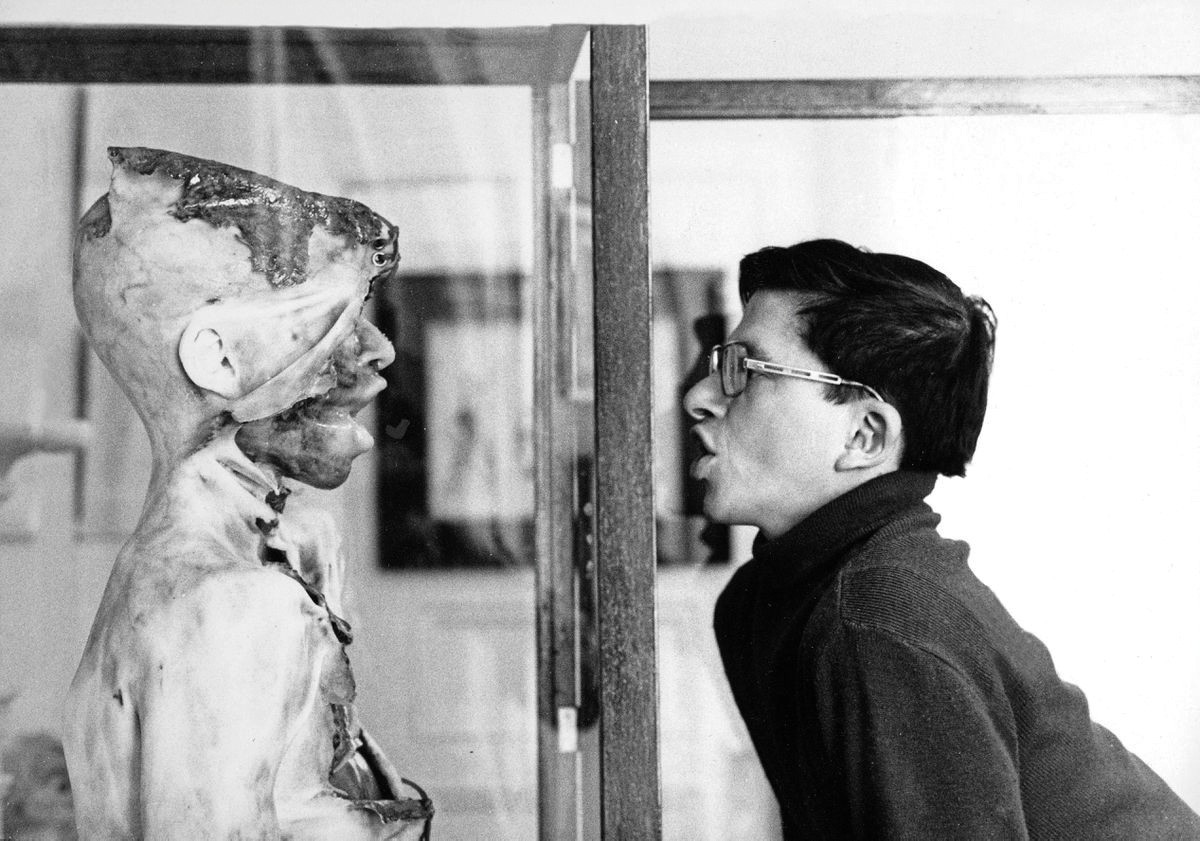 Mark Prent, BA 70, with one of his sculptures at his Montreal gallery, circa March 1977.
While courses offered by the Faculty of Fine Arts moved online for the fall and winter terms, hundreds of students in the Department of Studio Arts picked up take-home studio kits to use for ceramics, sculpture, fibres and material practices, and printmaking. It was no small feat to develop the kits and adapt studio-based classes to a home environment, says Kelly Jazvac, associate professor in the Sculpture program.
Without access to Concordia's facilities, fine-arts students lack communal workspaces where they can learn to use special equipment, handle hazardous materials and experiment safely. Jazvac was part of a team of instructors and technicians that spent the summer hammering out technical details for the kits to ensure the remote delivery of a high-quality visual-arts curriculum.
Creating the kits required everyone to reimagine materials and methods from the ground up, explains ceramics and sculpture technician Marie-Pier Laverdière.
"We had to order new materials, test them, make sure they were compatible with our facilities and have discussions with our instructors to rethink the teaching."
For Juan Ortiz-Apuy, BFA 08, assistant professor of sculpture, the kits are an expression of the collective resourcefulness that the pandemic has evoked. "For some students, that's meant banding together to rent a studio," he says. "For others it's been about repurposing materials or making public installations on their balconies and windows. It's all about creative problem-solving during the pandemic."
Major recognition
Martha Langford, distinguished research professor in the Department of Art History and research chair and director of the Gail and Stephen A. Jarislowsky Institute for Studies in Canadian Art, received the 2020 Universities Art Association of Canada (UAAC-AAUC) Recognition Award. "Martha is a force of nature," says Annie Gérin, dean of the Faculty of Fine Arts, who received the award in 2019. "She is truly a pillar of our community, and I feel proud to have her as a colleague."
Art Volt sales and loans
The Art Volt Collection, a non-profit artwork loan and sales service, set up a series of events to promote its launch last spring. In September 2020, alumni tuned in to a conversation with Dean Gérin and Cheryl Sim, MA 07, managing director and curator at Fondation PHI pour l'art contemporain. During two well-attended online events in October, the public was able to purchase juried artworks and watch a livestream of performance and video works by graduating fine-arts students and recent alumni.
REMEMBERING MARK PRENT (1947 – 2020)
Mark Prent, BA 70, accomplished visual artist and virtuoso mould-maker, passed away suddenly in September. Prent inspired generations of fine-arts students, staff and faculty during his 43-year career at Concordia as a senior technician in the Department of Studio Arts. He was well-known for his unequalled technical mastery and his keen devotion to helping students realize their artistic projects.
---