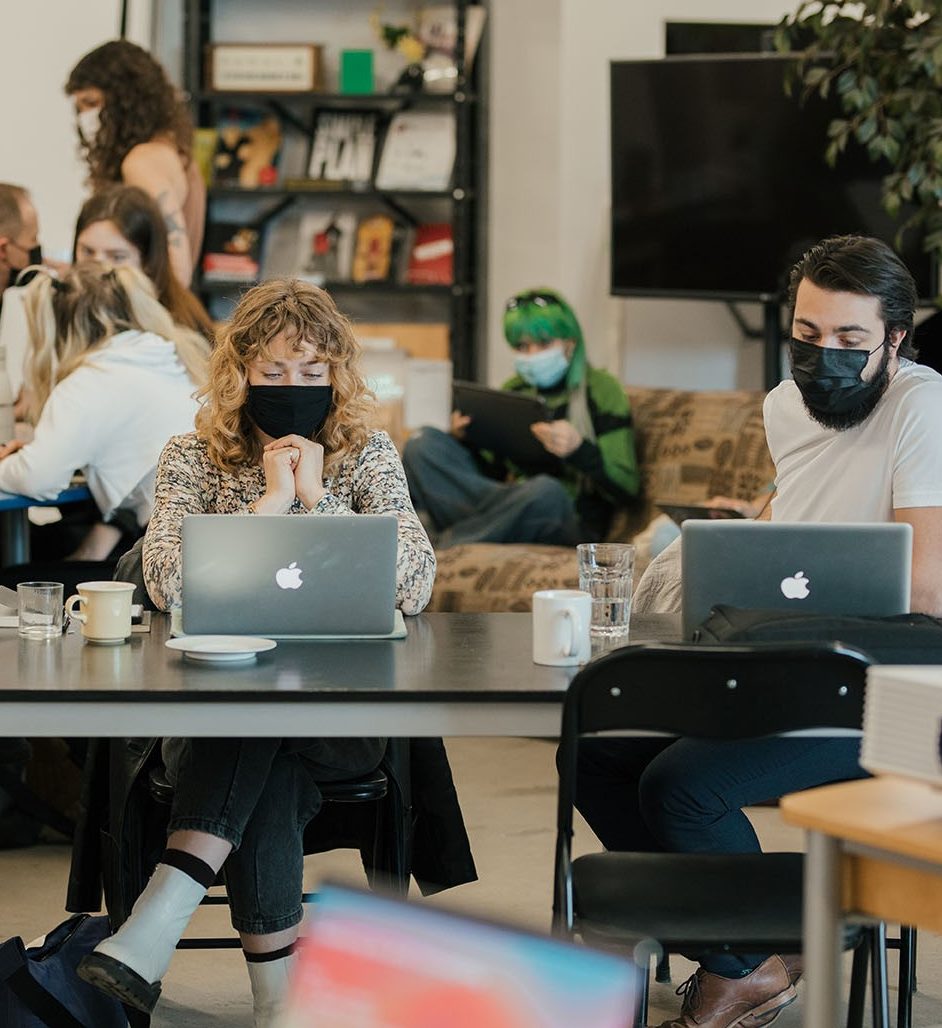 Artists of the Art Volt Collection 2022 at the bootcamp. Photo : Ash KG
About Art Volt
Art Volt is a platform containing a wide array of programs aimed at supporting recent Fine Arts alumni. Art Volt focuses on initiatives and tools to better equip Concordia's creative practitioners as they transition out of their academic degree and embark on new projects. The objective is to reinforce the knowledge and practices gained by students during their degree, while providing real-world experiences and connections they can build on in their personal and professional lives.
Réaction en chaîne, by Ludovic Boney on the l'ÉTS campus
Call for Submissions
L'École de technologie supérieure is looking for an Intern - Coordinator for a 15-week paid contract. This person will participate in the development of an action plan for the integration of Arts and Culture at l'ÉTS.
Deadline: Wednesday, October 5th at 5PM EST
*This is a paid opportunity in French only.
APPLY NOW
Call for Submissions
Art Volt and Bouge d'ici are now accepting submissions from recent alumni of Concordia University's Faculty of Fine Arts interested in a dance residency at MainLine Theatre.
Info Session: Wednesday, September 28th at 12pm EST
Deadline: Tuesday, October 11th at 5pm EST
*This is a paid opportunity
APPLY NOW
Call for Submissions
We are thrilled to announce the pilot edition of our Grant Writing Program! Recent alumni are invited to apply to participate in a 4-week intensive professional training program that focuses on developing grant writing skills. Selected participants will benefit from personalized coaching and mentorship while developing a grant proposal, and receive an honorarium for completing the program.
Deadline: Monday, October 3rd at 5PM EST
Info Session: Tuesday, September 20th at 12PM EST
*This is a paid opportunity!
APPLY NOW
Tan[ha] by Mohammadreza Akrami
Art Volt x Tangente Partnership
We are so very excited to announce our collaboration with Tangente to support recent Fine Arts alumni who are part of their upcoming Fall & Winter programming! Our first alum to benefit from this production support partnership is Mohammadreza Akrami.
Mohammadreza will presententing his work titled Tan[ha] on November 26th, 27th, 28th and 29th.
LEARN MORE
Artwork credit: Clara Cousineau, Vase plastifié, 2020.
The Collection is here!
The Art Volt Collection (AVC) is a not-for-profit artwork rental and sales service at Concordia University's Faculty of Fine Arts. The AVC helps recent alumni launch their career by showcasing their work, connecting them with art patrons and providing them compensation for their creative productions by introducing them to the commercial market.
Browse the Collection
The Art Volt Toolbox
The Art Volt Toolbox aims to facilitate access to knowledge and practical tools that are beneficial to Fine Arts alumni (and everyone!) on their path toward professionalization.
Browse now
Launch of the 2022 Art Volt Collection, Maison du Conseil des Arts de Montréal. Photo: Ash KG