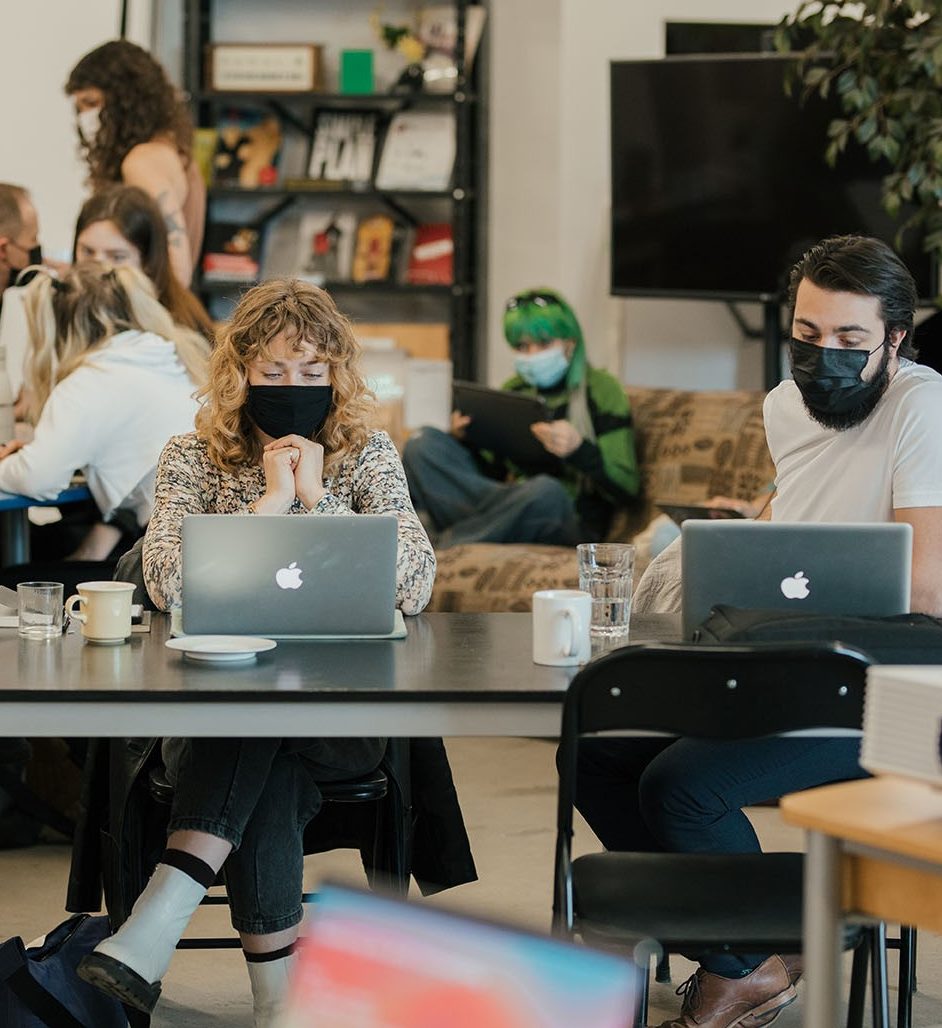 Artists of the Art Volt Collection 2022 at the bootcamp. Photo : Ash KG
About Art Volt
Art Volt is a platform containing a wide array of programs aimed at supporting recent Fine Arts alumni. Art Volt focuses on initiatives and tools to better equip Concordia's creative practitioners as they transition out of their academic degree and embark on new projects. The objective is to reinforce the knowledge and practices gained by students during their degree, while providing real-world experiences and connections they can build on in their personal and professional lives.
Launch of the 2022 Art Volt Collection, Maison du Conseil des Arts de Montréal. Photo: Ash KG
Art Volt Collection: Call for submissions
Join the cohort of artists of the Art Volt Collection ! Submit your artworks by Sunday, February 12th, 2023, 11:59 pm EST.
Apply now
Winter Workshop Series
Our Winter Workshop Series is here! Register now for a series of online workshops, presented in collaboration with the department of Creative arts therapies and FutureBound.
Register now
Michael Martini & Callan Ponsford's Beep Test, photo by Mariane Stratis
Art Volt x Tangente Partnership
We excited to announce our collaboration with Tangente to support recent Fine Arts alumni who are part of their upcoming programming!
The second alum to benefit from this production support partnership is Michael Martini. Michael will be presenting a work titled Beep Test, in collaboration with visual artist Callan Ponsford.
Beep Test will be presented by Tangente on February, 4th, 5th, 6th and 7th, 2023.
Learn more about Michael
Buy tickets
Artwork credit: Clara Cousineau, Vase plastifié, 2020.
The Collection is here!
The Art Volt Collection (AVC) is a not-for-profit artwork rental and sales service at Concordia University's Faculty of Fine Arts. The AVC helps recent alumni launch their career by showcasing their work, connecting them with art patrons and providing them compensation for their creative productions by introducing them to the commercial market.
Browse the Collection
The Art Volt Toolbox
The Art Volt Toolbox aims to facilitate access to knowledge and practical tools that are beneficial to Fine Arts alumni (and everyone!) on their path toward professionalization.
Browse now
Launch of the 2022 Art Volt Collection, Maison du Conseil des Arts de Montréal. Photo: Ash KG