Concordia business grad leads Tampa Bay Lightning to Stanley Cup win
General manager Julien BriseBois calls championship victory 'pure joy'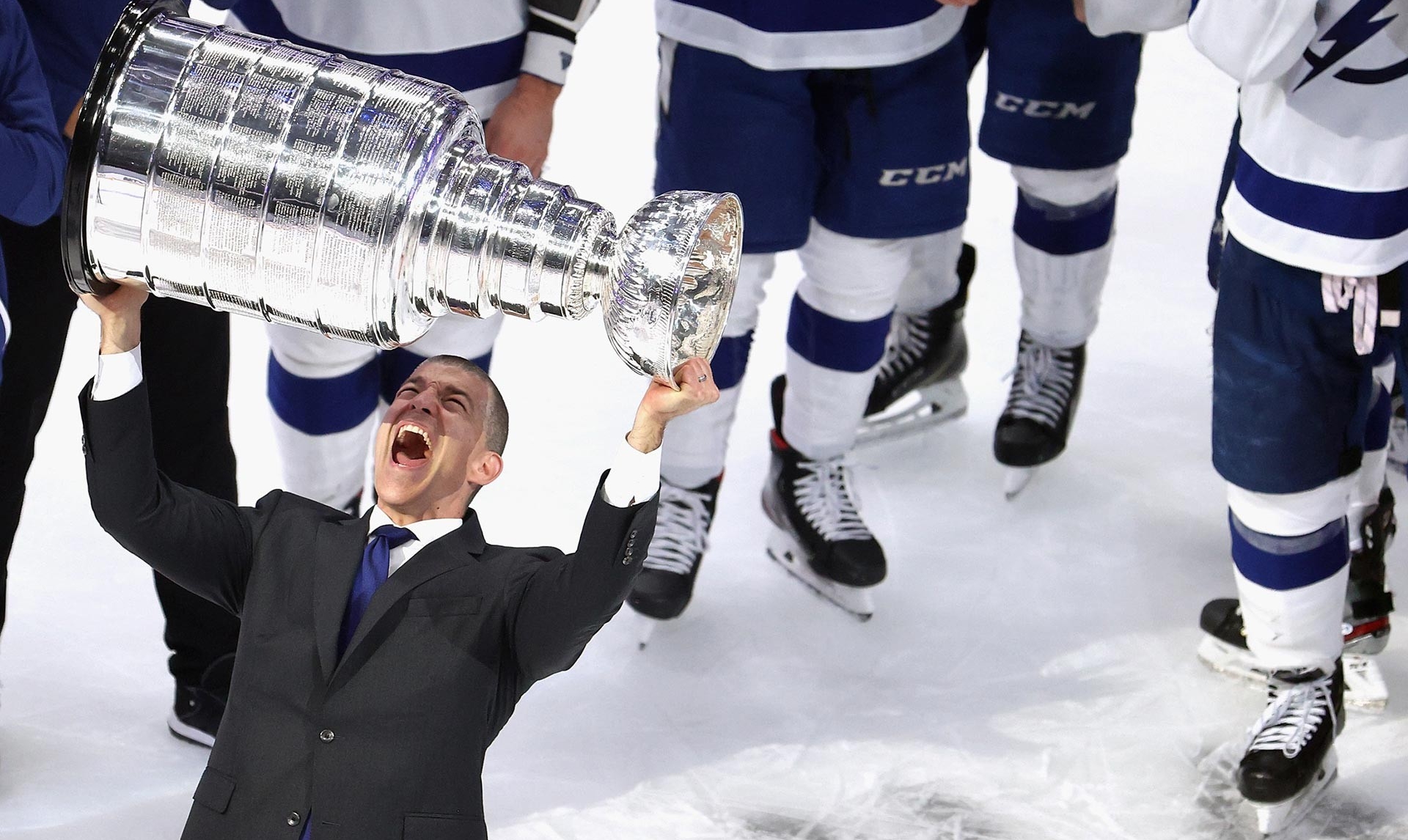 Julien BriseBois hoists the Stanley Cup after the Tampa Bay Lightning defeated the Dallas Stars at Rogers Place in Edmonton on September 28. | Photo: Getty Images, courtesy of Tampa Bay Lightning
Julien BriseBois, EMBA 07, was named general manager of the Tampa Bay Lightning in September 2018 after spending eight seasons as assistant general manager under his mentor, Hall-of-Famer Steve Yzerman.
Working with Yzerman, BriseBois helped make the NHL franchise a top contender. During the 2019 playoffs, however, the Lightning were stunned in a first-round sweep by the Columbus Blue Jackets after a 62-win season.
This season BriseBois made the Lightning a better playoff contender. For his successful efforts, he was named a finalist for the NHL's general manager (GM) of the year. Though he didn't win, BriseBois still captured the biggest trophy of all: the Tampa Bay Lightning beat the Dallas Stars in the finals to win the Stanley Cup for the first time since 2004.
BriseBois recently sat down for a candid Q&A about the Lightning's triumphant 2020 season.
What was it like to win the 2020 Stanley Cup?
Pure joy. I didn't know what to expect. I didn't know what I was going to feel. But it was an incredible feeling and memorable moment.
How did you feel being recognized by your peers as a finalist for GM of the year?
It's always nice to get accolades, especially when they come from your peers. However, it has a lot more to do with the hard work and the sacrifices of our players and our staff than it does with me. It is not lost on me that I am the beneficiary of the hard work and sacrifices of others. Ultimately, these are collective awards and recognition.
What was it like working with former Lightning GM Steve Yzerman?
I enjoyed working with him tremendously. Under his leadership, we as a group ended up building a really strong organization that I got to inherit when I became GM here. I'm very grateful for the opportunity he gave me. Yet first and foremost, when I look back on our time together, I think of how much fun I had. He is very smart, very witty. We always had a good time. Today, when I call him, or he calls me, I always have a smile on my face.
The Lightning spent more than two months away from their families. During that time the NHL conducted 33,174 COVID-19 tests on players and club personnel in its Toronto and Edmonton bubbles, with zero positives.
What was it like adapting to life in the bubble?
I think that depends on people's personalities and interests. I read that some people struggled more than others, but I can only speak to my experience and I had a great time. Did I miss my family? Of course I did. But it was productive from a professional standpoint. I had three of my lieutenants with me. Inside the bubble, we saw more than 75 games live, so you get a good read on opposing players and teams — what they do well, what they need to do going forward and how that lines up with what we're trying to do.
As for the accommodations, they were all four and five-star hotels, the food was good, the workout facilities were top of the line and the logistics were really convenient to watch games, whether they were in Toronto or in Edmonton.
Also, my kids are at an age where we could FaceTime and text each other to stay in touch, so I don't really have complaints about the experience. Everyone was very helpful and did their best to make it as comfortable as possible for us. The only thing that was missing was that our families weren't there on the ice with us when we won the cup.
You grew up in Greenfield Park, attended Concordia and worked for the Montreal Canadiens for many years. How does it feel to be a Montrealer on top of the hockey world?
I don't feel like I'm on top of the hockey world, but I am a proud former resident of the South Shore of Montreal. This has been the longest I've ever been without spending any time in Montreal in my life, but that's just the reality of the world we live in these days. I can't wait to go back — and hopefully bring a little 35-pound silver friend with me!
---