District 3 partnership lays foundation for future cooperation between Israeli and Palestinian communities
New innovative program connects entrepreneurs with Concordia students for hands-on learning with social impact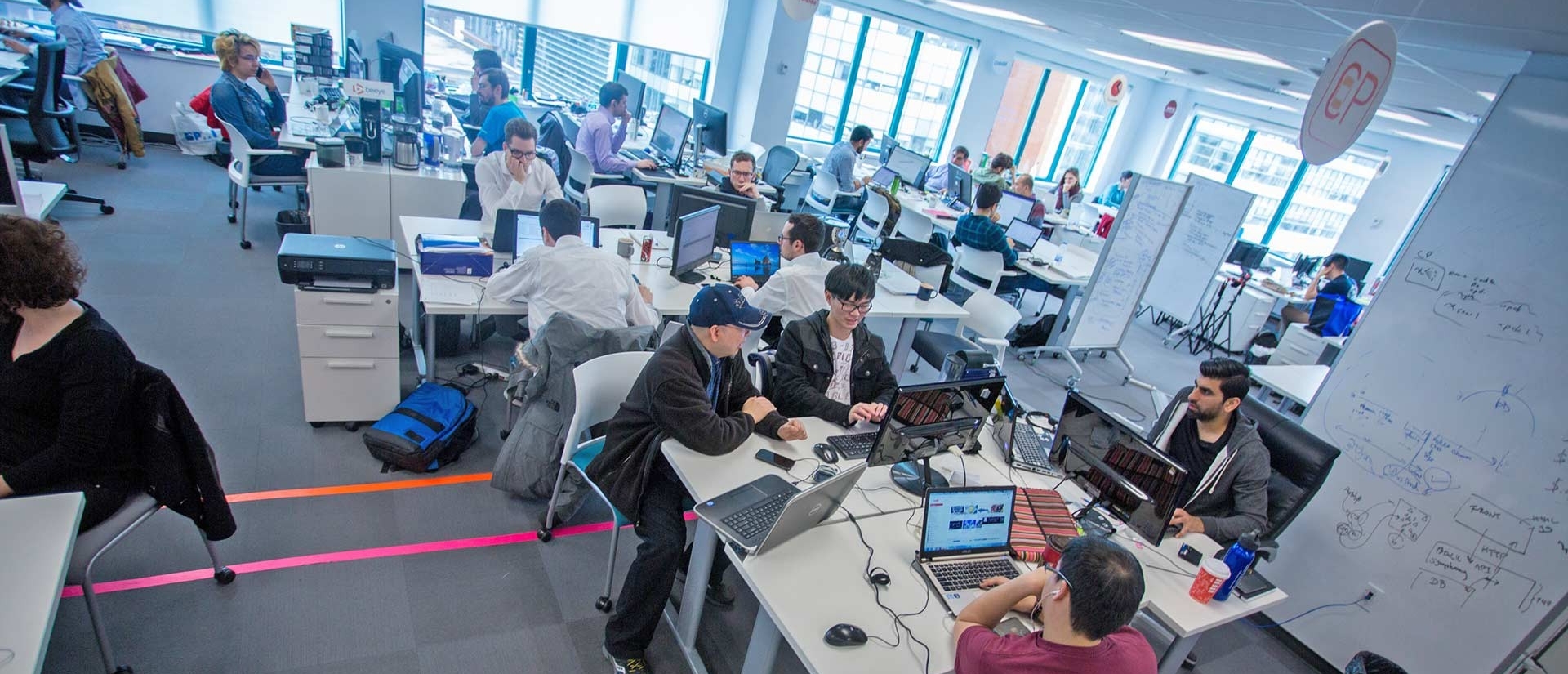 Concordia University's District 3 Innovation Center
Concordia's District 3 Innovation Center is partnering with fellowship program and startup incubator Our Generation Speaks (OGS) for a novel program to promote cooperation in the Middle East.
As part of the Our Generation Speaks-Concordia Accelerator Program, four visiting Israeli and Palestinian entrepreneurs will further develop their respective startups through collaboration with District 3's innovation residency teams — three groups of multidisciplinary and multicultural Concordia students.
Entrepreneurship will be used to foster trust between participants — acting as a catalyst to approach and mitigate tensions from the ongoing Israeli-Palestinian conflict. The program will allow Concordia students to gain valuable experience through startups.
"The Our Generation Speaks-Concordia Accelerator Program exemplifies how collaboration, entrepreneurship and innovation — the pillars of District 3 — drive progress and help bridge cultural divides," says Xavier-Henri Hervé, executive director of District 3.
The program was made possible thanks to the Naim S. Mahlab Foundation's gift to the Campaign for Concordia: Next-Gen. Now.
The OGS Israeli and Palestinian fellows arrived in Montreal in late July for the final two weeks of the program, where they will participate in a series of workshops, coaching and expert sessions, and explore the Montreal innovation ecosystem. The Concordia student teams will formulate exercises for the emerging entrepreneurs and help them tackle some of their startup challenges.
The program ends with an innovation showcase on August 8 at District 3.
Bridging cultural divides
The OGS-Concordia Accelerator Program instills more than entrepreneurial skills. It thoughtfully mixes Israelis and Palestinians with the aim of building economic and social partnerships.
"Common feedback I receive from our alumni and fellows is that OGS injects in them optimism, and enables them to grasp a deeper understanding of the Israeli-Palestinian conflict and the differing narratives involved," says Lobna Agbaria, Program Director of OGS.
During their stay, OGS participants are housed together at Concordia's Grey Nuns Residence. Shared living quarters increase opportunities for participants to build trust and understanding.
Concordia students also reap benefits from the program — cultivating a broader worldview and gaining hands-on entrepreneurial experience.
"Working in the startup ethos has been such a blessing, and I've grown immensely from it. It's been such an eye-opening experience working with these startups and seeing what is possible for our future world," says Kevin Lam, BFA 19.
By the end of 2019, OGS will have 100 alumni as change agents in their communities.
"At OGS, we are grateful for this developing partnership and look forward to further expanding this alumni-based program, together, in our journey to promote peace and prosperity in the Israeli and Palestinian region," says Agbaria.
---