Concordia's Montréal Signs Project will light up the city's Quartier des Spectacles
Parts of the collection launched by Communication Studies professor Matt Soar in 2010 are set to be an important contribution to the Centre des mémoires montréalaises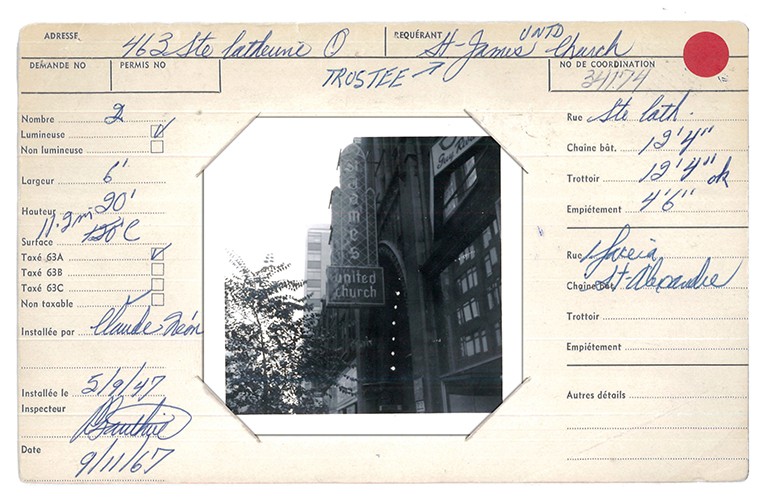 Inspection card for the St. James United Church neon sign. | Courtesy: Ville de Montréal
Those who've lived long enough might remember a time in Montreal when hot dogs and French fries were sold outside from food carts and street signs were big, bold and bright, especially along Ste. Catherine and St. Hubert streets.
That was before former mayor Jean Drapeau's administration began its transformation and modernization program in the 1960s and '70s. According to Matt Soar, emeritus professor in Concordia's Department of Communication Studies, outlawing large neon signs was just part of a broader trend that included annihilation of working-class neighbourhoods like the Faubourg à m'lasse and Goose Village and demolishing magnificent heritage buildings, prosecuting sex workers and destroying Sherbrooke Street's four-mile long Corridart group exhibition.
"Big illuminated signs were seen as tawdry and distasteful by Drapeau and didn't gel with his idea of what a modern metropolis should look like," he says. "The legacy of that era's affair with ostentatious concrete building and highway projects is of course crumbling all around us."
Soar is director and co-founder of the Montréal Signs Project, which he launched in 2010 in collaboration with Nancy Marrelli, Concordia's Archivist Emerita, as part of his Logo Cities research-creation initiative on architecture and hyper-commercialism. The project's ever-expanding collection –— over 50 pieces at last count — showcases historically significant commercial and civic signs from around the city.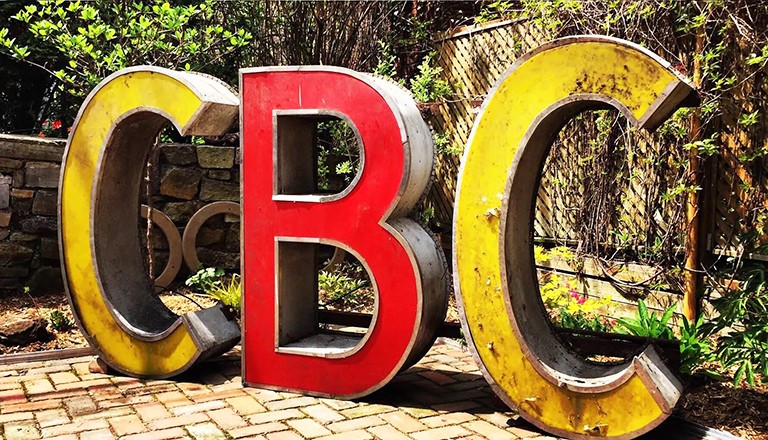 One of the signs donated to the MEM. | Photo: Montréal Signs Project
Illuminating the past
With much of the expanding collection on permanent display in Concordia's Communication Studies and Journalism (CJ) Building on Loyola Campus, the Montréal Signs Project celebrates the city's colourful, gaudy past. Each sign illuminates stories of community, migration and entrepreneurship, not to mention the hidden histories of sign design and making.
Soar reports that he's happily donated 13 historic signs to the MEM.
"Some of the signs we've donated to the MEM were in storage, some were already on the walls at Loyola. One of them is so enormous we couldn't find anywhere suitable to install it at the university," he says.
"In some ways it's the pièce de résistance: a 20-foot-tall vertical marquee installed on Ste. Catherine Street in 1947 by Claude Néon. It's one of very few surviving signs from Montreal's neon glory years."
The MEM's impressive new exhibition and event space is set to open later this year at the corner of Ste. Catherine Street and St. Laurent Boulevard. Its street-level, glassed-in lobby is already brimming with signs, however, including from Bar Exxxotica, Bens Restaurant, Boîte Noire, Bottes Imperial, CBC/Radio-Canada (pre-1973), Dumoulin Bicyclettes, Fairmount Bagel, Frank P. Lalonde Inc., Librairie Guérin, Moe's Diner, Silver Dragon Mets Chinois and St. James United Church.
Passersby and future visitors to the MEM will no doubt be drawn in by the signs, which are already illuminated 24 hours a day — three of them sporting brand new neon.
"Part of the joy of working on the project over the years has been the enthusiasm of our supporters, especially on social media, and the numerous ways in which visitors light up when they see a sign they recognize, prompting personal memories from their formative years in Montreal. For folks with media and visual arts backgrounds, including our students, faculty and alums, there's an additional thrill in examining the signs close up," Soar says.
"I sometimes think of it as a cross between a retirement home for old signs and a petting zoo. The MEM will, of course, be this and so much more besides."
---