Saliha Béroual (1954-2023): 'She offered a little something extra that made her an outstanding teacher'
Concordia friends, colleagues and students honour the long-time Département d'études françaises lecturer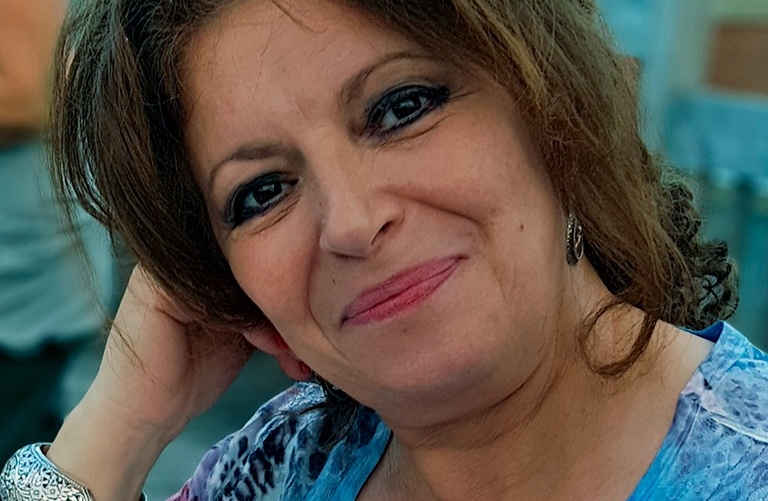 Affable, sparkling, generous in her dealings with others, competent and enthusiastic, devoted to her students, a great teacher — these are some of the words that come to mind for those who had the good fortune to meet Saliha Béroual.
Béroual passed away on July 29 in Montreal. Her sudden death was a source of great sadness to all her colleagues and students in Concordia's Département d'études françaises, where she had taught for 22 years.
Béroual said she had a fragile heart which had been torn apart by her departure from Algeria. But it was cancer, diagnosed just eight weeks earlier, that took her life.
Béroual began her career as a lecturer in French linguistics and literature at the University of Batna in Algeria. But she had to leave Algeria for France in the 1990s, accompanied by her husband and three young children, during what historians now call La décennie noire — the 10-year civil war that tore the country apart.
She had been a lecturer in literature at Grenoble University in France before moving to Quebec. "As soon as they arrived, Saliha and her family left their mark on life in Montreal," recalls Maïr Verthuy, first principal of Concordia's Simone de Beauvoir Institute.
"Their openness to the world, their desire to make a place for themselves in their new environment, opened every door for them; our two families, hers and mine, also became friends," she adds.
"I have fond memories of Saliha showing me around in the evenings at various cultural sites evoking life in the Maghreb, always on foot as if she had always known this city."
With a master's degree in didactics of French as a second language (FSL), Béroual was hired as a part-time lecturer in Concordia's Département d'études françaises in 2001. At the time, she was preparing a doctoral thesis, "Langue et littérature en atelier d'écriture" ("Language and literature in writing workshops"), for FSL in Algeria.
"Her academic background immediately caught the attention of the lecturer hiring committee," says Lucie Lequin, professor of études françaises and former chair of the department.
'Her students adored her'
Indeed, Béroual had made her love of the French language and its transmission a true vocation. Djaouida Hamdani, a former Département d'études françaises colleague and now program director at UQAM's École de langues, recalls her love of the French language, addressing Béroual directly:
"Your love of the language led you to question its subtleties again and again. Your love of literature and writing gave you a creative sensibility, being a poet yourself."
And her students who understood this were loyal to her, as Svetla Kaménova, pedagogical coordinator of the 200-level language courses in the Département d'études françaises, reports.
"Many students who had taken a language course with Saliha would tell me to look for her name in the program in order to have other courses with her. Her students adored her because most of the time she exceeded their expectations," Kaménova says.
"For example, she would stage plays or excerpts to get students out of the textbook or the lab and into a new experience of life in French. She was a firm believer in the French-speaking world; whenever possible, she spoke of it in comparative terms in her courses, which was a powerful stimulus for her students," Kaménova notes.
"In short, she always offered a little something extra that made her an outstanding teacher. This little extra was the necessary ingredient to engage students in a dynamic, even festive, learning of the French language."
Hamdani also directly addresses Béroual about her devotion to pedagogy: "Your joy of teaching communicated the pleasure of learning to your students, who came from diverse backgrounds and for whom French was often their third language. You told me that each of your classes was like a new encounter with your class, with no room for routine and never sparing yourself," she says.
"In an approach that was all about exploration, discovery and sharing, these classes focused on the workings of the language and its grammatical regularities, on reading and writing activities, with you as an enthusiastic and inspiring guide."
Generous with her time
A very active member of the department who made an invaluable contribution, Béroual volunteered to take on several responsibilities. In addition to teaching, at various times she sat on hiring committees and the language committee and represented lecturers at departmental assemblies.
Béroual never tracked her hours. She was still representing part-time lecturers at departmental assemblies at the time of her death. She also kept abreast of the latest pedagogical advances in second-language teaching, regularly taking part in events, conferences and study days devoted to the subject.
Béroual was a purveyor of culture. Not only did she make Quebec literary culture her own from an early age, sharing it with her students, but she was also an ambassador for the culture of the Maghreb and Algeria in particular.
"When the great writer and filmmaker Assia Djebar, a Concordia honorary doctorate recipient and member of the Académie française, passed away, Saliha, who had always been passionate about literature and the academic's career, didn't hesitate for a moment," Verthuy recounts.
"She paid tribute to her by developing activities with her students. A number of Quebec cultural associations have followed suit, creating an Assia-Djebar Day held every year in June. Saliha chaired the second edition."
'Listening to her made hearts and souls vibrate'
But it was her human qualities, her fidelity and loyalty to her friends that made her unforgettable. Verthuy was particularly shaken by her death. "And how can we forget her participation in my husband's funeral, where she expressed in very moving words the importance of crossing cultures?"
Béroual's friends remember her above all for her magnificent voice and her gift for singing. She loved to sing, not only Algerian and Oriental music but also songs by Brel, Ferrat and Aznavour. Listening to her made hearts and souls vibrate. It was the most sincere of gifts.
I'll always remember Saliha's smile
the softness and depth of her presence
The intensity of life I saw bubbling up inside her.
Her eternal youth, her beauty, her charm
The poetry of her soul.
Saliha, for me, is the wise and wild woman
Beautiful, alive and forever sparkling.
May your flight be powerful
May your flight be your freedom.
—Bineka Lissouba, author, poet and part-time professor in the Département d'études françaises
Béroual is survived by her husband Kamel, her children Ikram, Yacine and Mouloud, and her grandchildren, as well as her friends and colleagues.
The Département d'études françaises, her colleagues and friends join her family in their grief and offer their most sincere condolences.

The department would like to create the Prix d'excellence Saliha-Béroual, to be awarded annually to a student enrolled in the programmes de français langue seconde who stands out for their academic achievements. Funds raised will be used to endow the award.
Find out more about Concordia's Département d'études françaises.
---