Brian Counihan (1939-2023): 'An educator — in every sense of the word'
Concordia's first dean of students is remembered for his character, commitment and accessibility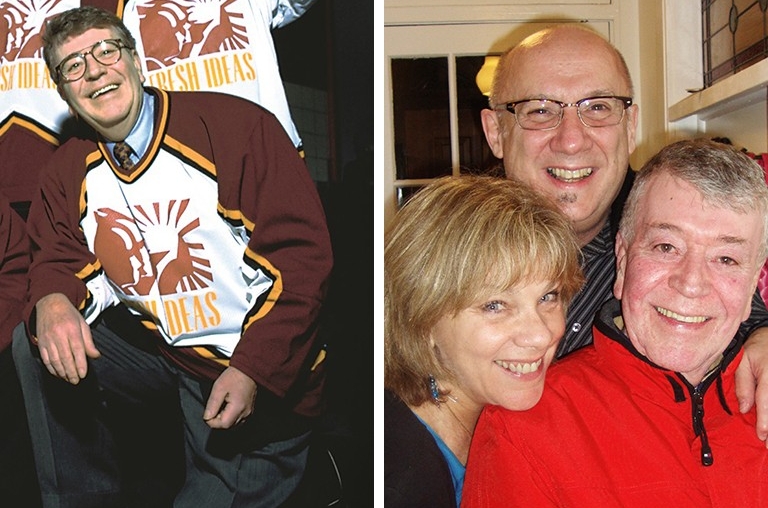 Brian Counihan, 1997, left; Jane Hackett, the late Donald Boisvert and Brian Counihan in 2012, right.
Brian Counihan, Concordia's much-admired first dean of students, died in Toronto on June 19, 2023.
"He was wonderful. The students loved him," recalls Jane Hackett, who worked under Counihan in various capacities while he was at Concordia from 1970 to 1995. "He was a real character — his sense of humour was something else."
Loyola days
A native of Boston, Massachusetts, Counihan earned a BA from Boston College and MEd in counselling from Boston University. He taught French and Latin at St. Louis University in Missouri until 1965, then served as assistant dean of students at Boston University.
In 1970, Counihan headed north to become assistant dean of students at Loyola College, one of Concordia's founding institutions.
As he told Concordia Thursday Report upon his retirement in 1995, the Jesuit college provided a close-knit community for the students. "They'd be sitting on the floor playing the guitar in the dean's office," Counihan said.
That naturally changed after Loyola merged with the much larger, urban Sir George Williams University to form Concordia in 1974. "Students became more job conscious. But we tried to make them aware that extra-curricular life is also valuable," he said.
Counihan was named the new institution's first dean of students in 1978. His role included working on committees to help students receive financial support, lending a hand to student associations and the Concordia yearbook editors, and organizing a speakers' series.
Upon his retirement in 1995, Concordia established the Brian T. Counihan Scholarship for Outstanding Contribution to honour all that he gave over 25 years. The scholarship is awarded to an undergraduate or graduate student "on the basis of scholastic achievement combined with outstanding contribution to student life."
Counihan remained committed to the university even after stepping down from his position. He served as co-chair of Concordia's Campaign for a New Millennium, 1997-1999, responsible for the retirees division of the internal campaign.
"Having this opportunity to contribute to the university is a challenge I welcome with enthusiasm," Counihan told the Thursday Report. "After all, we retirees have enjoyed rewarding careers here and should ensure that the university continues to prosper."
He was also a committed amateur actor who took part in many musical productions.
After retirement, Counihan moved to Florida and then back to Canada and eventually to Stratford, Ontario, where he worked at the Stratford Festival. He ultimately settled in Toronto.
Remembering a mentor
The late Donald Boisvert, BA 75, MA 79, who succeeded Counihan as dean of students, paid homage to his mentor in Concordia University Magazine in 2000. "What impressed me about him was his amazing availability," Boisvert wrote.
"Students were always just dropping in on him, and I wondered when he was able to get his work done. With hindsight and experience, I came to appreciate that he was, in fact, doing just that."
Boisvert added, "He was a greatly loved dean of students." At Counihan's retirement party in 1995, he referred to him as "an educator — in every sense of the word."
Hackett recalls first meeting Counihan at his Loyola job interview. "I remember being terrified of him because he came in a three-piece suit, with an umbrella," she says.
Nonetheless, Hackett quickly overcame that hesitancy. "I realized what a gift it was to work for BTC. We worked together and shared laughter and fun times over the next 25 years and into retirement."
They developed a close friendship and remained in touch until the end. "He became my mentor," she says.
The two also shared a love of theatre and acted in several plays together. "Mr. Counihan, known to us as Uncle Brian, not only encouraged but strongly supported the creation of Thé-Arts," Hackett adds, referring to the 1970s Loyola theatre company.
She echoes Boisvert's sentiment about Counihan's accessibility. "The office at Loyola was always crawling with students who would come in if they needed to talk to Mr. Counihan about anything," Hackett recounts.
"He'd go, 'Come on in! Shut the door.' And they poured their hearts out to him. The students loved him."
There will be a memorial ceremony for Brian Counihan at the Loyola Chapel, 7141 Sherbrooke St. W., on September 16. For more information, email Jane Hackett at naneyrm@gmail.com.

Learn more about how Concordia offers support in times of need.
---